What is an entrepreneurial mindset and the benefits and characteristics of having one? It doesn't necessarily mean owning a business or being an entrepreneur. All you need is the willingness to adapt and grow despite the challenges.
You will need this mindset to transform your business into what you have always wanted it to be in a business setting. So, there is no doubt the sooner you develop an entrepreneurial mindset, the likelier you are to succeed in business. There are many benefits to having this mindset. Here is how to go about it.
Your Job Is Your Biggest Customer
This is an entrepreneurial mindset that will most definitely make you succeed. Even though you might have a traditional job, you can still adopt an entrepreneurial outlook. Treat your current job like your most important customer or client.
Entrepreneurs know that the business is alive because of the clients. They understand that if they cease to please the customer, then the business will die. Whether you work for someone else or are building your own business, you want to develop a real entrepreneurial mindset. Luckily for you, that is possible.
Have Different Baskets For Your Eggs
We have all heard the saying, do not have all of your eggs in one basket. Let's reverse that and say have different baskets for all of your eggs. What does that mean? If you understand the dangers of keeping all your eggs in one basket, then you are on the right track. Having one customer or client is the equivalent of having one basket.
A better approach does not have one primary set of skills or income if you want to succeed. Having multiple skills allows you to reach a different customer base, which is thinking like an entrepreneur.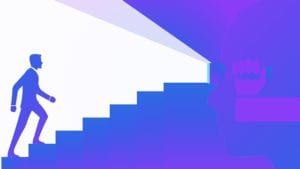 Relentless In Pursuit
This is a mindset that keeps businesses afloat. Before you become the best in the industry, you must work extra hard and be relentless in your pursuit of whatever you are working on at the time. During the pursuit, a person or business grows and figures out how to overcome the challenges.
So it is the ultimate way to reach the intended destination. Are you an Internet entrepreneur like me? If so, think of it like this. Work at building a brand for your business and make everything you do focus on that. This is one way you are relentless in your pursuit of being successful online.
Here is another. Let's say you want to rank in the top 3 on as many search engines as possible. The way to do that is 2 fold.
1. Create content focusing on low-competition long-tail keywords.
2. Get lots of engagement to that content so search engines will rank you for that keyword. A good example of this is a friend of mine who spent 2 years trying to rank #1 on Google for the keyword phrase "work from home." Everything he did online focus on that one goal.
The happy ending for him as he did eventually rank #1 on Google and Yahoo and Bing. He then sold his website for $60,000!
Different Ways To Achieve The Same Goal
An entrepreneurial mindset involves having more than one way to go about achieving your goal. Entrepreneurs are willing to course-correct as necessary rather than quit on an idea if the initial plan is not as expected.
I've always felt that one of the biggest advantages of working online is the Internet does not discriminate against you in any way. For example, advertising is one of the biggest benefits of having an entrepreneurial mindset in my viewpoint.
What you lack in money you can make up for in time. What you lack in time you can make up for in money. What do I mean? If you can not afford to spend money on advertising, you will need to do things that take up your time, such as a blog, posting on social sites, contacting other bloggers for backlinks, and so on.
If you have more money than time, hire freelance workers and outsource your business. Entrepreneur knows how to deal with the cards they have been dealt with!
Develop And Follow A Plan
A good entrepreneur also understands that taking action as quickly as possible on a plan will yield success. This mindset helps you bridge the gap between the time it takes to develop a plan and how long it takes to execute it.
Do not fall into the trap I see many entrepreneurs fall into, which is all planning and no action. Trust your plan and execute it. If you do not see results, make adjustments and get back to work!
Work With The Best
Smart entrepreneurs also delegate to those who are the best and most qualified in the industry. If you have this mindset, then you will not try to do everything by yourself. The last thing you want to do is be a Jack of all trades.
There will always be a point where you will no longer scale or grow your efforts effectively. Set a goal to have the best products or services, the best freelancers, the best blog in your niche, and so on. You will benefit many times over in the future with this attitude.
Avoid Stagnation
Lastly, having the right mindset of an entrepreneur involves striving to learn new skills, improving, and not being stagnant. Understand the importance of personal and professional development.
Living your professional life isn't always a goal reached one time. There is always something new to learn out there. Being pro-growth is essential if you want to be successful in your business.
My Final Thoughts On What Is An Entrepreneurial Mindset
I have always felt there are 3 parts to success. Mindset, skills, and action. With that said, you now understand what stands between you and the success of your business. The sooner you develop the entrepreneurial mindset, the likelier you are to succeed in building skills and activities in your business.
Have no idea where to start or how to develop your existing business? You can join a community of people who are eager to see you succeed and always willing to help. Plus, you will be able to meet me inside to work together to help you grow your business.
If you are interested in creating your own home business, check out my #1 recommendation on building a successful business online. You can get access to hundreds of training videos, 24/7 support, professional consultations, private access to training guides, tools, and much more.
Related Video On Having The right mindset.
PS: Please feel free to leave any comments you may have; I will love to get your feedback.
If you need help choosing the right Affiliate Program, check out my #1 recommendation on building a successful Affiliate business online. You can get access to hundreds of training videos, 24/7 support, professional consultations, private access to training guides, tools, personal private assistance, my personal help, and much more.
PS: Click here to review my #1 recommendation in detail.
Working Online From Home - A Proven 4 Step System
See the 4 steps to working online from home & earn residual income