A self-improvement business is a multi-billion dollar industry while building your worth. Much of that is for people who are looking to change their attitude so they are more positive and can earn more money.
Do you think the 2 go hand in hand?
I happen to feel that building your worth applies more to your self-esteem than it does to your net worth. Google kind of agrees with me because a search for "building your worth" has an equal number of results for self-esteem and net worth.
What I am going to do in this article is to write a hybrid post for my blog that looks at building your worth from both self-esteem and making more money angles.
Start A Self Improvement Business Today!
We all have the past that has helped shape who we are today. That is only important to the extent that you are able to recognize how you feel about yourself right now and make a determination to change what you do not like.
In researching this article I came across a great quote by Maria Robinson, "Nobody can go back and start a new beginning, but anyone can start today and make a new ending."
I find this very refreshing. We all have the chance right now to build new self-worth no matter what has happened in the past. The sooner you embrace this thought the sooner you can go about making it happen.
Want to learn how to make money online with affiliate marketing?
Click here right now for our review and instant access to our free training videos where we'll show you exactly how we did it ourselves starting out as complete beginners without ANY prior knowledge or experience in marketing online whatsoever!
Building Your Worth With Self-Esteem?
A very simple definition of self-esteem is the confidence you have in your abilities. I love keeping this very simple because I know exactly how you can build more worth, especially as it pertains to making more money.
My blog is a make-money tips blog so it makes sense I see building self-worth through the lens of earning more money. The best way to improve your self-esteem is to increase your confidence in Internet marketing skills.
What Are Internet Marketing Skills?
Marketing something online comes down primarily to increasing traffic to your offers. I love affiliate marketing as the source of making money online and feel you should as well.
Whether you are getting paid by the click, by the lead, or by the sale you need more eyeballs on your offer. This means developing traffic skills that get more people in front of what you are marketing.
Your confidence will skyrocket once you master traffic generation and the ability to drive people to wherever you want them to go. This can be your blog, a landing page, or any page you want them to come to.
Internet marketing takes on multiple methods to accomplish this. The main one's today are social media marketing, content marketing, paid advertising, and email marketing.
If you can become skillful in at least one or two Internet marketing methods you can take these skills and make an unlimited amount of money online. I am not kidding!
Want to learn how to make money online with affiliate marketing?
Click here right now for our review and instant access to our free training videos where we'll show you exactly how we did it ourselves starting out as complete beginners without ANY prior knowledge or experience in marketing online whatsoever!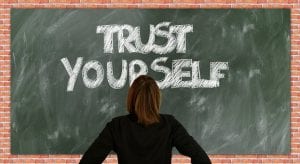 What Is Stopping You?
Let's analyze this whole building your self-worth a little closer. There is something or multiple things stopping you from making more money or you would already be doing it, right?
1. Self-talk. We all have voices in our heads telling us what to think and do. Thoughts like "I am not smart enough to make money online, or that will never work". I am not ambitious enough, I am too lazy.
Self-talk goes on 24 hours a day even when you are sleeping. This is where people who grasp the poster of the subconscious mind are able to program their thoughts in a more successful way.
Napolean Hill writes about this in his all-time top-selling book "Think and Grow Rich" which I suggest you read and implement. This will really help you take control of yourself, talk and turn around negative thoughts into positive ones.
2. Write It Down. Get out a piece of paper and write down what it is you really want to achieve the money you will be earning online. These are your new goals.
Post it where you will see it every day. Read these goals first thing in the morning and the last thing before you go to bed.
Have you heard of the magic refrigerator? Cut out pictures of what you want and put them on your fridge. We all go there too much each day anyway so you may as well get some positive out of it besides just eating.
If your goal is to quit your job take a picture of yourself sitting at your desk at 10:00 a.m. and put that pic on your fridge. If you want to take a Hawaiian vacation get a picture of a beach and tape it.
You get the idea!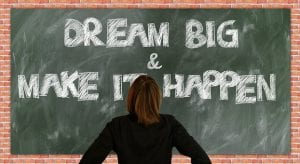 Accept Failure And Move On
Building your self-worth means you are going to be trying things you have not done before. I can tell you right now you are going to fail some of the time.
Sometimes this is called failing your way to success. The more you fail the more chances you are giving yourself to succeed.
Sports are a great example of this. Ted Williams is the player to hit over .400 for a full season. This also means he failed 60% of the time.
Micheal Jordan shot 49.7% from the field in the NBA. This means he missed a little over half of his field goals.
My Final Thoughts
Do not get hung up on what you are failing at. That is part of the game so to speak. Focus on becoming self-employed so that you can build others as you build yourself.
Building your self-worth is going to be a great ride if you embrace the ups and downs and focus on the good. Starting right now you get to change where you are, and where you will be in the future! Start a Self-Improvement Business today.
Follow these THREE simple steps.
You need to give your Self-improvement Business a home. Build a website.
You need to have eyeballs on your website. Build traffic to your website.
You need your business to progress. Build a relationship with experts and get help from me.
If you need help choosing the right Affiliate Program, check out my #1 recommendation on building a successful Affiliate business online. You can get access to hundreds of training videos, 24/7 support, professional consultations, private access to training guides, tools, personal private assistance, my personal help, and much more.
PS: Click here to review my #1 recommendation in detail.
Working Online From Home - A Proven 4 Step System
See the 4 steps to working online from home & earn residual income