In my tips on affiliate marketing, you will see some simple and effective strategies you can use to increase your open rates and eventually increase your sales and conversions.
Affiliate marketing is a good source of passive income, but it's better if there's a way to increase it possibly. While there are many online tools you can use, there are also proven and effective affiliate marketing strategies to help you.
We have listed our best affiliate marketing tips to boost your income in no time on this topic. Let's check them out!
7 Tips On Affiliate Marketing
1. Build Trust First
Building trust first determines your success in affiliate marketing. If your audience trusts you and your content, they will check out the products or brands you're offering them. Eventually, you will earn gain better commissions if you put your best effort into building credibility. Here are some of the things you can do to gain your audience's trust:
Valuable Content – Providing credible, reliable, and trustworthy content material allows you to gain your audience's trust. Otherwise, all your organic search engine traffic can go to waste, and you may get lesser website visits.
Transparency – Make that you have made it clear to your audience what your content is about. This will help make your audience understand your purpose to gain their trust and support for your future posts.
Make yourself known – Place your image on your website and each of your blog posts. Your audience would prefer to see that a real human being owns the blog. Don't forget to smile too.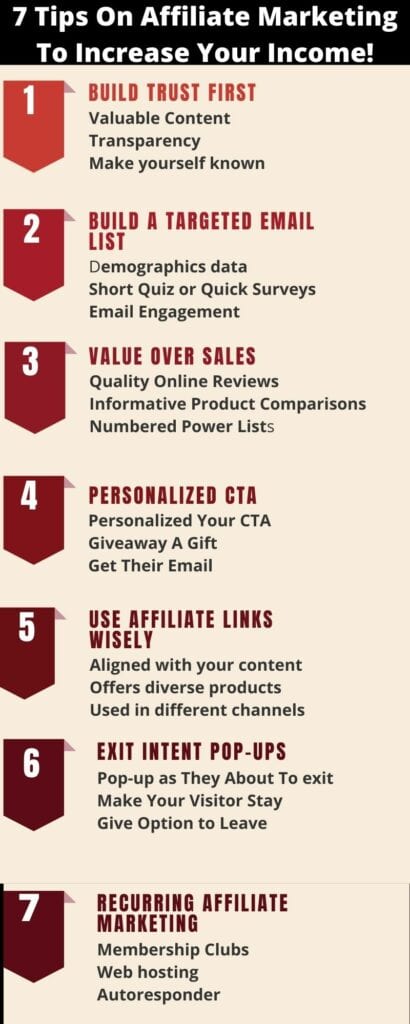 2. Build a Targeted Email List
It is very critical that you build a targeted email list if you want to increase your income. It allows you to target a specific group of audiences and provide them with products or services based on their profile. The following are the usual steps that affiliate marketers take to start with their targeted email list.
Demographics data consists of your subscriber's location, time zone, gender, age, occupation, and industry. This information can tell a lot about your audience, which you can use for email segmentation. However, be careful in asking for too much data from your audience since they could get scared and refrain from signing up.
Short Quiz or Quick Surveys – Using a quiz or a survey, you can gain more information about your audiences, such as their preferences, beliefs, average money spent on purchases, and many more. Most email clients have plugins that can help you create quizzes or surveys for your audience.
Email Engagement – In here, you'll check your email open rates and click-through rates. Knowing who your audience is opening your emails or has been actively engaged in your emails helps create a more targeted approach to email marketing. You can then customize your email campaigns for your active and inactive subscribers.
Past Purchases – By knowing your subscriber's past purchases, you will send them similar products or accessories to go well with the item they have purchased before. Like quizzes and surveys, you can also find plugins to provide you with a purchase activity view or reports.
Purchase Frequency – Whether your subscribers are frequent or one-time buyers, knowing your subscribers' purchase behaviour allows you to also optimize your email campaigns for them. For your frequent buyers, you can offer new products or promotional deals. As for your one-time buyers, you can offer personalized discounts to entice them to make another purchase.
Expense History – Another way to gain better conversions is to know how much your subscribers have spent on their purchases. You can group your subscribers into price-conscious buyers, sales-driven, and high-spenders. In this way, you can optimize the email campaigns to be sent to them based on their spending behaviour and have a higher chance of getting a conversion.
New Subscribers – Since you may not know much about your new subscribers, you can send a general email campaign with a range of products or services that you offer. This also includes brand introduction emails that will get them familiarized with the brands that you promote. Eventually, you'll get more ideas about them and be able to segment them properly.
Want to learn how I earn my passive Income working from home?
Click here right now for our review, my personal help, and instant access to our free training videos where we'll show you exactly how we did it ourselves starting out as complete beginners without ANY prior knowledge or experience in marketing online whatsoever!
3. Value over Sales
You can increase your income by prioritizing your content's value over sales. This may sound contradicting, but there's a reason for it. People would like to know what benefit they will get from a product or service before purchasing.
It is the same with affiliate marketing. If your audience finds your content valuable to them, there's a higher chance that they will click on the product that you're promoting. Also, this goes hand in hand with building trust in your audience.
Here are some of the effective ways you can provide valuable content:
Quality Online Reviews – Online reviews talk about the features and benefits of a product or service, whether in the form of a blog, video, or audio. Besides that, your online reviews should also address some issues regarding the product or service. This will help your audience make a sound decision before making a purchase.
Informative Product Comparisons – Creating product comparisons helps your audience in making purchase decisions even more. You can compare important things such as features, benefits, price, usability, pros, and cons, and so on. Your audience will find your product comparisons useful since they are provided with options and things to consider before deciding to buy the product.
Numbered Power Lists – Making a numbered power list should provide easy-to-scan and valuable content for your audience. Include some information for each of the products you're listing down that your audience needs to know. This can be a brief product description, its features and benefits, price, ratings, and others.
Relevant Video tutorials – Improve your website or your blog by adding video tutorials. It adds more value to your content and enriches the appearance of your website too. Your videos can talk about how to use the product you're promoting or your personal experience with the product or service.
Stunning Visuals – Ideally, the recommended size of an image is 1200 pixels wide by 675 pixels tall for your blog website. Aside from clear and right-sized photos, you can make use of tables, graphs, charts, or infographics to create stunning visuals for your posts. When these are used properly, they can effectively add more value to your content and enhance its appearance at the same time.
4. Personalized Call to Action
Creating a personalized call to action or CTA for each blog or landing page is more effective than using a general template for all your visitors. This means that your CTAs adapt to your visitor's location, or whether they're new to your site, or if they are your current subscribers, and so on.
For example, if your blog post is about affiliate marketing, you can create a CTA such as "Click here to download your FREE eBook on Affiliate Marketing." If you have more resources you can use, the more effective and optimized CTAs. Aside from eBooks, you can also create a fun and interactive quiz, an online course, an exclusive peak at a new product, or even an invitation to a future event.
5. Use Affiliate links wisely
If you're new to affiliate marketing, using affiliate links wisely is one of the things you need to know. One common mistake is creating content for the sake of promoting an affiliate link. Doing this will come across as a sly money-grab tactic to your audience. Instead, consider the following when using affiliate links:
Aligned with your content – Use the affiliate links that are related to your content.
Offers diverse products – Try to include other products to provide more options for your customers. Sometimes a product can have a bad month or year; at least you have other suggestions your audience can check out.
Used in different channels – Your affiliate links are not limited to one blog post. You can also use them on other relevant content to increase your sales. You can also use social media and other platforms for marketing your product.
6. Exit Intent Pop-ups
An exit pop-up or overlays appears when your visitors try to navigate away from your page. But instead of making a general exit intent pop-up for all your visitors, it should be something relevant to what they're reading on your page or their actions.
Your goal is to make your visitors stay on your page or direct them to what they will find valuable. For example, visitors who are new to your page can receive a pop-up to sign-up to get updates.
Without it, your new visitors may leave, and there's little to zero chance of ever getting them back. This is the reason why this pop-up appears right before your visitors try to leave with a last-minute offer that will tempt them to stay or sign up for your email list.
7. Recurring Affiliate Marketing
Recurring affiliate marketing is the best way to earn passive income. These are affiliate programs that offer products with recurring commissions. Unlike the usual affiliate program where you will only earn commission once, you can earn monthly and possibly forever. The following products or services usually would have recurring affiliate marketing:
Membership Clubs
Payment processors
VPN
Autoresponder
Cloud Storage
Software as a Service or SaaS offerings
Web hosting
Some of these companies will sometimes pay you a one-time huge commission for their product because their customers have a very high lifetime value. Despite that, a recurring commission is preferable for many affiliates as they provide an ongoing income stream.
Final thoughts
We hope that these tips can help in generating more income for you. Always remember that affiliate marketing is not a get-rich-quick job. Your success will still depend on your hard work. Be open to trying new strategies to boost your income, and you can start with these tips we shared with you.
If you need help on how to get started, check out my #1 recommendation on building a successful business online. You can get access to hundreds of training videos, 24/7 support, professional consultations, private access to training guides, tools, personal private assistance, and much more.
Get My Top Tips Delivered to Your Inbox!
Get a Money Making Tip Every Sunday
Enter your email and gain access to my make money tips and receive your free gift.
Working Online From Home - A Proven 4 Step System
See the 4 steps to working online from home & earn residual income