In our tips on conversions, we will be looking at different ways to increase it exponentially to attract more customers and eventually get more sales. Let's admit it, getting conversions is the real challenge for marketers or business owners.
Even if you have huge website traffic, converting them to buyers can be very difficult and, at times, frustrating. Getting a conversion while being a novice in marketing can be quite a daunting task. Let's first try to understand what conversion is and why it is important.
What is a Conversion Rate?
Conversion rate is the most important key metric in digital marketing. It shows the percentage of how many of your visitors bought something from your site. It dictates your success in running an online business. Everything you do in online marketing will revolve around getting more conversions.
Now that we know higher conversions translate to higher income, it becomes clear to us that we need to strategize and familiarize ourselves with the ways of those who are already experts with it. So, to help you get started, we have listed down the best tips to increase your conversions and eventually get more sales. Let's check them out!
1. Focus on personalization
Personalization remains the most effective strategy to increase conversion rates. One way to do this is to message your subscribers or your recipients and address them with their first names. You'll find that the response rate is higher compared to using a general approach.
Once you reply, continue your conversation with a personalized message and try to close that sale. This is also applicable to your inactive subscribers. Those who have not opened your email messages for a while. It's a perfect opportunity to understand what specific product they are looking for or assist them with what they needed.
2. Always deliver the best customer experience
Customer experience is a significant aspect of every business. One bad customer experience can bring down a good brand, and it may take a while to repair the brand's image or not at all. That's why ensuring that you're delivering the best customer experience is very important. Aside from that, it helps create more loyal customers and attracts new leads and possible conversions.
Want to learn how I earn my passive Income working from home?
Click here right now for our review, my personal help, and instant access to our free training videos where we'll show you exactly how we did it ourselves starting out as complete beginners without ANY prior knowledge or experience in marketing online whatsoever!
3. Include Customer Reviews
The majority of potential buyers look at customer reviews to reassure them in making a purchase decision. Customer reviews provide transparency about what to expect from the product. Take for example the eCommerce giant, Amazon. They take customer reviews to the next level. Aside from the good and bad reviews, you can also see the top customer reviews, the most recent, and also the customer-taken photos of the product they have purchased.
4. Use customer testimonials from conference calls
Interview your customers about their experience with your product or service. Advise them beforehand what the interview is about and what they will use it for. Use the statements that are most impactful and combine them into one short video. This creates a powerful testimonial video that you can use for your ads or product demo.
5. Focus on an engaged audience
Having a large audience may amount to nothing compared to a small but engaged audience. Nowadays, most social media platforms limit or intensify audience reach based on user engagement. You will also have lower sponsored ad fees and subscription costs. Moreover, posts with high engagement, get better organic reach and higher email open rates.
6. Spark engagement during live videos
Live videos help you to be actively engaged with your audience in real-time. Create fun and engaging live videos by using creative call-to-action. You may ask your watchers to leave a comment with a hashtag of a word that is related to your brand when they see a product that they're interested in.
In Facebook Live, more comments drive virality. However, directly asking for likes, shares, or comments may penalize your post and may limit your reach.
17 Tips On Conversions Layout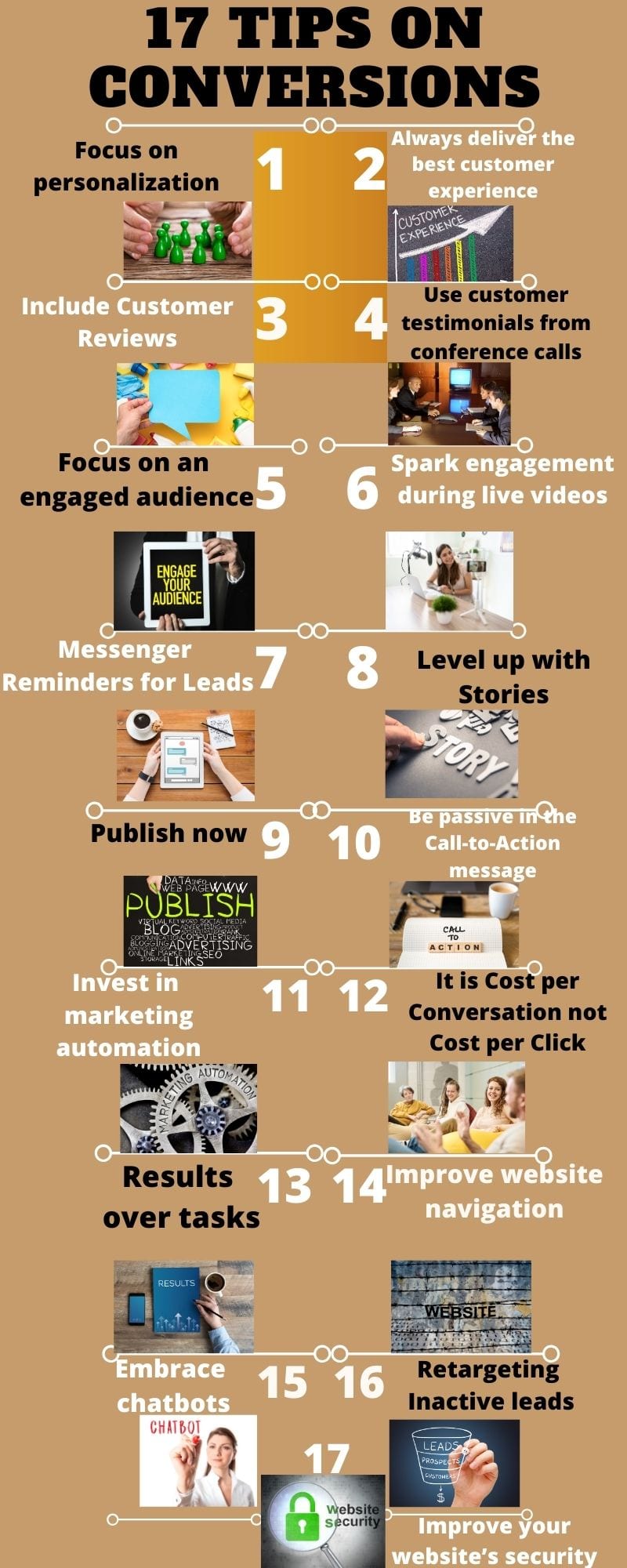 7. Messenger Reminder For Leads
It is very critical to set reminders when you're using Messenger for lead generation. For instance, when you're using Facebook messenger to capture leads, set a reminder minutes later when there's an incomplete registration. Check on what information is missing which could be a name, phone number, or email address. Follow up on this information if possible, to prevent these potential leads from going to waste.
8. Level up with Stories
If you have old lengthy content, you can recreate it using Stories to make it easier for your audience to read. Stories is a popular Instagram feature that can provide great benefits such as wider audience engagement, better brand awareness, and even better conversions.
The most popular among users is Narrative stories that have photos, videos, and tests. Stories are also available on other social media and mobile video platforms like Facebook, TikTok, and Snapchat.
9. Publish now
If you have great content, publish it now. Taking too long waiting for your content to be perfect may leave you out of the race. Remember that many others are creating content almost every minute. That's why publishing your content while the topic is still fresh and relevant is better. When you're late to the party, that could mean less traffic and hence fewer conversions.
10. Be passive in the Call-to-Action message
Using a passive Call-to-Action message gives more power to your audience to make their own decision about whether they will hit that button or not. Rather than using an aggressive CTA that could come across as too pushy and will mostly like turn your potential customers away. An example of these passive CTAs is the following:
Get your free eBook here
Try our product today
Receive your discount now
11. Invest in marketing automation
Investing in automation is always a good decision to increase conversions. It decreases operating costs and human labor. It also helps you manage your leads more efficiently. Aside from conserving resources, it allows you to focus on more fruitful conversations. In social media, you can automate virality by maximizing the share button and allowing your audience to share what they find valuable.
Want to learn how I earn my passive Income working from home?
Click here right now for our review, my personal help, and instant access to our free training videos where we'll show you exactly how we did it ourselves starting out as complete beginners without ANY prior knowledge or experience in marketing online whatsoever!
Here are more marketing automation tools worth trying out
Inbound marketing automation – This involves content management from end to end. One example is the email drip campaigns which are auto-generated emails executed when a new lead is generated or when a subscriber changes their purchasing behavior.
Lead management tool – These tools allow you to manage and nurture leads. It automates the cycle of acquiring and qualifying leads for conversions.
Pricing automation strategy tool – This tool can detect abandoned carts possibly due to pricing and offers a price drop on the product.
Advertising automation – This helps in showing ads relevant only to segmented leads.
12. It is Cost per Conversation, not Cost per Click
Ads may cost a bit expensive but think of it as cost per conversation. One good example is the cost of LinkedIn ads compared to Facebook ads. It is important to determine whether LinkedIn ads are suitable for you or your business. Then compare your possible ROI after developing targeted B2B leads.
13. Results of tasks
Prioritizing results over tasks allows you to focus on the goal without overwhelming yourself with the things you need to do to achieve it. If you're able to hire a team of marketers, it is also good to hire people who are smarter than you. Let them find the best strategies to achieve your goal. You'll find that sometimes all you need is an extra hand to get the results you want.
Clean and organized product page
Easy to identify payment options, delivery details, cart, checkout page, etc.
Smooth and quick transition from cart to check-out page
15. Embrace chatbots
Chatbot.com
ManyChat
FreshChat
Hubspot Chatbot Builder
Chatfuel for beginners
16. Retargeting inactive leads
Offer discounts, promotions, or a rewards program
Offer incentive for feedback
Suggest new products
Personalized messages
17. Improve your website's security
Secure e-Commerce platform
Valid SSL Certificate
Firewalls
Utilize a qualified payment processor
Final thoughts
If you need help choosing the right Affiliate Program, check out my #1 recommendation on building a successful Affiliate business online. You can get access to hundreds of training videos, 24/7 support, professional consultations, private access to training guides, tools, personal private assistance, my personal help, and much more.
PS: Click here to review my #1 recommendation in detail.
Get My Top Tips Delivered to Your Inbox!
Get a Money Making Tip Every Sunday
Enter your email and gain access to my make money tips and receive your free gift.
Working Online From Home - A Proven 4 Step System
See the 4 steps to working online from home & earn residual income