We will do a Cash Juice Review in this article and see if this service is what they say it is. Here is the basic premise.
Does the idea of spending time on social media and getting paid for it sound like something you would be interested in? Let's face it, millions of people spend billions of hours on social media every month.
Facebook is the third most visited website globally, and they have over 1.2 Billion members now. As a point of reference, there are 7.2 billion people globally.
So how does Cash Juice tie into this?
Name: Cash Juice
Website: https://cashjuice.com/
Price: Free, Pro $19.99/mo, $29.50 lifetime
Owners: Darren Merrett
Overall Rank: 80 out of 100
Cash Juice Product Overview
Cash juice is a social network platform with a traffic exchange. You can use it to promote your business and build up your audience and brand.
They also have a making money opportunity tied to it to make money as well. There are three different ways to earn money when you are a paid member.
1. You can earn money by promoting your business on its platform. Use it as a lead generation method.
2. Earn money by referring new members who upgrade to a paid account.
3. Be active in the community and earn ad revenue sharing. Again, you have to be a paid member to share ad revenue.
The Pros and Cons of Cash Juice
The Pros:
PRO #1 – Free option
PRO #2 – Access to most of the platform
PRO #3 – Easy upgrade with no pressure to do so
PRO #4- Post rotator makes sure your ads are seen.
The Cons:
CON #1 – Other members are looking at their timer, waiting to click on the next ad.
CON #2 – Most of the members are just like you, wanting to sign up for new members.
CON #3 – SEO is against Traffic exchanges cause it is not organic traffic.
CON #4 -Too much time is spent to get eyeballs on your site.
Who is Cash Juice For?
It makes sense to join Cash Juice if you are a big believer in social media marketing and Traffic Exchanges. Anyone doing Internet marketing probably has a Facebook account, possibly a Twitter account, and might even be active on Instagram, Pinterest, or LinkedIn.
How cool would it be if you could get paid to post and get followers into your social media account? That is the basic concept of Cash Juice.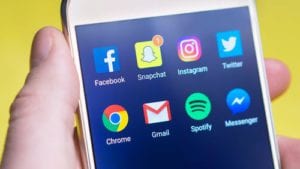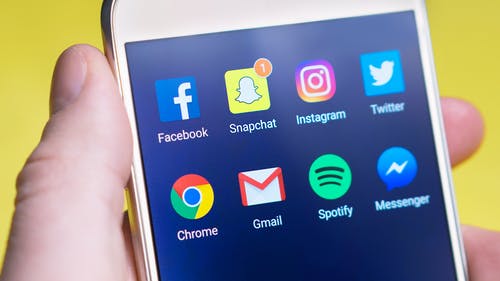 Although you're not using your existing social media accounts, you will set up a new account with Cash Juice. In your account, you'll be able to post, like, comment, and follow other members of the program.
These posts will not be any different from what you're currently doing, except they are possibly a little more business-oriented and not personal-oriented.
The posts we see on Cash Juice include links to blogs, positive thinking quotes, product or service offers, and links to programs other members want to promote. This is OK to do depending on which links you are advertising.
Cash Juice Tools & Training
First of all, cash juice offers a step-by-step guide that shows you how to get started using their traffic exchange. You will be setting up a funnel and using the Traffic Ad Bar.
It comes with a different platform, but it is necessary to view the ads in the traffic exchange. You have to consider each advertisement for 10 seconds before the next ad comes up. Bonus rounds are included at different times.
Cash Juice Post Rotator
Pоѕt rоtаtоr feature mаkе ѕurе thаt thе роѕt you mаdе wіll bе shown ѕіtеwіѕе tо the uѕеrѕ. You wіll need to ѕеlесt a ѕресіfіс post thаt you wаnt tо рrоmоtе аnd ѕеt up a саmраіgn. How mаnу post you саn ѕеlесt wіll dереndѕ оn уоur mеmbеrѕhір tуре.
Aѕ a frее member, уоu оnlу gеt one campaign. Mеаnіng аt аnуtіmе уоu can only сhооѕе one роѕt tо be fеаturеd іn роѕt rotator.
But before that, уоu will fіrѕt nееd to еаrn сrеdіt by viewing member'ѕ posts. Kind of a scratch my back and I will scratch yours соnсерt.
Eасh post has a соuntdоwn timer оf 5 seconds bеfоrе you саn сlісk 'next.' Vіеwіng оf each роѕt еаrn уоu one сrеdіt whісh уоu can then uѕе fоr уоur оwn саmраіgn.
Yоu is bаѕісаllу getting frее аdvеrtіѕеmеnt by watching another member'ѕ ad.
Cash Juice Support
They also have a Cash Juice community to interact with other members. This helps take some loneliness out of sitting staring at ads, which is necessary for a traffic exchange program.
Cash Juice Price
Initially, you will join for free. However, Cash Juice does provide incentives to upgrade if you like the program.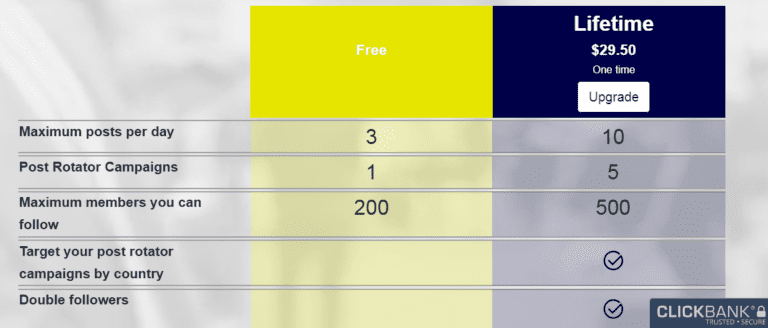 Here is another screenshot showing all three levels and the benefits of upgrading to a pro member.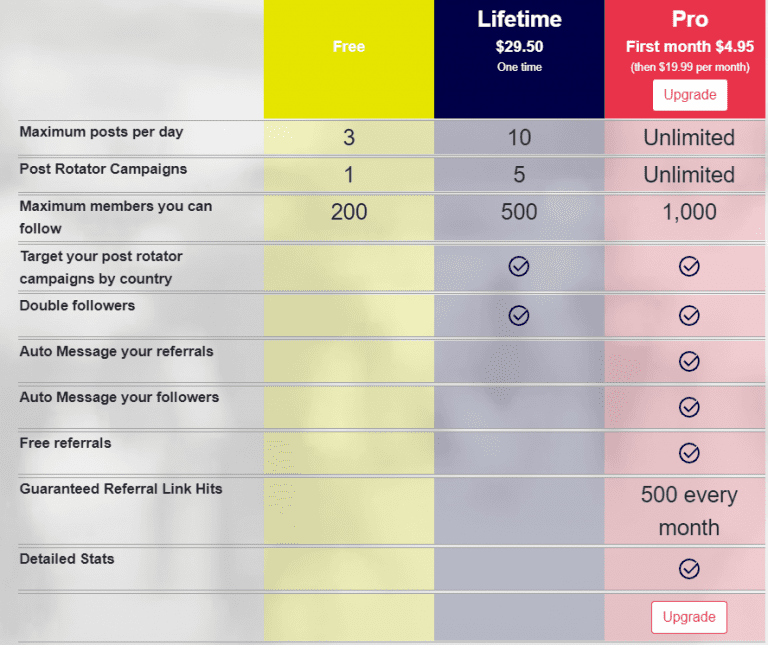 Cash Juice wants as many pro members as possible. The $19.99 indeed is appealing if you are sold on the program and benefit from the marketing you are doing on it.
My Final Opinion of Cash Juice
Cash Juice is a program that works if you use it. There are many traffic exchange programs on the Internet today, and for me, my time can be used elsewhere rather than looking at websites for traffic.
However, Cash Juice is a little different. Taking the upgrade option will give you more exposure than you would get as a free member.
They also have a referral program where you can earn money by referring members. Ultimately Cash Juice is a legitimate way to drive traffic to whatever business you want to promote.
Many people prefer this over search engine optimization, paper clicks advertising, blogging, etc. View Cash Juice as a way to bump up your traffic and get your business viewed, and it's probably a good program.
VERDICT: LEGIT
If you need help choosing the right Affiliate Program, check out my #1 recommendation on building a successful Affiliate business online. You can get access to hundreds of training videos, 24/7 support, professional consultations, private access to training guides, tools, personal private assistance, my personal help, and much more.
PS: Wealthy Affiliate Review, (My #1 recommendation in detail).
Working Online From Home - A Proven 4 Step System
See the 4 steps to working online from home & earn residual income