The question is: How do I create a YouTube channel? YouTube is a massive platform with a global reach of over one billion users, the site generates hundreds of millions of usage hours every day.
Being the premier location for video content, YouTube is a vibrant space for creative projects and business promotion. The community is very active and is a rewarding environment for channel creators.
Many people have passion projects that they are eager to share but aren't sure about how to begin on YouTube. The fact that YouTube is such a massive platform can be intimidating, but it should not prevent you from jumping on board.
The process of starting your own channel is actually quite simple. This article will walk you through it step by step answering the question of how to create a YouTube channel.
Since my blog provides tips on how to make money we will go into detail on how to earn money from your YouTube channel. There are people online killing it on YouTube and you can be one of them.
Want to learn how I earn my passive Income working from home?
Click here right now for our review, my personal help, and instant access to our free training videos where we'll show you exactly how we did it ourselves starting out as complete beginners without ANY prior knowledge or experience in marketing online whatsoever!
Create a Google Account
The first thing required to start a YouTube channel is a Google account. (If you already have a Google account, you can skip this section, but otherwise, start here)
Creating an account is quick and easy. Simply follow these steps:
• Go to YouTube.com
• Click "Sign In" located in the top right
• Select "Use Another Account/More Options" and then "Create a New Account"
• Follow the directions to finish creating your Google account
After completing this process, you are ready to set up your YouTube channel.
Create a YouTube Channel
Once you are signed into YouTube, click on your profile image located in the top right corner of the screen. From the drop-down menu click on the Settings icon that is shaped like a gear.
Under the heading "Additional Features," you will see a link to create a new channel. After you click this there will be the option to create a channel either for personal or business use.
Select the category that matches your goals for the channel and inputs the required information as prompted. You will need to name your channel as well as select a category that fits your content. Once this is completed you have successfully started a YouTube channel.
Related Video: On How To Make A YouTube Channel
Channel Artwork
Now that your channel is set up you will be able to start posting videos and generating views. An important element to help bring people to your channel is to set up your channel artwork. This adds a personal touch and distinguishes your channel from all the others.
When you are on your channel page, you will notice the banner at the top contains a generic filler artwork that is generated by YouTube. Click on the icon to edit this frame.
You will be given the option to use your own custom art from Google Photos or pick from a gallery of preexisting images. After you select the image you can crop and adjust it to the size and specifications that you desire. Now you have a fully operational YouTube channel with artwork that is ready to promote your content.
Want to learn how I earn my passive Income working from home?
Click here right now for our review, my personal help, and instant access to our free training videos where we'll show you exactly how we did it ourselves starting out as complete beginners without ANY prior knowledge or experience in marketing online whatsoever!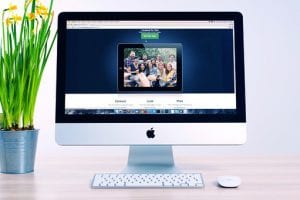 Tips On Making Good Videos
One of the keys to having a successful YouTube channel is making good videos. You can approach this in several ways.
1. Join Animoto. This is a great online service for creating video slideshows. You can upload videos of your own or use stock pictures they provide.
You can also choose your video music. With Animoto you can upload the videos you create directly into your new YouTube channel.
2. Create videos using a camera. Of course with a smartphone, you can make a video and record it and add pictures to it.
If you prefer you can buy a video recorder. If your YouTube channel is being started for-profit having quality videos both in image and content is important.
I would also suggest that choosing proper tags is important in helping people find your videos. Google uses these tags to put videos into categories.
Finally, on this topic let me say you want to create a good description of your video. Include keywords you want to rank for in it and link back to your website or blog directly.
Making Money On Your YouTube Channel
Making money with your YouTube channel is one of the cool things about it. You should start with these steps.
1. Go to www.youtube.com and click "My Channel" on the webpage.
2. Click the link called "Video Manager" on the top bar.
3. Click the channel and Enable monetization.
You will need 1000 subscribers and 4000 hours of watch time to start making money with Google AdSense.
At that point……
You can monetize a video as it uploads by clicking the Monetization tab and checking the "Monetize with Ads" box.
To monetize a video after it has been uploaded, open your Video Manager and click the "$" sign next to the video that you want to monetize. Check the "Monetize with Ads" box.
You will need to join the Google AdSense affiliate program for free which is one of the fastest ways to earn money online at home.
Google will provide training on the best ways to get started with AdSense including YouTube videos.
Link To Your Blog
Until you can start using AdSense to make money use videos to establish your brand and link back to blog posts or website pages. Using your YouTube channel as a traffic generation source is a smart way to increase traffic long term.
When you have a video online it stays there. This makes it a potential driver of traffic for years to come.
Final thoughts
YouTube is a massive platform to utilize in order to have your content reach across the globe. The process of creating a channel is simple and their customer support team is always willing to answer any additional questions you may come across.
Hopefully, this is an effective guide to getting your YouTube channel off the ground and puts you on the way to posting your first video.
If you need help choosing the right Affiliate Program, check out my #1 recommendation on building a successful Affiliate business online. You can get access to hundreds of training videos, 24/7 support, professional consultations, private access to training guides, tools, personal private assistance, my personal help, and much more.
PS: Click here to review my #1 recommendation in detail.
Working Online From Home - A Proven 4 Step System
See the 4 steps to working online from home & earn residual income