The question of how to make money quick and easy is always on the minds of individuals who start out in business for the first time.
As opposed to what? Slow and hard?
Have you ever jackhammered pavement on a hot July day? Have you ever dug a 10-foot deep hole large enough in circumference to hold a light pole?
These are just two things that come to mind when I think about slow and hard ways to make money. You do get an hourly rate, but after about two days you begin to wonder whether it's worth it or not!
There are slow and hard ways to make money on the Internet as well. Building an authority blog and monetizing it with Google AdSense comes to mind.
Depending on the niche you may have to create a blog that is several hundred, or even over 1000 pages in content. You also have to put some thought into what keywords you are putting on that content.
This helps you use search engine optimization to get your blog post ranked. That even then it takes a certain amount of faith because you're working extremely hard, but you're not making much money.
There are way more examples of people who do not make money on the Internet at all than there are examples of people who make money quickly and easily. Even the slowest method of making money is somewhat elusive for the majority of people online.
So, if you want to know how to make money quick and easy let me give you my 4 tips that will work for you.
Want to learn how I earn my passive Income working from home?
Click here right now for our review, my personal help, and instant access to our free training videos where we'll show you exactly how we did it ourselves starting out as complete beginners without ANY prior knowledge or experience in marketing online whatsoever!
1. Take Paid Surveys Online
There are many survey websites you can join for free and start making money taking paid surveys right away. I'm talking about joining a site such as Cash Crate and taking your first survey for money in the next five minutes.
This not only is free, but it's quick, and it's easy. Many surveys can be done in 10 minutes or less.
It may seem hard to believe, but companies will pay you for your opinion. It almost sounds too good to be true, doesn't it?
Here's the downside of taking paid surveys to make money. The amount of money you make per survey is going to be very small.
You may luck out and find one that will pay you over $1, but often it's less than that. For example, you might find surveys to take, that pay you $.50 and can be completed in 15 minutes. When you do the math that works out to about two dollars an hour.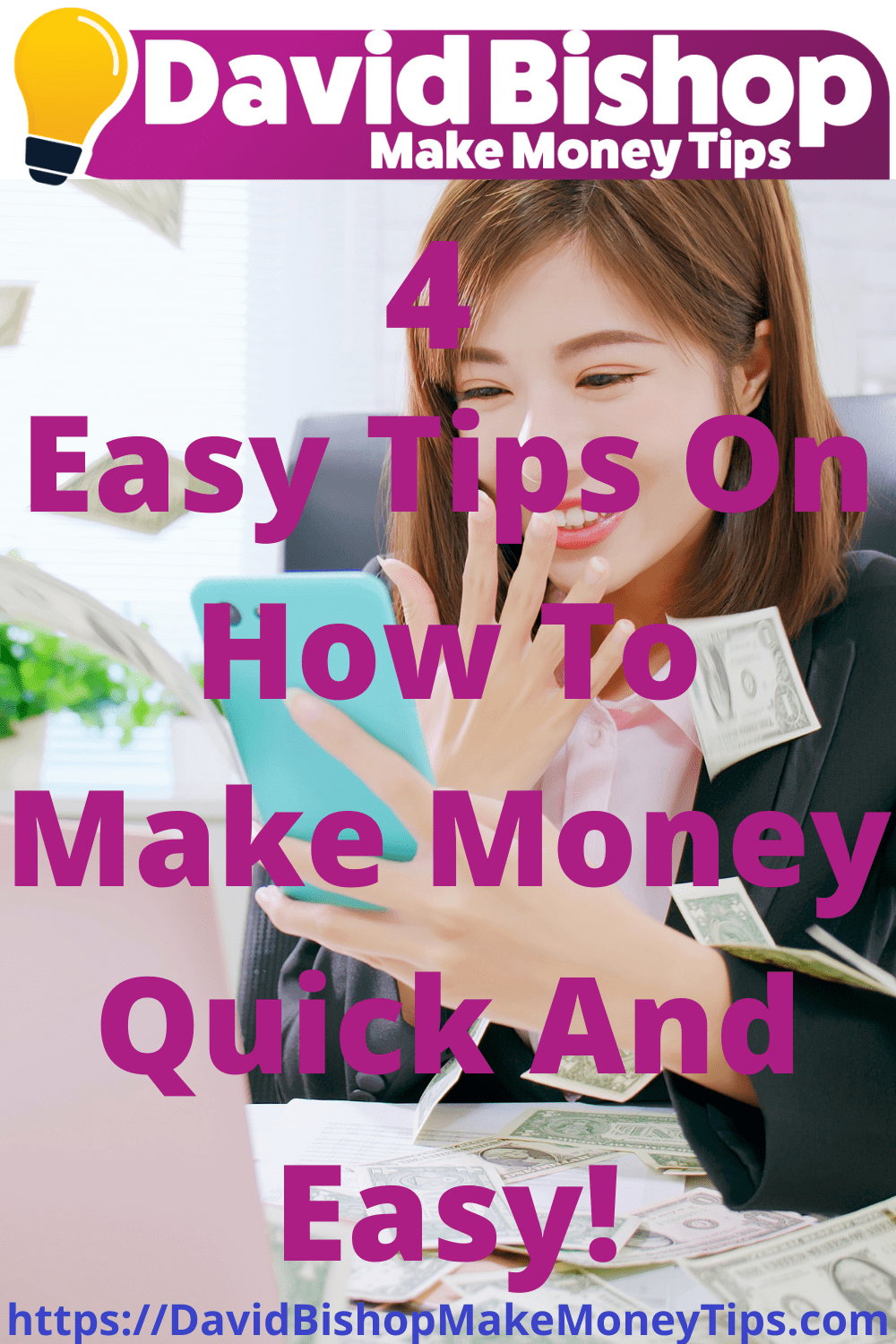 2. Write Blog Articles For A Content Mill
A content Mill website is where you get paid to write articles for the customer the content mill provides for you. Most content mill sites today require sample work before they will set you up to write for their clients.
However, once this is done, you can log into the site and find a job immediately. The advantage to this is you do not have to sell your job or do any work for the customer at all other than write the article.
Most of these have an option where you get paid weekly for your work. Depending on your skill level, and how fast you write, you can usually make more than minimum wage writing from the comfort of your home.
I wouldn't necessarily say that this is easy, but it does get easier the more you do it. It certainly is a quick way to make money because the work is already there; you just need to complete it.
3. Google Adsense
I talked about this earlier in the article as a hard way to make money, but let me explain how it can also be quick and easy. Google sells the ads for you.
Your customer doesn't have to make a purchase for you to earn money. They just click on the ads.
Google pays you 68% of the advertising sales price. You get paid by the click.
For example, if an ad costs one dollar you earn $.68 for every click. Once you've made over $100, Google sends you a check once a month.
It's hard to get enough traffic coming in to earn a decent amount of money. The exception will be if you're using paid traffic. If you join my number one recommendation and the end of this post, I will work with you and build your blog within six months you could be earning $300 with just AdSense alone per month.
If you buy Google Adwords and get paid from Google AdSense, this is known as clicking arbitrage. Many Internet marketers use a variation of that by purchasing their traffic on Facebook and sending it to pages where their Google AdSense ads can be clicked.
This is a quick and easy way to earn a passive income once you have your blog set up with ads on them. If you have steady traffic coming, and you don't even have to work at all to be still making money.
4. Affiliate Marketing
This is my personal favourite way to make money online. I use the pay-per-sale affiliate marketing method. This is where you will meet a community of people and myself showing you a 4-step proven system that will work for anyone. you would be able to take a look at it before you make any purchase, and if it is something that you think you would not like to do, that is fine as well, at least you did not lose any money.
Affiliate marketing is what I recommend for anyone starting out. In my case, I like to sell the Wealthy Affiliate business program. This is a residual income program. Every customer that makes a purchase continues to pay monthly, and I earn a commission on that sale even though I only did the work one time.
Residual income is an excellent quick and easy way to make money once you have a system in place for driving traffic to your affiliate offer. Of course, the quick and easy part comes into play when you have existing customers that continue to order every month.
This is also true in the network marketing business model, although you have to build a large downline of distributors before you are earning much money. I don't like to list this as a quick and easy way to make money because many network marketers never build a downline of distributors where they reach the point they are making money every month.
Final thoughts
These are several ideas on how to make money quickly and easily. I would submit that using the Internet offers many different ways to earn money that is not that hard and are relatively fast.
The ones that take Internet marketing skills are going to be harder, but the payoff is greater. The ones that don't take many skills, generally pay you quicker, but the amount of money you earn is less.
If you are interested in creating your own home business, check out
my #1 recommendation on building a successful business
. You can get access to hundreds of training videos, 24/7 support, professional consultations, private access to training guides, tools, and much more.
Working Online From Home - A Proven 4 Step System
See the 4 steps to working online from home & earn residual income