The question of how to start a successful business online can be answered in multiple ways depending on which angle you decide to approach it from. I will explain why this is so in this article.
I prefer to take a logical approach and analyze it by finding a need, filling the need with a solution, and marketing the solution to people who have that need.
This is not as easy as it sounds, but when you do it this way you end up with a real online business that can bring you long-term income when you do it right.
Just based on this last sentence, you can see I am not talking about fads or the idea of the month club.
I am talking about building a real business on the Internet that will be there for you today, tomorrow, and beyond. I am partial to the affiliate marketing business model, so we will use it in the examples below, but these steps can apply to any online business.
So, here are the steps I suggest you take to start a successful business online of your own.
Target Market
Think about a need someone has and how you could make money supplying a product that fulfills that need. Often this could be a problem that someone has.
For example, there is a target market of people who would like to start their own online business for whatever personal reason. Maybe they need more money so they can quit their job, travel, finish their basement, give more to charity, and so on.
This could be your target market!
Want to learn how I earn my passive Income working from home?
Click here right now for our review, my personal help, and instant access to our free training videos where we'll show you exactly how we did it ourselves starting out as complete beginners without ANY prior knowledge or experience in marketing online whatsoever!
Product
Your product should take care of the need. It should solve the problem your target market has.
Again using the example of someone who wants to start their own online business I sell a program called Wealthy Affiliate. This program is designed to help people start their own online businesses and make money from them using the affiliate marketing business model.
My product allows me to make money filling people's needs. This is a real product that people buy and pay for every month in the form of a membership. This earns me a residual income which is one way to make money online.
Website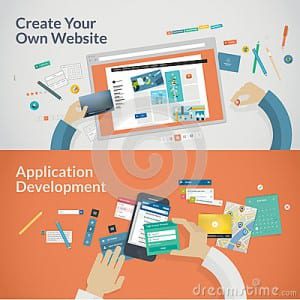 Every online business needs a website to supply its product.
In affiliate marketing, it doesn't matter if you are getting paid by the sale, by the lead, or by the click. You still need a website to deliver your products.
One mistake I see many affiliate marketers make is they rely on the replicated website supplied by the affiliate merchant instead of building their website.
Do not make that mistake.
You can see I have a blog that serves as my website. I use it for a variety of reasons including driving traffic, selling products, building an email list, establishing my personal credibility, relationship building, and so forth.
A blog is an excellent way to set up any website for your online business. WordPress has blog templates to fit any situation including eCommerce, sales pages, membership sites, etc.
I am using an Omega WordPress Theme that is clean, simple, and responsive which means it is mobile-friendly. The theme adjusts to the size of the screen it is being viewed on.
This just means it looks great on a desktop computer, a notebook, a tablet, and a smartphone. This is an important point to keep in mind as more people will be accessing the Internet via a smartphone in the future.
Want to learn how I earn my passive Income working from home?
Click here right now for our review, my personal help, and instant access to our free training videos where we'll show you exactly how we did it ourselves starting out as complete beginners without ANY prior knowledge or experience in marketing online whatsoever!
Build An Email List
Everyone who comes to your website is going to leave. Your goal is to get as many positive responses from each of them as possible.
Aside from selling a product nothing is more important than getting their name and email address for future follow-up. As they say, "fortune is in the follow-up."
When you consider starting a successful business online, think about building assets. An email list is an asset you own that can pay you back over and over many times.
Once you have the name and email address of a website visitor, you can contact them anytime you want, and it is not spamming them. They have given you permission to communicate with them.
We will talk about email marketing more in the future. This can be used so many different ways to benefit your online business. You do not always have to be selling it to be effective.
One trick is to email your list and invite them back to your website. I do this whenever I have a blog post I think they would enjoy.
Sending out a simple email with a link back to my blog post is a great way to build relationships and build my authority. You will want to do this as well, so set up your website with a sign-up form above the fold where it is easy to find.
Give away something that would make them want to sign up with you. This is a very passive way to build your list and get your online business off to a good start.
Traffic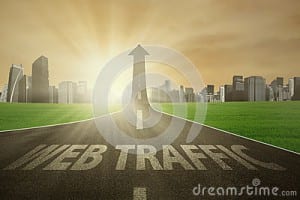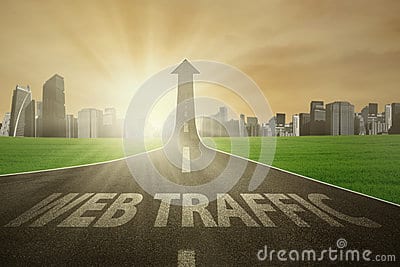 Every online business needs website visitors that we refer to as traffic. These are the people stopping by your website to find something.
The main thing I want to say about getting traffic is you wish to cast a big net.
Promote in a significant number of different ways so you can be found by people all over the world wide web.
Some of your traffic you will get using free methods such as social media marketing. Other traffic will come from paid methods such as pay-per-click marketing. I devote a lot of time and space to my blog here to get more traffic, and I encourage you to check some of those posts out.
My Final Thoughts
These are the steps I take to start an online business. The last thing I will say is once you have a system in place you can rinse and repeat it as many times as you want.
You may want to focus on one website and build it into a large authority website. However, you may also want to develop your mini-empire of websites in multiple niches.
There are Internet marketers today who have hundreds of websites earning them six and seven-figure incomes. This is a personal choice, but nothing is impossible when you target a specific market with products that fill a need and drive traffic to a website where you can sell your products.
If you need help choosing the right Affiliate Program, check out my #1 recommendation on building a successful Affiliate business online. You can get access to hundreds of training videos, 24/7 support, professional consultations, private access to training guides, tools, personal private assistance, my personal help, and much more.
PS: Click here to review my #1 recommendation in detail.
Working Online From Home - A Proven 4 Step System
See the 4 steps to working online from home & earn residual income