VPN services have become necessary for both individuals and businesses alike, which you would see in this IPVanish review. The protection and security it provides ensure privacy to your online activities and more.
Also, the VPN service providers offer a way to earn a passive income, the IPVanish Company. They give up to $100 commission for each new sale. On top of that, you also get recurring commissions for the life of your referral's subscription.
Is this true? Or is it another overhyped marketing tactic? Let's find that out now in my complete IPVanish review.
Product Name: IPVanish
Founder: Mudhook Media Inc, 2012
Product Type: VPN service provider
Price:
The IPVanish Affiliate Program is free to join.
Below are the IPVanish plans, inclusions, and costs.
VPN
Monthly plan – $3.49 for the first month, then $9.99 thereafter. Join here
Yearly plan – $31.49 for the first year, then $89.99 thereafter(fully refundable for 30 days)
Best For… Everyone
Ratings: 90/100
Plan inclusions:
Advanced encryption
Online anonymity
Secure Access
Advanced encryption
Unmetered device connections
No data transfer caps
Servers in 75+ regions
Shared IP addresses
Zero traffic logs
Proxy web server
Access to censored media
Multiple connection protocols
24/7 customer support
VPN + Storage
Monthly plan – $3.89 for the first month, then $10.99 thereafter
Yearly plan – $34.99 for the first year, then $99.99 thereafter (fully refundable for 30 days)
Plan inclusions:
All VPN plan inclusions
Secure storage space (500 GB)
Continuous file syncing
Data sharing controls
Remote device wiping
IPVanish offers VPN services with monthly and yearly plans that include outstanding features and a 30-day money-back guarantee. The company also has a high-paying affiliate program that lets you get commissions of up to 100 percent. So while you enjoy a safe and private connection, you also have a lucrative stream of income on the side
What is IPVanish?
IPVanish is a commercial US-based VPN service that provides end-to-end network encryption while appearing in more than 75 different locations. IPVanish was developed by Mudhook Media Inc in 2012 and is based in Orlando, Florida. It is an independent subsidiary of Highwinds Network Group that started with 32 services with a Windows OS client. After several years, their software support expanded to other platforms such as iOS, macOS, Android, Fire TV, Linux, and Chrome OS.
In 2017 Highwinds Network Group and IPVanish were acquired by Stackpath, a CDN company. Then in 2019, IPVanish and other VPN companies were acquired by J2 Global through their NetProtect business. IPVanish has been featured in several multimedia outlets such as Forbes, CNN, NBC News, Business Insider, APC, and Tech Advisor.
How does the IPVanish work?
IPVanish works similarly to other VPN service providers, but some of the features and apps that IPVanish provides distinguish it from the rest. As a VPN service provider, IPVanish secures a connection from your device to the internet. It encrypts information shared within a network to keep your data private. Therefore, protect your online connection so that the other users within the same network do not intercept your activity. These other users include cybercriminals, third parties, internet service providers, as well as invasive advertisers.
With IPVanish, you conceal your activity, secure your internet connection, bypass censorship and regional blocks, and hide internet traffic from your broadband service provider, ISP, and mobile carrier.
IPVanish has 40,000+ IP addresses, 1,600+ servers in 75+ locations as shown below:
North America: 969
South America: 31
Europe: 505
Asia: 76
Africa: 11
Oceania: 58
You can find the detailed list of the servers on the IPVanish website.
Some of the notable key features of the IPVanish are the following:
IPVanish is best known for its speed. Using a VPN can slightly drop your connection speed as it tries to connect to an optimum server and encrypts your connection. And on several occasions, if your local server is congested, the connection would travel to a farther server. This, in turn, can have a noticeable decrease in download and upload speed or a decrease in ping. But IPVanish connection speed remains almost unchanged even when you change server connections.
IPVanish may not be able to bypass all VPN blocks and geo-restrictions. However, it can unblock the following using most servers:

Netflix
Vudu
ESPN
DAZN
HBO Go
Free services
FOX THE US
SlingTV

When it comes to torrenting, IPVanish provides unlimited P2P connections. In this way, you can torrent anonymously and safely. IPVanish is partners with SugarSync, a cloud storage service that offers users 250 GB of secure cloud storage.
IPVanish supports all major platforms and offers router installation for network-wide protection. There's also an unlimited number of devices you can connect to one account, which is a great feature that distinguishes IPVanish from other VPN service providers.
IPVanish has a zero-log policy. This means that they do not keep any record of the connection, traffic, and activities. You can be sure that your data is secured and anonymous every time you use IPVanish services.
Want to learn how I earn my passive Income working from home?
Click here right now for our review, my personal help, and instant access to our free training videos where we'll show you exactly how we did it ourselves starting out as complete beginners without ANY prior knowledge or experience in marketing online whatsoever!
Can You Make Money IPVanish?
Yes, you can make money with IPVanish by being their affiliate. It may not be the cheapest VPN service out there, but the price is quite reasonable with all the impressive features and apps it offers.
IPVanish has an affiliate program called the Affiliate Groove. It is an exclusive platform for IPVanish affiliates. As an affiliate, you will be joining social media influencers, bloggers, sales professionals, marketing teams, and web admins in promoting IPVanish services.
As an IPVanish affiliate, you can earn the following commissions:
New sales generated – Up to 100%
Subscription renewals – Up to 35%
So if you have 5 referrals to sign up for the $34.99 VPN+Storage yearly plan, you can get as much as $170+ commission. And this is just for the first year; if the same referrals renew their yearly subscription for $99.99, you can get as much as $500. As long as your referred subscriber remains a customer, there's no limit to your payouts and recurring commissions.
Your commissions are approved on the 31st day from the signup date, while non-recurring commissions are approved on the 31st day after the renewal date. Also, all balances of $100 or more are automatically processed for payout either via PayPal or direct deposit. For businesses or non-US affiliates, you can only payout via PayPal.
How To Make Money With the IPVanish?
I believe the best way to make money with IPVanish is to know what it can offer to its users. You must have a good understanding of its features and be able to highlight them to your potential customer right away. This involves purchasing an IPVanish plan and experiencing the service on your own. If you can, it's also good to try out the highest plan to experience the difference and be knowledgeable about it when you promote it to other people.
When you're a novice in affiliate marketing, it is also a good idea to get some training to understand better how it works and learn marketing strategies that can help you in promoting IPVanish.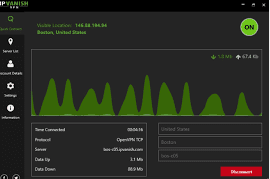 The Pros & Cons of IPVanish
Just like the other VPN service providers, IPVanish also has its pros and cons. It's best to know both the good and the bad before purchasing an IPVanish plan on joining the IPVanish affiliate program.
Pros:
Zero logs
No IP address leaks
Fast speed
Best for Amazon Fire TV stick
Anonymous torrenting
Over 40,000+ IP addresses
Up to 10 simultaneous connections
30-day money-back guarantee for some plans
Cons:
Limited access to Netflix
Does not unblock Disney+ or BBC iPlayer
Browser extension not available
It does not work in China
Want to learn how I earn my passive Income working from home?
Click here right now for our review, my personal help, and instant access to our free training videos where we'll show you exactly how we did it ourselves starting out as complete beginners without ANY prior knowledge or experience in marketing online whatsoever!
Any Negatives? Beware of Lawsuits
Although this was not a lawsuit against IPVanish, in 2016, the company got involved in investigating child pornography. An IPVanish customer is suspected of sharing links with child pornography images over IRC the Department of Homeland Security (HSI).
During that time, IPVanish is still owned by Highwinds Network Group. The HSI needed the user information of the IP address, so they've sent a summons of records to the Highwinds Network Group. They handed it over after receiving the second summons of records from HSI.
In 2018, a post on Reddit showed the 2016 child pornography case court documents, which included the user data provided to HSI. It includes the customer's name, email address, the time the customer connects and disconnects from the server, information about the VPN subscription, and even the real IP address. This goes against the zero-logging policy that IPVanish has been very vocal about.
Despite helping HSI to solve the case back then, the company found itself amid a data-logging scandal. However, Stackpath VP Jeremy Palmer said that IPVanish has never stored user logs since Stackpath bought the company. He added that they could not speak on behalf of the management team before them and made it clear that IPVanish is no longer part of the Highwinds Network Group and that what happened in the 2016 lawsuit could be a one-off.
Is the IPVanish Legitimate?
IPVanish is a legitimate VPN service provider which has been around for a while. I believe they have established a trusted and reliable brand despite being involved in the data-logging scandal in the past. They remain one of the best VPN service providers with many features and apps that set them apart from the others.
Final Thoughts
Overall, IPVanish offers great value for your money with a significant network of servers and advanced features. Their apps are fast, reliable, secure, and easy to configure. Its zero-logging policy safeguards your privacy and security.
Moreover, their affiliate program offers high commission earnings, which are better than most affiliate programs. If you can get enough people to purchase a subscription from IPVanish, you can receive enough commissions to pay for your own. Best of all, thanks to the recurring commissions of the IPVanish affiliate program, you can build a long-term passive income by simply promoting a reliable and well-known brand.
If you are interested in creating your own home business, check out my #1 recommendation on building a successful business online. You can get access to hundreds of training videos, 24/7 support, professional consultations, private access to training guides, tools, and much more.
Get My Top Tips Delivered to Your Inbox!
Get a Money Making Tip Every Sunday
Enter your email and gain access to my make money tips and receive your free gift.
Working Online From Home - A Proven 4 Step System
See the 4 steps to working online from home & earn residual income