Do you want to start selling on eBay as a business? I will also discuss here how to sell on eBay for a beginner, and why is it so important to have your own website built from scratch.
One way to sell more products on eBay is by having a website of your own. It gives you credibility. You can build your own website by joining a community which you can see as my # 1 recommendation at the end of this post.
For example, customers prefer products with websites. It enables them to know more about the advantages of your products as well as read online reviews about them.
They can do this by clicking links to your product's website. For example, the eBay About Me Page, it also enables you to sell products directly from your page and increases bids.
Your site allows you to increase sales by letting customers find links to your site. For instance, when you sell products through eBay, auctions customers can link back to your website when they receive them.
You can use eBay as an advertising platform for your site. This post gives you 5 frequent questions on online forums about owning a website to sell products on eBay.
Want to learn how I earn my passive Income working from home?
Click here right now for our review, my personal help, and instant access to our free training videos where we'll show you exactly how we did it ourselves starting out as complete beginners without ANY prior knowledge or experience in marketing online whatsoever!
How Will My Website Fit Into eBay Auctions?
Previously, eBay allowed you to have a link to your site in auctions. That enabled you to sell your products directly.
Today they have changed this rule. Now they only allow you to link from your About Me Page. That means you should use an active hyperlink to get people to see you're About Me Page.
Encourage users to visit your About Me Page by asking them to check it out. You do this by letting them know they will get to view online reviews and see other auctions.
By doing this, users will use your eBay About Me Page to link to your website and place orders. They do this without going into your auction.
However, make sure you sell your products at lower prices on eBay as compared to your site. Failure to do this will lead to eBay cancelling your auction.
It enables customers to bid on products on eBay and also buy other items on your website. Make sure you get positive feedback from auctions. You will earn credibility for your site, company, and products.
Keep in mind that any bidder may be a future customer. It enables you to own customers once they buy your items on your platform.
You do this by getting their email addresses once they visit your website or buy products. It enables you to email them about special offers or new products.
Therefore, owning a website allows you to sell more products as a business on eBay. You should also consider creating downloadable information and giving it for free to your site visitors.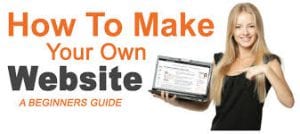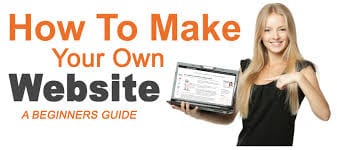 How Much Does It Cost To Put Up A Website?
It doesn't cost much to start a website today. Full-featured websites can cost as low as $10 a month for website hosting and a template to build your site on. or you can join a company for free where they give you two free websites and hosting, find out here.
Compare that to the old days when you had to hire a web designer, pay hosting fees, and get a webmaster. Keep in mind that you pay costs for selling at auction sites. For example, listing fees for auction sites, seller fees, feature fees, and also potentially PayPal fees.
When selling products using your website all you need to pay are PayPal or credit card fees. That means it's more profitable to sell items using your own website. As your client base grows, so will your revenue.
Owning a website as a business also enables you to join affiliate networks, earn income from Google Adsense, start a newsletter, and also exchange or sell banner advertising.
Want to learn how I earn my passive Income working from home?
Click here right now for our review, my personal help, and instant access to our free training videos where we'll show you exactly how we did it ourselves starting out as complete beginners without ANY prior knowledge or experience in marketing online whatsoever!
What Tactics Can I Use To Get People To Visit My Website?
You can use many strategies to get people to visit your site. They could include links from affiliate networks and auctions.
You can also increase traffic by running classified ads for free, posts on message boards, and banner exchanges and also offering free content information on the main search engines such as Google, Yahoo, and Bing
Social media marketing on Twitter, Facebook, Pinterest, Instagram, Linkedin, and other social sites is a big way to drive traffic to your site today. Other ways that you can use are starting blogs with links to your product sites and also purchasing advertising such as pay-per-click.
Can I Get A Website Even If I Am Not Good at Design?
One thing to keep in mind is you don't need design or programming skills to come up with a website. That's because many companies provide packages with pre-made templates.
These models have instructions that you follow on how to pick your site's layout colours, text, headlines, page links, and other factors. These template-based companies provide website hosting services and also take you through a step-by-step process.
They also offer you both Phone and Email support. This enables you to create hundreds of pages that showcase your products. They also let you hide products that may be on auction sites or are unavailable. many things are considered when having your own website, which is why it is so important to join a community that keeps you updated as the Internet changes.
Can I Get Free Resources?
You may want to make improvements to your website template after it's up and running. Many websites offer free resources for designers and webmasters. This stuff is also self-explanatory and easy to use.
You can get free photographs, names, tutorials, sounds, and scripts. There are also many services online that link you to these resources.
Final Thoughts
The above article Selling On eBay As a Business: Why You Need a Website of Your Own, should give you many reasons to consider setting up one. Make sure you provide useful content on your site and update it regularly.
Ready to get started?

If you need help choosing the right Affiliate Program, check out my #1 recommendation on building a successful Affiliate business online. You can get access to hundreds of training videos, 24/7 support, professional consultations, private access to training guides, tools, personal private assistance, my personal help, and much more.
PS: Click here to review my #1 recommendation in detail.
Working Online From Home - A Proven 4 Step System
See the 4 steps to working online from home & earn residual income