People always wonder why consistency is important in business and is something that most entrepreneurs failed to achieve in the very beginning and that is why most of them quit.
What does it really mean to be consistent in business? Why is it so important for a business to strive for and reach a high level of consistency?
Here at DavidBishopMakeMoneyTips.com, we work with businesses of all sizes, but we really specialize in helping small business people. This is the entrepreneur or as they are sometimes referred to the micro business.
Even more, we work with affiliate businesses so I will talk about consistency from both as a business and affiliate perspective in this article. I have found consistency offers many rewards to the entrepreneur to his/her business. It helps improve your business skills, grow your business, and build your brand.
It is always beneficial to join a community that speaks your language and if you do not have one, at the bottom of this article I will introduce you to the one I use that you can join for free.
Apart from that, there is more to say. Please find below the other benefits of consistency in business.
Want to learn how I earn my passive Income working from home?
Click here right now for our review, my personal help, and instant access to our free training videos where we'll show you exactly how we did it ourselves starting out as complete beginners without ANY prior knowledge or experience in marketing online whatsoever!
Credibility and Reliability
Being consistent means building your credibility and reliability factor with your customers and with others with whom you do business. Sometimes, your credibility may be a challenging thing to make in a business, but when you have it you reap beneficial rewards.
Being consistent in everything you do will let your customers know that they can count on you. The trust factor naturally happens!
When your clients know that they can count on you, you become their person to turn to. I see this all of the time in affiliate marketing and network marketing.
They do not look for their answers anywhere else. They come to you because you are known as someone they can trust every time.
These are the people who join your email list and stay on it. They are repeat visitors to your blog.
They are the ones that do viral marketing for you. Once you reach that high level of credibility and reliability there is really no end to how big your business can be and how much money you can earn.
Trust is everything, and if you can help others grow their brand and build a successful business online, then your audience with stay with you till the end once you continue to work with them consistently as I am doing with this website.
What does it mean to be consistent?
Let's say you have a newsletter. Whether you mail it or send it online by email as an electronic newsletter does not really matter.
What matters is you send it consistently. Getting on a set schedule is helpful to you and to your reader. It seems so small, but your customers notice it.
Let's say you have an ezine and it comes out once a week. We will go on Friday at 4:00 pm est since statistics have shown this to be the best time to send out this email.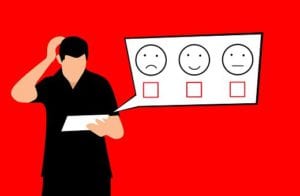 So, every Friday, your clients count on you to send that information right into their inbox. What happens when he is not there?
Your list notices. Some may call you, send you an email, communicate with you via text and so on.
They want to know if everything is okay. They have come to expect their newsletter from you.
Think of consistency from your perspective. Wouldn't you rather work with people who do business consistently? Or would you prefer to work with people who are not reliable and consistent?
You must do everything possible to be consistent with everything in your business. Strive for consistency in the message you are sending and the way your phones are answered.

Be consistent in the colours you use in your brand, logos, marketing, and office hours. Treat everyone the same. We all know the old saying "do unto others as they do to you".
Credibility and reliability go hand in hand. Becoming the person to turn to for your industry, or affiliate niche starts by being consistent in your business, in your marketing, your messages, and your life in general.
Want to learn how I earn my passive Income working from home?
Click here right now for our review, my personal help, and instant access to our free training videos where we'll show you exactly how we did it ourselves starting out as complete beginners without ANY prior knowledge or experience in marketing online whatsoever!
Your Goals
Here is another area where consistency is important. Goals are often personal, but in the world of affiliate marketing, you can share them as well.
When you are sure about what you need to achieve, you can establish coherent goals that will lead you to that goal. Nonstop action towards the target will always produce the best results.
Even if progress seems to be slow initially, keep jumping and continuously move towards your goals. So when you hit one goal you set another.
In the world of bloggers and entrepreneurs, we often use consistency to keep on track. In the book "Think And Grow Rich" we write down goals and read them twice a day.
I can not think of any more important thing to do that shows consistency in your business. You are changing your attitude which affects your long-term achievement.
Most will give up before they ever reach the end of Think and Grow Rich. They give up on the consistency it takes to make it to the finish line. This may or may not determine how successful the business is.
As I get ready to wind this article down let me break down consistency into 4 rules.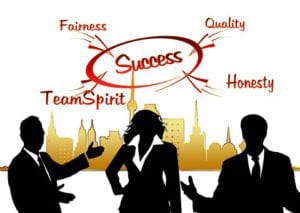 1. Measurement. Consistency sets your barometer to measure how you are progressing in your business.
Here is an example. You join an affiliate program and over time it is not producing. If you are not consistently presenting or marketing this affiliate product how do you know if your lack of sales is the fault of the product or the fault of yours?
2. Accountability. Consistency holds you accountable especially when it comes to goal setting.
3. Reputation. Think about other affiliate marketers in the niche your affiliate business is in. Are they consistent in what they do? Are you striving to be like them?
4. Your message. I love this one because consistency shows up in the message you are trying to convey to your prospects, blog visitors, old customers and so on.
Final thoughts
Have I given you some food for thought in relation to the importance of consistency in business? I hope so!
If you are interested in creating your own home business, check out my #1 recommendation on building a successful business online. You can get access to hundreds of training videos, 24/7 support, professional consultations, private access to training guides, tools, and much more.
Related Video:
PS: Please leave your comments or questions below, I would love to get your feedback here.
Working Online From Home - A Proven 4 Step System
See the 4 steps to working online from home & earn residual income