I like to re-evaluate where I am in my online business and take a look at what is working and what is not working in terms of earning money online. I'm going to call this article the dos and don'ts of earning money online in 2021.
I think this is a good exercise to take whether you're currently using the Internet to earn money, or if you're just in the initial research phase, which I know many people are. Google statistics show that millions of people come online every day looking for ways to earn money.
The hard part for newbies and experienced Internet marketers as well lies in the fact there are so many ways to use the Internet to make money. This leads people to make mistakes such as jumping around from one opportunity to the next, getting scammed by an unscrupulous Internet marketer, or just thinking earning money on the Internet is going to be easier than it really is.
Here's what I want to do in this article.
I've seen enough now to know what's going to work in the coming year and what isn't. Let me give you a handful of things you should do, and things you should not do, as it relates to earning money online in 2021.
Earning Money Online Don'ts And Do's
Don'ts
We'll start with a couple of things you should not do!
1. Don't invest money you do not have. A common problem I see people make is they take money from their everyday lifestyle and they redirect some of that into starting an online business.
I'm talking about taking your mortgage payment, rent money. or even something smaller such as a utility bill, and investing that in an online business with the idea you'll make that money back before your payment comes due.
This is a mistake you do not want to make. Starting an online business is no different than starting any business.
You're going to have your ups and downs. Never invest any more money than you can afford to lose when you are initially getting started.
2. Don't jump around from one opportunity to the next in 2021. Make this the year you settle on something and then you focus on it 100%.
Focusing is a problem for people trying to make money online. Overcome this by practising being hyperfocus.
In my case, I'm 100% committed to earning money in affiliate marketing with Wealthy Affiliate. Along those lines, I am focused 100% on helping other people earn money with me as well.
That could be you!
When you find something that is meaningful to you, and you commit to it, you will be amazed at how liberated you feel. No longer do you have to waste time surfing the Internet looking for the shortcut to earning money online in 2018.
When you take this time that you're wasting, and you redirect it into promoting the product or opportunity you are 100% focused on, this is when you will start to see great results.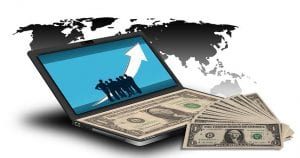 Do's
1. Settle on a business model. This is the method you're going to use to earn money online in 2021.
Examples of business models include direct sales, affiliate marketing, network marketing, selling big-ticket products, providing a service such as blog-writing, building information websites, selling private label rights, list building, and email marketing, and so on.
You get the idea!
In my case, I'm focused on selling affiliate products with Wealthy Affiliate. Let me tell you why this is how I'm going to earn a lot of money next year and how you can as well.
There are various affiliate products available on the Internet today. The great thing about these is the amount of money you can earn on one sale, or in residual income over and over in one program.
Are you looking for a way to make money online?
Click here right now for instant access to our free training videos where we'll show you exactly how we did it ourselves starting out as complete beginners without ANY prior knowledge or experience in marketing online whatsoever!
2. Spend 90% of your time marketing. The great thing about already knowing exactly what you're going to promote is you can spend almost all of your time marketing your products and business opportunity.
If you compare a successful Internet marketer to one who is struggling, it almost always comes down to website traffic. The more people you have coming to your website, or blog in my case, the more products you are going to sell, and the more money you are going to earn.
Thanks to social media marketing you can have a lot of fun while promoting your business on the Internet every day. You don't even have to be a social person to do social media marketing.
I would suggest that you do educate yourself on how to use social networks the best way to create a big income. The primary social networks you want to actively participate in Facebook, Twitter, LinkedIn, Pinterest, and Instagram.
If you're selling a business program as I do with Wealthy Affiliate, social networking is an excellent way to make new business contacts and help them get started making money with you.
When you make a commitment to spend 90% of your time on Internet marketing you will find that being active socially does not take as much time as you think, and it's just good business.
Final Thoughts On Earning Money Online In 2021
2018 is going to be a really big year for a lot of Internet marketers! Will you be one of them?
Be smart about the way you invest your money getting started in whatever business model you choose. Do your due diligence and be confident in the decision that you make.
Seriously consider doing direct selling online with affiliate products like Wealthy Affiliate. If you spend the majority of your time promoting these products you can earn a lot of money over and over on one sale.
You will surpass the majority of people who again will go through another year not only not earning any money, but those who will never earn really big money.
Not only is this possible, but it could really be you…..
I can help you!
PS: No credit card needed!
Get My Top Tips Delivered to Your Inbox!
Get a Money Making Tip Every Sunday
Enter your email and gain access to my make money tips and receive your free gift.
Need Passive Income?
A Simple 4 Step System
Enter your email and gain access to my make money tips and receive your free gift.
Working Online From Home A Proven 4 Step System
See the 4 steps to working online from home & earn residual income