Work from home jobs provides an opportunity for anyone to earn from home, which you will see in this GMR Transcription Review since 2004. The company claims that you can earn up to $3,000 per month working as their typist. Did it catch your attention? It caught mine too. But is this claim valid? Or is it just marketing bait? We will find out the truth in my GMR Transcription Job review.
Product Name: GMR Transcription Job
Founder: Ajay Prasad
Product Type: Crowdsourcing service platform
Price: Free to join
For applicants: Free registration and free application processing.
Best For… Mid to advance transcriptionists and translators
The GMR Transcription Job offers transcription and translation jobs to earn anywhere between $1,000 and $3,000 per month. You have the flexibility to work from home and anytime you prefer. You can also pick which assignments you would like to take and work as much as you want. However, getting a job at GMR Transcription Job is not that easy. You will find out why later on.
What is GMR Transcription Job?
The GMR Transcription Job has provided transcription and translation services and jobs since it was established in 2004. Ajay Prasad founded the company. He also founded other profitable companies such as the GMR Web Team, RapuGen, and the co-founder of SatNav Technologies. The GMR Transcription Job has its main headquarters located in Tustin, California. They have other offices as well located in 13 different states.
The GMR Transcription Job accepts the following transcription types:
Academic
Legal
Podcast
Business
Audio and video
Interview
Focus Group
Digital
Insurance
Government and non-profit organization
Meeting
Dictation,
Market Research
Text-to-text
Voice
Conference call
Investigate
Sermon
Verbatim
Microcassette
Earnings call
They also take language transcription jobs such as Spanish, Mandarin, and Arabic. According to their website, their workers typically earn anywhere between $1,000 and $3,000 monthly. But their pay depends on their skills and the type of work they have completed.
Want to learn how I earn my passive Income working from home?
Click here right now for our review, my personal help, and instant access to our free training videos where we'll show you exactly how we did it ourselves starting out as complete beginners without ANY prior knowledge or experience in marketing online whatsoever!
How does the GMR Transcription Job work?
If you are familiar with or have worked with transcription sites before, you may already know how the GMR Transcription Job works. The client requests their services, and the GMR Transcription Job sends these as assignments to their transcriptionists or rather their "typists." Their typists can accept or decline the position. After their typists submit the completed project, they get paid for their work.
At the moment, the GMR Transcription Job offers three different job openings which are:
General transcription
Spanish transcription or translators
Certified translators
The GMR Transcription Job does not require previous work experience, so you can apply even if you are a beginner to transcription work. If you would like to apply to any of their job openings, you can go to their website and click on the "Careers" tab at the top of the home page. Then click on the job that you would like to apply for. Then supply the online application form with the needed information.
Once the GMR Transcription Job receives your application, you will receive an email with the test along with the test instructions on how you can take it and where to submit it. To ensure that you will receive the email with the test, you need to follow the reminders below. Remember that the email with the test will only be sent once. On the online application form, ensure that you have:
Provided the correct email address
Answered yes on the "Willingness to take a short test" field
Uploaded your resume
If you have not received it, make sure to check your spam or junk folder as well. If you've provided an incorrect email address by chance, you can try sending another application form using a different email address.
After submitting your test, they will contact you within a couple of weeks. If you did not hear from the GMR Transcription Job after this period, most likely, you're not accepted. They are very keen on following instructions, so it's best to read them carefully.
But if you get accepted, the GMR Transcription Job requires the following equipment and software for your job:
A working computer
High-speed internet service
Over the ear headphones
Foot pedal
MS Office
The GMR Transcription Job has a probation period for all new typists. They require you to transcribe 2 hours of audio files before giving you paid work. They observe your accuracy and quality during your probation period to ensure that you meet the GMR Transcription Job's quality standard.
After your probation period, the GMR Transcription Job recommends you take at least 4 hours worth of audio per month. They claim that they have a lot of work to offer so you can take as much work as you want. They will send you the work they call "assignments" via email. This email will include the job details such as the pay rate, due date, and so on. You need to let them know if you would like to accept the work or not.
The GMR Transcription Job does not disclose their workers' pay rates on their website. But after doing some research, I found out that their transcriptionists earn up to $1.25 or more per audio minute. They based the pay rate on the quality of the audio, the number of speakers on the audio, and the turnaround time.
It is essential to point out that the pay rate is per audio minute and not an actual minute. Transcribing a 2-minute audio file may take a beginner several. At the same time, someone with fast transcription skills can finish it faster.
The GMR Transcription Job only hires applicants from the US, but they also do not hire applicants from California. This is because of Assembly Bill 5, popularly known as the "Gig worker bill." This legislation requires independent workers to be reclassified as employees, with some exceptions.
Can You Make Money with GMR Transcription?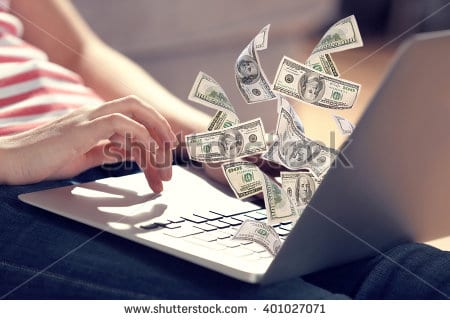 Yes, you can make money with GMR Transcription Job. However, you may need to practice your transcription skills to pass the strict application exam. Although GMR Transcription Job does not require previous job experience, you're expected to give a tough transcription test with a high passing grade.
They guarantee their clients a 99% accuracy rate, so expect that their transcription test will be difficult. And if you're already working as their transcriptionist, you need to maintain a high accuracy rating. Otherwise, you could end up losing your job.
How To Make Money With the GMR Transcription Job?
GMR Transcription Job claims you can earn more if you take difficult audio transcription jobs or those audio files for rush transcription. And, if you improve on your transcription speed and accuracy, eventually, your income can increase because you're able to finish more assignments.
If you maintain a high-performance rating, GMR Transcription Job sometimes will send you special assignments. They are more challenging and, sometimes, faster turnaround times, but they have better pay.
GMR Transcription Review: Pros & Cons
The GMR Transcription Job is a well-established company, but despite that, it still has its pros and cons.
Pros:
Work from home opportunity
Flexible work hours
Fast payments
Cons:
Difficult application process
Inconsistent work opportunities
Two hours of unpaid audio during the probationary period can be equivalent to several hours.
For US residents only (except for California)



Want to learn how I earn my passive Income working from home?

Click here right now for our review, my personal help, and instant access to our free training videos where we'll show you exactly how we did it ourselves starting out as complete beginners without ANY prior knowledge or experience in marketing online whatsoever!
Any Negatives? Beware of Lawsuits
In August 2014, FTC sued GMR Transcription Job Company, its president Ajay Prasad, and VP Shreekant Srivastava. FTC alleges that GMR Transcription Job has violated the Federal Trade Commission Act or FTC Act in this lawsuit. The respondents failed to implement security measures to protect the personal information found in audio and transcript files.
FTC found out that the respondents assigned non-medical audio files to around 100 transcriptionists in N. America. Then they automatically transfer all medical audio files to Fedtrans Transcription Services based in India between Jan 2009 to May 2012.
Since there's a lack of security measures, Fedtrans could store medical audio and transcript files that anyone can access online. These files include personal information such as names, date of birth, medical notes, employment, and many more. Some files even contain sensitive medical information.
By Jan 2014, FTC agreed to settle with GMR Transcription Job. The company decided to place a comprehensive security program to protect all personal and sensitive information. It also required them to undergo security assessments and certifications every other year.
Is the GMR Transcription Job Legitimate?
Yes, the GMR Transcription Job is a legitimate paying company despite the negative implication of the lawsuit. I also found plenty of positive reviews about them. Although I cannot confirm whether the positive reviews are honest, I can say that this company is not a scam. The company has been around for quite a while now. If they were scamming people, I think the authorities would have shut the company down ages ago.
GMR Transcription Job Review Final Thoughts
I believe that when you're good at transcription or translation jobs, it can be a decent source of income. Suppose you're interested in being one and don't have similar job experience. I would recommend practicing your speed and accuracy before you apply.
However, this kind of job is not for everyone. It takes a lot of patience, time, and effort to complete an audio file with a high accuracy rate. If you think you are not cut out for this job, perhaps another online opportunity is more suitable for you. You can build your own online business and earn a passive income.
If you are interested in creating your own home business, check out my #1 recommendation on building a successful business, where you can get access to hundreds of training videos, 24/7 support, professional consultations, private access to my training guide and much more.
Working Online From Home - A Proven 4 Step System
See the 4 steps to working online from home & earn residual income