Wondering how to make money selling music products online, and looking for a way to make money from online sales? There are many products that you can sell online, but now we will talk about music products. We will show you what is trending, how to start, and how to market your products to your target audience. Let's start.
How Do We Get Started?
Guess you don't have any doubt that music products will sell well online. There are over seven billion people in the world, and more than 90% of adults are music lovers. The level of passion may vary, but almost all of us enjoy listening to music. That means there are billions of people across the globe who love music and may be interested in music products. And of course, many will be online searching for sellers. But don't take our word for it, let's check the web and see what users are looking for.
What Are Internet Users Searching For?
First thing first, let's see what people are searching for online and confirm how many people are interested in music products.
Search Volume
We use the Jaaxy Keyword tool for our keyword research and to check if enough people are actually searching online for music products to warrant starting an online business in the niche.
Here is the result.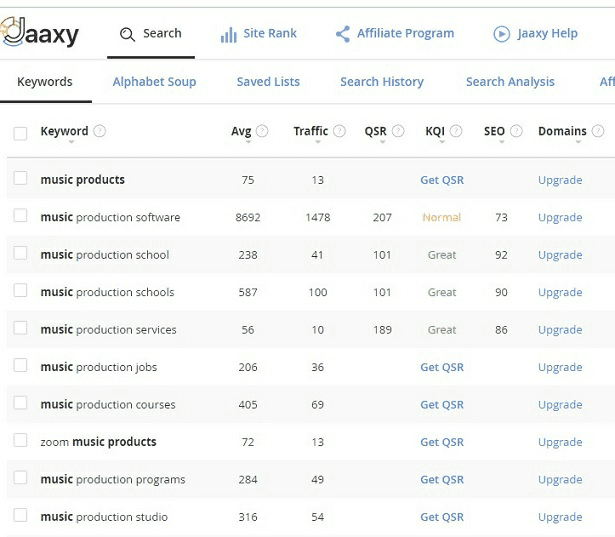 Wow! Can you see it? There is no doubt people are interested in music products and are actually searching for them. Now let's be more specific and choose a niche. Let's see how many people are searching online for musical instruments.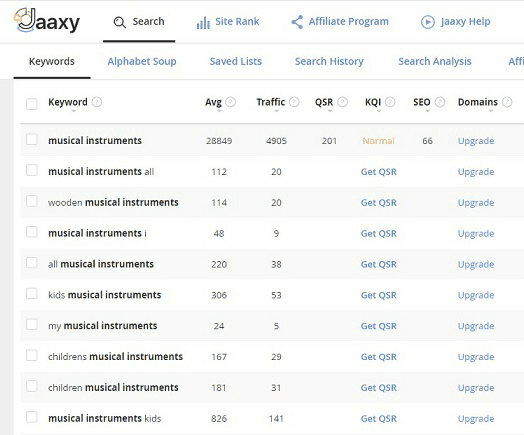 From the average monthly searches, you can clearly see that people are searching for musical instruments, so it is a good niche to venture into. Notwithstanding, you must be careful not to go into a seasonal business. It is, therefore, necessary to check how this niche is trending on Google search. Let's check.
Search Trend
It is essential to check how the product you want to market online is trending over a long period to be sure the present state can be sustained. In our search on google, we search for the trend over five years. Below is the result.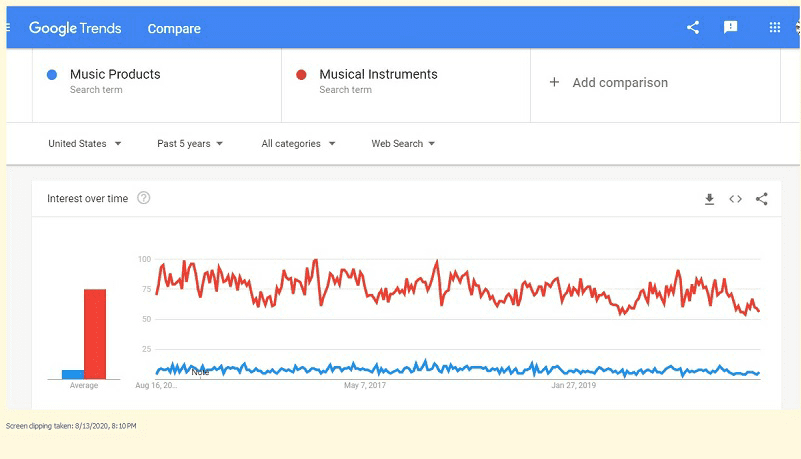 You can see that the search for musical instruments can be sustained. It is not seasonal, though it peaks at some specific time; generally, there is always significant interest in it.
What exactly is the Niche?
By now, you must have made up your mind on the niche you are interested in. From the keyword searches, there is no doubt that musical instrument is trending online. You can also consider some sub-niches like:
kids musical instruments
Children musical instruments
Wooden musical instrument.
However, as a beginner, it is essential that you concentrate on what you can handle effectively and become an expert, rather than diverting your attention to different niches. Also, you must not only be interested in profits, but you must also choose a niche that you love and one that will provide a solution to people's problems. What do we mean? We will explain.
What Solution Do You Intend to Provide?
Put yourself in the position of your buyer. Why will you go online to search for a musical instrument? If you can imagine the reason, then try to provide a solution to it. People go online and ask questions like:
Where can I buy musical instruments?
What kind of musical instrument is best for beginners?
Which stringed instrument can replace the guitar?
So, is your business going to solve its problems? Even if you can't provide answers to all questions, you must design your business to provide a solution to some specific problems of your target audience. But how would you get your audience to buy from you? That is what we will discuss next.
How to Get the Audience to Purchase
It is not enough to know that people are interested in your product; you must also ensure that you convince them to buy. Now is the time to define your target audience. You had already solved the problem of your niche selection, so you can trim your audience down to those interested in the niche. And you must know how to engage them and make them buy from you. Here are some things you can do.
Want to learn how I earn my passive Income working from home?
Click here right now for our review, my personal help, and instant access to our free training videos where we'll show you exactly how we did it ourselves starting out as complete beginners without ANY prior knowledge or experience in marketing online whatsoever!
Blog, Blog, and Blog Some More
Blogging is a very vital aspect of online marketing. Write as many articles as possible on subjects related to your products. That will keep your audience coming back to your site and directing them to buy your products. It will also give them information on what they want to buy and why they need to buy it.
Prioritize Your Target
Even among your audience, some are more likely to buy than others. Direct your energy towards those with the highest potential to buy; after all, that is the reason you are online.
Be Truthful
You surely want your customers to come back, and also make a good recommendation about you. So, present your product exactly as it is. Don't make your product look far better than how it really is. Remember, if you have a good product, people will always buy it. But your customers will be disappointed if they get quality below what they are expecting.
So, What Are the Ways to Sell Music Products Online?
Now you've decided on the product, you've got the website, and you've got the blog posts, how then do you make the actual sales? Let's discuss it.
You Can Sell on Your Own
If you really want to be fully involved, and you have enough capital, then you can purchase the products, put your label and sell to online buyers. In that case, you will create a payment solution. On your website and manage shipping orders to your buyers.
Another problem you will also face if you want to sell directly from your store to online buyers is that you must search for wholesalers and buy the products first. You can search Google for where to buy the products wholesale. Just search for "Wholesale: Music products."
For direct sales, you will need to perform the following services:
Purchase the product from wholesalers
Store the product for sale
Manage sales and payment
Manage delivery services
Offer customer relations services.
Selling on your own guarantees you the maximum profit, but it involves more capital and physical involvement than other marketing methods we are going to discuss next.
Dropshipping
In dropshipping, you don't need to buy and store before you can sell. All you need to do is to make a deal with wholesalers to resell their products. Agree on a price with the wholesaler and market the product at your price.
The difference between the price you agreed with the wholesaler and your selling price is your profit. You don't have to store any product or manage any delivery. Once an order is placed, you direct it to the wholesaler, who makes the delivery.
So, in dropshipping, you are to:
Look for a wholesaler and agree on a price.
Promote the product to your audience
Send orders to the wholesaler for packaging and delivery.
Offer customer services.
Affiliate Marketing In affiliate marketing, you don't have to do anything other than promote other people's products and direct buyers to their websites. However, you will earn a commission from every sale that comes through your referral.
The first thing you do here is to register with a marketplace, like Amazon or eBay, which accepts affiliate marketers. Then you get a customized affiliate link through which you can direct your site visitors to the marketplace.
So, you only need to write about the product and ask your readers to click on the link to buy the product. Clicking on the link will send them to the marketer's site, and if they make a purchase, they earn a commission.
To find an affiliate marketer program, just go to Google and search for "Affiliate: Music Products."
Want to learn how I earn my passive Income working from home?
Click here right now for our review, my personal help, and instant access to our free training videos where we'll show you exactly how we did it ourselves starting out as complete beginners without ANY prior knowledge or experience in marketing online whatsoever!
What You Need to Start Selling Your Music Products
Now is the time to discuss what you must put in place to sell. We aren't going to ask you to do anything way out of your budget, go through our list, follow our suggestions, and start making sales.
Build a Website
Depending on your budget, your site can be as complex as you want, but if you can't afford to buy a domain, you can start with a free platform.
If you really want to handle a large volume of sales online, then you need a website. Though you can market your products through other media, having your website will enable you to blog as much as possible, advertise your products, and manage sales and customer services.
Have a YouTube Channel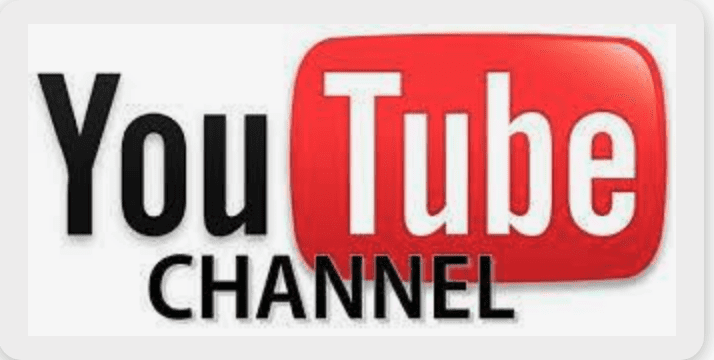 With data becoming cheaper and WIFI becoming more popular, you may be amazed at the number of people visiting YouTube every day. Creating a YouTube channel will enable you to promote your products to your audience and give them both audio and visual content. This will encourage more sales and more interaction between you and your audience.
Build followers on your social media and market your products to them daily. Without making paid adverts, you can still reach thousands of people every day on Facebook, Instagram, YouTube, Pinterest, LinkedIn, and Whatsapp. Several people are making good use of these media to promote their businesses, and you too can.
Search for online groups that are relevant to your niche and join them. This will give you the opportunity to market your products to members of the group and also interact with them.
Final thoughts
So, here we end the training. We believe you had learned everything you need to know about how to sell music products online. However, do not hesitate to contact us in case you want further assistance in any of the areas we discussed above. We can also be of help if you need assistance to build a website to market your music products, need a professional consultant, or need SEO or social media assistance.
If you need help on how to get started, check out my #1 recommendation on building a successful business online. You can get access to hundreds of training videos, 24/7 support, professional consultations, private access to training guides, tools, personal private assistance, my personal help, and much more.
PS: Click here to review my #1 recommendation in detail.
Working Online From Home - A Proven 4 Step System
See the 4 steps to working online from home & earn residual income