Today, we will talk about how to sell on Instagram without a website. If you have just started your business and don't have a budget for a website yet, you can use Instagram to market your products. With more than 1 Billion active users monthly, it is hard to ignore Instagram's potential to generate sales for your business. So if you're interested, continue to read on.
How to Get Started
Let's get started on why you should sell on Instagram. We know that Instagram has millions of users, but aside from that, some reasons are essential to point out here. And these are:
Instagram has a massive customer base, which could mean instant potential buyers. With tons of active users daily, no wonder it has a very high engagement rate.
So, while your website is under development, you can use Instagram to create brand awareness. Especially when you have just started your business, and you need a platform to introduce your brand.
Who says you can't build your email list with Instagram? People can quickly sign up to your email list by inviting them to your post or sending them a DM.
Sell products with just a small investment
You only need a small investment to sell products with Instagram. The platform does not require you to pay for anything to market your products; however, it will be up to you to invest in paid services to increase your sales.
Instagram Supports Businesses of All Kinds
Whatever your business size, you can use Instagram to sell your products and services. Affiliate marketers also use Instagram to promote their products, placing their affiliate links on their bio or posts.
Before you sell on Instagram, you need to create an Instagram Business Account. In this way, people will recognize that they are buying from a business or a brand rather than an individual. And setting up the Instagram business profile is free.
Also, you don't need to have many followers on Instagram to sell. However, having a good amount of followers is better than having a few followers or none. It just means that there's a good chance of closing some sales since you have many followers who have already expressed their interest in your products.
Want to learn how I earn my passive Income working from home?
Click here right now for our review, my personal help, and instant access to our free training videos where we'll show you exactly how we did it ourselves starting out as complete beginners without ANY prior knowledge or experience in marketing online whatsoever!
Market Research on Instagram
Let's do some market research on Instagram. We know that it is one of the popular social media platforms, but we'd want to validate its popularity and sustainability.
Search Volume
We begin by checking how many are searching Instagram on the internet. To help us with this task, we will use Jaaxy, an advanced keyword search tool. Let's see the results.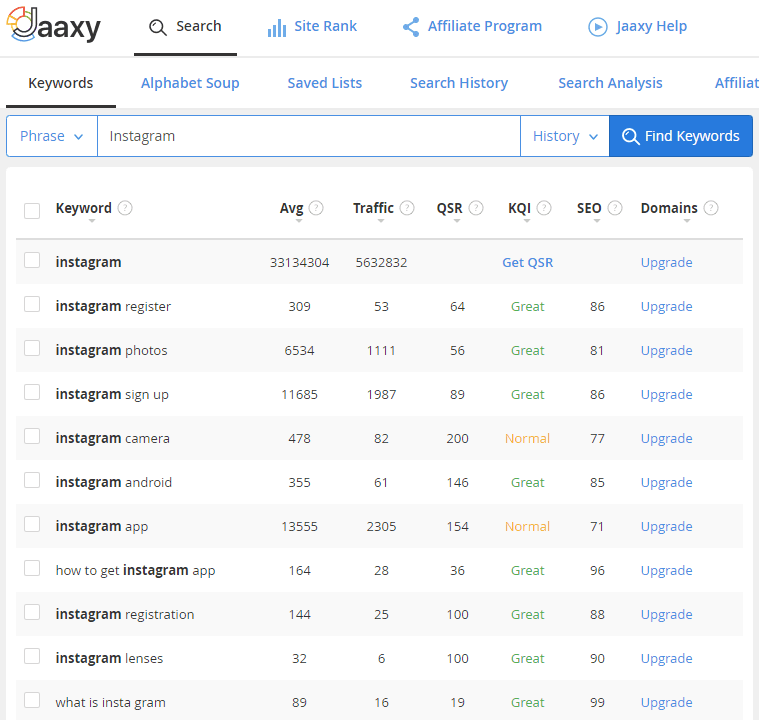 The Jaaxy results show that Instagram has more than 33 million average searches per month. That figure only proves how popular Instagram is. That could also mean plenty of potential customers and sales.
Search Trend
Let's now check out Instagram's search trend. Is it an excellent platform to build your business on? Will it still be a reliable platform in the next few years? For this task, we will use Google Trends. Let's see what we have for the results.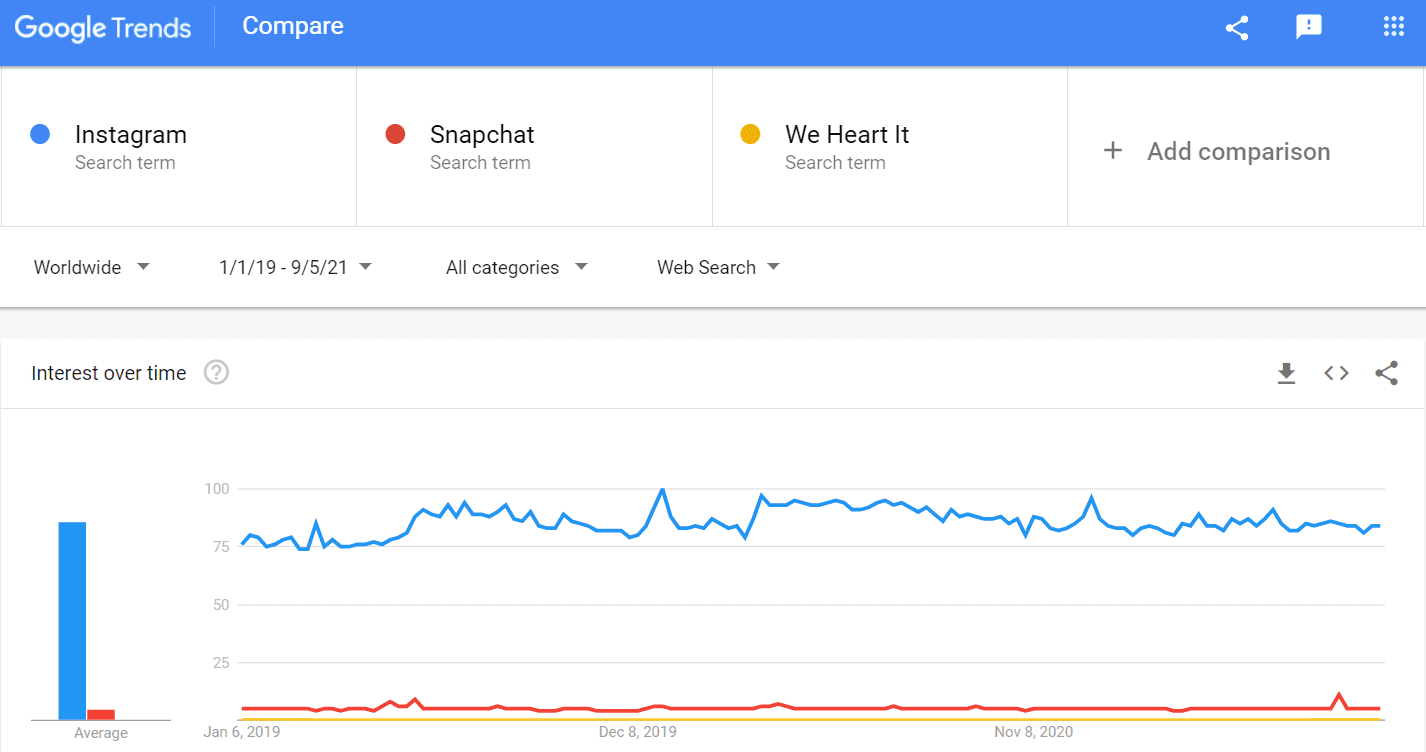 The Google Trends graph shows us the popularity of Instagram over the past two years. As you can see, compared to the other alternative platforms, it is leading by leaps and bounds. Also, Instagram remains highly popular even recently, and it seems that it will stay that way for many years to come.
What exactly is the niche?
Before you can sell anything on Instagram, think about what is your niche first. You can also think of what will be your main niche and sub-niches. Here are a few examples:
Fashion – Top fashion trends, new fashion styles, fashionable clothes, etc.
Beauty – Best beauty products, organic skin care products, natural beauty products, and so on.
There are other popular niches in Instagram that you can consider for your business are:
Food
Health and Fitness
Parenting
Photography
There are a lot of popular niches on Instagram, but it is better to be more specific. In this way, you can reach out to people looking for the products you sell faster and easier than posting random effects. This can also help in increasing the number of your followers. You can also consider a couple of questions below:
Are you interested in the niche? – When choosing your niche, think about if you are interested in it. Find the niche that you are passionate about. So even when it gets tough, you still enjoy what you do because it is something that you love.
Does your niche solve a problem or problems? – Problem-solving niches offer long-term value to people. They provide answers or solutions that people need. Choosing a niche that can solve a problem offers a better value proposition for your customers. Think about if the niche you have selected offers solutions to your audience. Hold that thought, we will talk more about this in the next section.
What Problem is being solved?
So what problem will your niche solve? Think about what are the common issues that your niche can offer solutions to. For example, if you have chosen fashion as your niche, some of its possible problems are:
What is the top trending fashion today?
Where to buy fashionable clothes?
How do you stay stylish even on a budget?
So after listing down the issues related to your chosen niche, analyze them carefully. Then think about if your niche will provide a solution to answer single or multiple problems. At the same time, you can decide on what will be your main niche and sub-niches.
How to Get the Audience to Purchase?
In this part, we will talk about how you can get your audience to purchase. There are several ways to, but before you can do that efficiently, you need to know your audience first. If you have yet to use Instagram for your business, knowing your possible audience will be guesswork since you don't have any data to base it on yet.
But it may not be as difficult as it seems if you carefully think about it. For example, if we use the same niche example before, your possible audiences could be: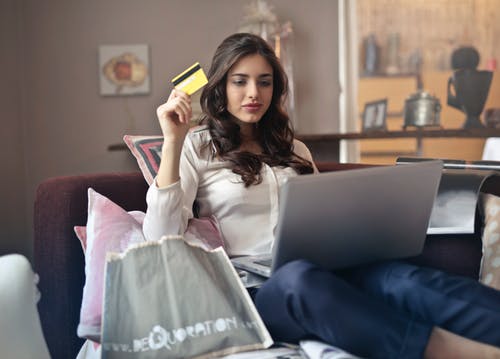 Fashion enthusiasts
Models
Influencers
Stylists
Fashion Designers
Makeup Artists
And there could be more. However, these are your potential audience, and they are not your buying customers yet. So to help you increase your chances of making sales on Instagram, here are a few recommendations:
Prioritize your top buyers – At this point, you may not have the data to know who your top buyers are. But you may have an idea or two. Try to build solutions around their needs and see if they work. But there are several ways to know your actual audience and buyers. This will help you to fine-tune your marketing strategies. Here are some suggestions:
Use Instagram question stickers – Ask questions about your brand, and products, get feedback, and so on. This allows you and your audience to have a two-way conversation. You can also use the countdown sticker when you're launching a new product. This creates a sense of urgency for your potential buyers. When they tap on the countdown sticker, they can get notified of the product launch.
Use Instagram polls – Ask for your audience's opinions, such as what content they would like to see on your page. You can use the responses you received as stories too. These features increase customer engagement and trust in your brand.
Use Instagram DM – Use DMs to communicate with your customer on a personal level. From the comment section, you can continue your conversation using DMs instead of conversing in public. Introduce yourself first and understand their needs and offer your products as a solution.
Also, it is a great tool to resolve your customer's issues and a more personal way to thank them for choosing and trusting your brand. You can also use DMs to notify them about discount sales or promotions on products relevant to them.
Write a Captivating Bio – Your bio explains what you are selling on Instagram in few short sentences. It is the first connection to your audience. Therefore it is important to make it as captivating as possible. You can take some suggestions below:
Provide an easy-to-understand reason why customers should choose you.
Include a strong call to action.
Ensure your customers can easily contact you by providing your business contact information such as your phone number and email address.
Add a "link in bio" caption on your post to let your customers know that you have included links in your bio, such as your affiliate links.
Include relevant keywords related to your brand or your products to increase the chances of getting your profile popup on search results.
Post your feature products – Start selling on Instagram by posting your feature products below your bio. Use stunning product images to make them visually appealing for your audience. Add compelling captions to lure them into buying. You can also add your affiliate links right after your caption to get more chances of sales.
Instagram made a shareable product catalogue in which you and other users can instantly share the posted products with other people. You can also tag the products on your record to your posts and stories. You're allowed to tag up to 5 products on one image post while up to 10 products on multiple image posts.
Expand audience reach using Hashtags – Use hashtags to expand your audience's reach and attract new audiences. Choose hashtags that your customers will probably use to look for your products. Consider using the hashtag research tool to help you with this task. Switch between relevant hashtags and monitor their performance and identify which one performs better so you can replicate it. Concerning this, here are a few reminders:
Do your research and look for trending hashtags related to your niche.
Try not to use hashtags that have millions of posts which will just drown your post among millions of others and most likely will get neglected.
Do not overload your post with hashtags; try to use at least 5 most relevant hashtags per post. Using too many hashtags may appear a desperate move for sales to your audience.
Use customer-generated stories – Another effective way to sell on Instagram is to use customer-generated stories to attract other customers. Ask your customers to share their product testimonials on Instagram and tag you on their posts. Then post their testimonials on your Instagram stories. This will help boost the image of your brand and increase your sales. You can also create a collection of them and place them in your highlight section for your future audience to see.
Invest in ads and influencers – If you have the budget, invest in ads and influencers. Instagram ads allow you to target the type of audience you want to reach instead of the general approach. This will also allow you to include custom CTA buttons in your post. When your audience clicks it, they can be taken to your profile or your website in the future.
And if you can, partner with an influencer who can best represent your brand and hire them to promote your products. Using their "influence," they can help build trust in your products and instantly increase sales.
To keep selling on Instagram, you have to be consistent in posting and engaging with your audience. It is a process you need to repeat to keep your audience highly employed with you and keep your brand relevant. Use short but powerful captions. Select product images with people on them to create a human touch to your brand.
After posting, make sure to reply to comments, as this is a great way to capture potential buyers. Create a weekly plan for your posts. This includes knowing the best time to post where you can get higher audience engagement. Then figure out which posts have better concentration and repeat the formula.
Want to learn how I earn my passive Income working from home?
Click here right now for our review, my personal help, and instant access to our free training videos where we'll show you exactly how we did it ourselves starting out as complete beginners without ANY prior knowledge or experience in marketing online whatsoever!
Ways to sell on Instagram
There are several ways to sell on Instagram, even if you don't have a website. Time and again, they were proven effective, but your success will rely on hard work and commitment to your business. Aside from that, factors such as your time, budget, and resources can also affect the direction of your business.
Affiliate Programs
Affiliate programs offer plenty of money-making opportunities. You can find affiliate programs related to your niche, and some offer high commissions. Some also provide bonuses and cash incentives depending on the scheme of their affiliate program.
Before you can be an affiliate, you need to send an application first to the company with the affiliate program. But before that, check their qualifications first. Some companies require you to meet specific qualifications, but some don't. To find your affiliate program, you can use Google to help you.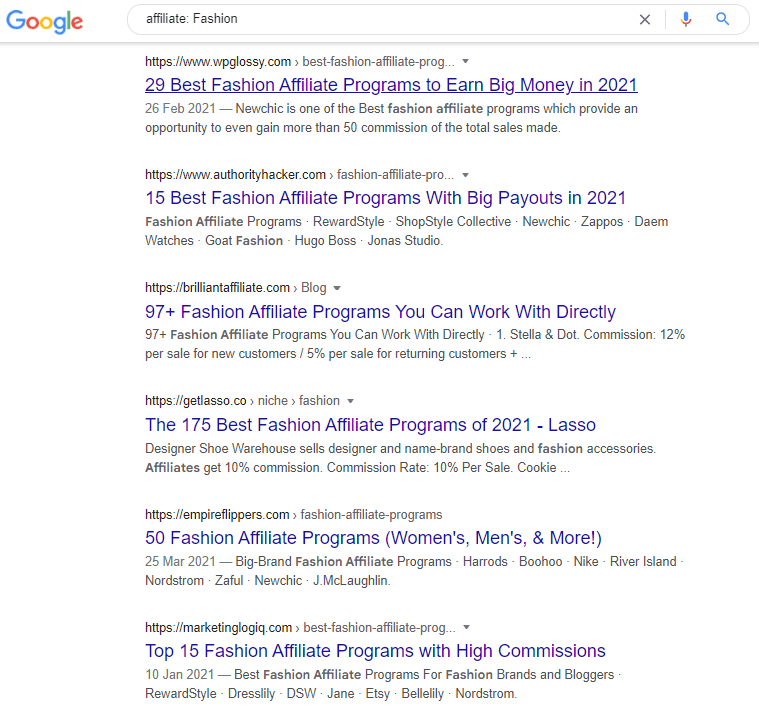 Using our niche example before, you can see that there are many affiliate programs that you can join. You have the option to join as many affiliate programs as you want. But try to find a company that:
Provides plenty of products related to your niche
Offers high commissions
Have good reviews
Allows different payment options
Do not have a signup or membership fee
When looking for an affiliate program, one more thing to consider is that the company must be reliable and trustworthy. An example of this is Amazon which is a well-established company and trusted by many. Below are some examples of fashion-related products being sold on Amazon.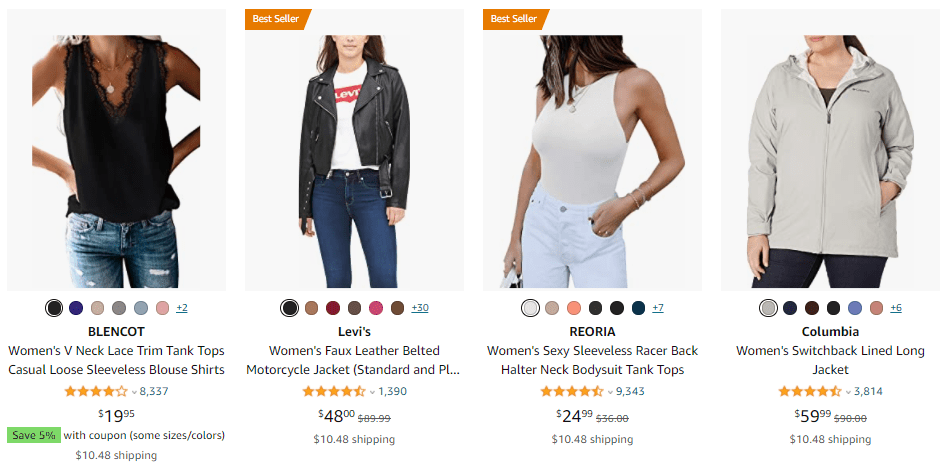 Dropshipping
When it comes to dropshipping, it is best recommended to have an eCommerce website. But dropshipping can also be done without one. It is a flexible business model. It can be done with little investment because there's no inventory involved, and the products can be shipped directly from the suppliers to the customers.
If you're choosing dropshipping, try to look for suppliers that will offer you a good deal. The price you set for your products is usually higher than the supplier's price. The difference is your income. This is why it is essential to get a good deal. If not, you could end up giving your products a higher price than your competitors. Or generate less income because you need to adjust your pricing to match the other stores.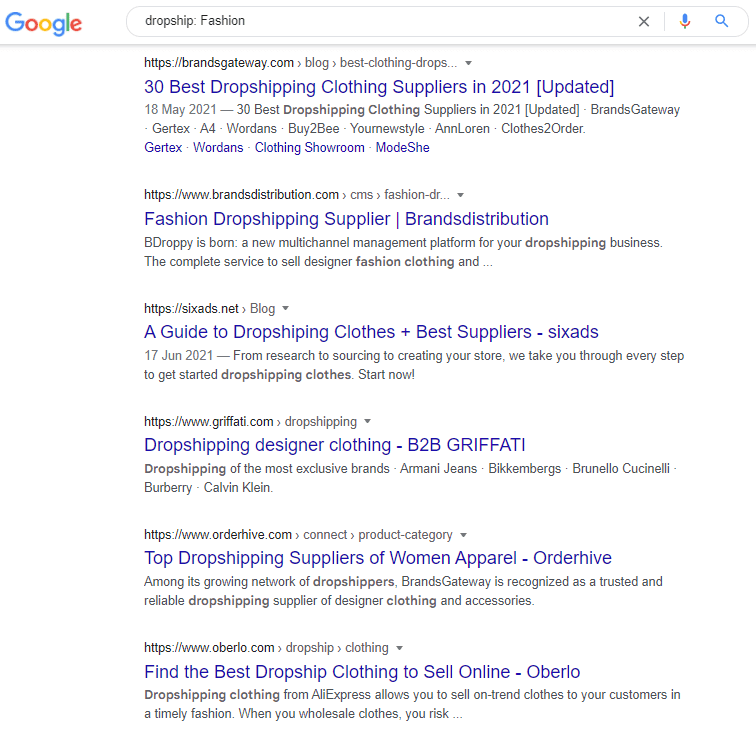 We will still use Google to help us find dropshipping suppliers. Using our niche example before, you can see that many dropshipping companies supply products for that specific niche. But before you check them out, refer to how we looked for good affiliate programs to join. Looking for an excellent dropshipping company is similar to that.
Sell your own products on Instagram
If you have the resources and equipment, consider making your products and selling them on Instagram. Although this generally requires a considerable upfront investment, the reward is that you can build a brand of your own.
If you don't have the equipment to manufacture your products, you can also look for wholesalers that can provide you with brandless products. Then you can place your brand on them or send your logo to the wholesalers, and they will remember them for you for an extra fee.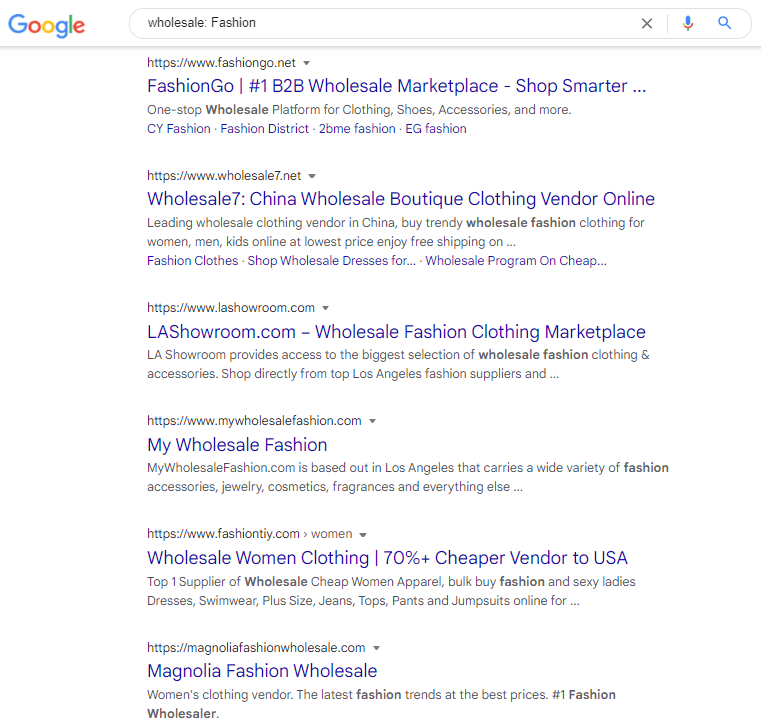 Once again, we use Google to find wholesalers that will provide you with products related to your niche. And using the same niche example as before, you will notice how many wholesalers can deliver the products you can sell. When you contact a wholesaler, make sure you speak with the person in charge of the pricing. So when you negotiate the price, you can get the best deal.
Other potential methods of selling on Instagram
There are other potential ways of selling on Instagram. If you have chosen the fashion niche, you can create videos showcasing the fashionable clothes you sell. If you know the best outfits to wear for different occasions or how to look stylish on a budget, consider writing an eBook about it. You can also create a digital photo book showcasing your best sellers and many more.
What You Need to Start Selling Your Products on Instagram
Here, we will talk about the tools or apps you need to sell your products on Instagram. In general, these are free apps. But it depends on you if you won't pay for services that will help you increase your sales, such as advertising services. Here are some of the tools you can use:
Aside from promoting your products on Instagram, you can also encourage them on other popular social media platforms. Your posts and stories can be set up to be automatically shared across Facebook, Twitter, or with Pinterest and Snapchat using some long-winded methods. These platforms have ads that are paid services to help you market your products.
Start a YouTube channel for your Instagram business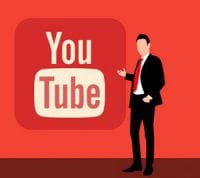 YouTube is also a robust platform with a vast audience where you promote your Instagram business too. Create a channel for your business and upload marketing videos, tutorials, contests, promos, and so on. Then share these videos on your Instagram account. You can also create a slideshow of Instagram photos and upload it on your YouTube channel.
Joining Instagram social communities relevant to your niche can help you reach out to potential customers and business partners. Instagram has engagement groups or popularly known as Pods, that you can join. You can either create it or join an already existing group.
To find one related to your niche, you can search using the term "Instagram engagement." Some groups are hidden, and you need to ask a member of that group to add you. If you find one that's related to your niche, understand their rules first. These groups generally support each other, which means marketing your products within the group can get higher engagement. This could eventually lead to more sales. It can even lead to more connections and invites other groups interested in what you're selling.
Final thoughts
Selling on Instagram help generate direct sales even without a website. By the time your website is up and running, you can now redirect your customers to your website to make a purchase. And most likely, by that time, you may have already built your customer base thanks to Instagram.
Instagram is just one of the great platforms to market your brand. There are others more that could also work out for your business. If you want to learn about them, check out my #1 recommendation on building a successful business, where you can get access to hundreds of training videos, 24/7 support, professional consultations, private access to my training guide, and much more.
Working Online From Home - A Proven 4 Step System
See the 4 steps to working online from home & earn residual income