This time let's talk about how to start a makeup blog. This is interesting, especially to those who love makeup and likes to share their own experiences in trying out different makeup brands.
I will also share with you the things you need to create a passive income from your makeup blog. And maybe earn more than what you expected, awesome right? Read on to learn more.
How to Get Started
The global make-up industry is a massive multibillion-dollar business. Today it is valued at an estimated $532 Billion and still growing. In 2019, the cosmetics industry was worth $93.5 in the US only. Studies show that 4 out of 5 American women follow beauty industry trends.
Women spend around $3,000 on cosmetics yearly. This is why makeup bloggers can rack up earnings anywhere between $10 to over $10,000 monthly on average. Successful bloggers even earn over $100,000.
With these statistics, you'll realize how lucrative the makeup industry is and there's an earning opportunity for starting a makeup blog. Before we talk about how you can begin with that, let's confirm it ourselves by doing some research.
Market Research for Makeup Products
To help us identify the marketability of makeup products, we'll do basic market research. We will determine the search volume and the search trends which are significant to determine if the product has high sales potential and is also sustainable.
Search Volume
In finding the search volume, we will be using the keyword tool called Jaaxy. We'll use the keywords "makeup" and see what we will have.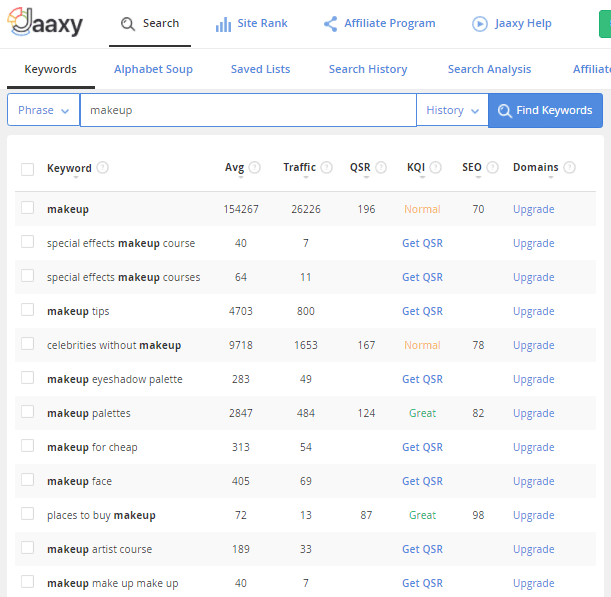 According to the results above, the "makeup" search volume has more than 100K results. And there are more numbers to add to that if you combine the related results such as makeup tips, makeup palettes, etc. This simply means that many people are looking up their makeup needs online.
Search Trends
In checking the search trend of the keyword "makeup", we will be using the Google search engine. Let's look at the results below.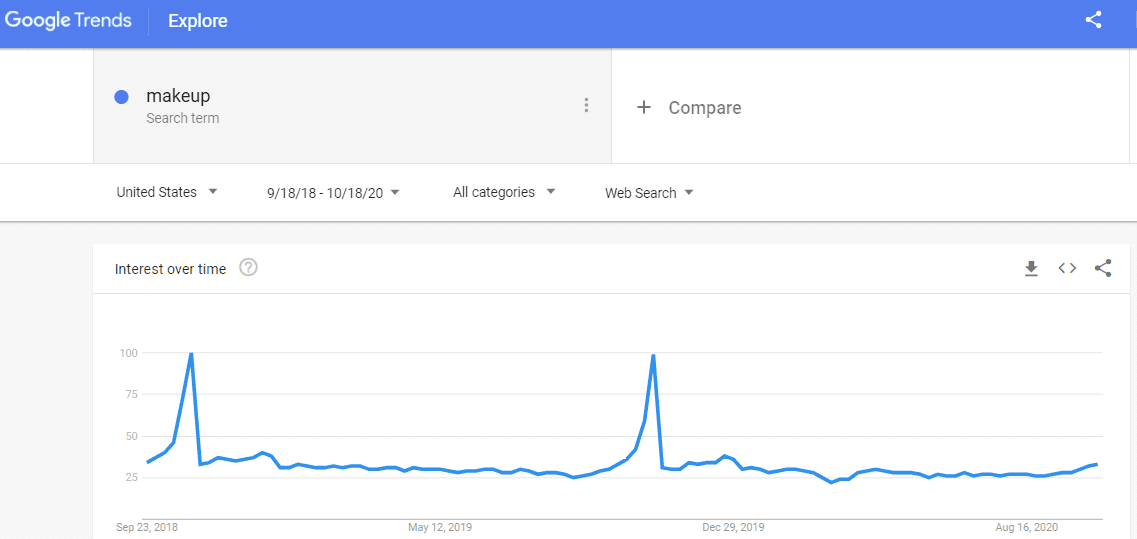 Based on the graph above, you can see that the trend is fairly sustained for most of the months in the past couple of years. You will also notice that there are a couple of peaks reaching their highest popularity.
These are in between Oct and Nov. This could be because Halloween is happening during that time and makeup is very in demand. For businesses, this is a great opportunity to create promotions and highlight their makeup line with shades suitable for Halloween. While for bloggers, this is a great time to create content about Halloween makeup.
Want to learn how to make money online with affiliate marketing?
Click here right now for our review and instant access to our free training videos where we'll show you exactly how we did it ourselves starting out as complete beginners without ANY prior knowledge or experience in marketing online whatsoever!
What exactly is the niche?
Deciding what your niche is can be very exciting. With makeup, you have many options that you can explore. The cosmetics industry is vast with many products you can choose from to be your niche. You can look at the keyword search results and get some ideas on what people are looking for about makeup. You can arrange the results and get your main niche and sub-niches like the following example:
Here are some Make-Up Affiliate Programs To take a Look at.
Makeup – special effects makeup, cheap makeup, makeup tips, places to buy makeup, eyeshadow palettes, makeup course
As you can see, the options are many. You'll have plenty of ideas about what your niche will be. Since you're just starting, it is recommended to select one niche and focus on that area. Build your knowledge surrounding that niche to establish your authority and credibility. It is also easier to create content when you know what you are writing about. This will also allow you to be effective in selling your makeup products.
In selecting a niche, there are only two vital things to think about.
Are you interested in it? – In becoming a blogger, you need to be ready to spend time doing research, regularly creating quality content, marketing your products, maintaining your website, and other things you need to do for you to become successful. This means that you need to be interested in the niche you've chosen to keep you going and build a passive income from blogging.
Does it solve a problem? – Most niches you find online revolve around providing solutions. This is because consumers look for solutions to their problems online generally. Consider building content that provides solutions to attract more audiences.
As we move to the next part, we will be covering more about the problem-solving niche and why it is important, especially for bloggers.
What Problem is being solved?
In creating content, you need to ask first what problem does it solve? You can also look at it from a consumer's perspective. Think about how they would search for solutions online for their problems concerning makeup. You'll also find some ideas regarding this from the keyword search results we have earlier. Here are some examples:
Where can I buy cheap makeup products?
Special effects makeup examples
Best makeup tips
Enlisting all the problems about makeup allows you to visualize what solutions you can offer on your blog website. It is also a great source of your blog topics since most people search for them. Focusing on providing solutions to these problems could help increase organic traffic.

How to Get the Audience to Purchase
After choosing your niche, we will be moving on now to how you can effectively convince your audience to purchase your makeup product. But before we discuss that, let's identify who your potential audiences are.
It is necessary to know what type of audience you will be marketing your products to. In this way, you're able to create an effective way to convince your audience to purchase what you're selling.
By basing on the keyword search tool results once again, you'll have an idea who will be your potential audiences and they are:
People looking for makeup to use for special effects
People searching for places to buy cheap makeup
Those looking for some makeup tips
Individuals who'd like to learn about makeup
After knowing your potential audiences, I will now talk about how you can create content that will help in selling your makeup products. The following are some of the critical things that you can do:
Write honest and transparent posts. – Nowadays, more consumers are becoming conscious of the ingredients included in their makeup. They prefer makeup products that are proven safe to use. This is why when creating your content, you need to inform your audience about the things they have to know to help them make a choice. It also helps you to establish credibility with your audience.
Focus on your top audience. – Based on our volume search results, you've seen that your top audience is most likely the people looking for makeup to use for special effects. Therefore, it is best to prioritize creating content about special effects using makeup. Remember that your top audience will change from time to time as people's needs change. So, it's important to always check on who your top audience is before creating a blog post. In this way, you'll have a higher chance of getting more traffic to your site and possibly increasing your sales.
Use real reviews. – Create content with reviews about the makeup product. You can make them based on your own experience using makeup. Or if you have already established a mailing list, you'll be able to ask your customers to voluntarily share their experience with the product anonymously. You can use the gathered reviews for your content and possibly attract more audiences and potential customers.
Want to learn how to make money online with affiliate marketing?
Click here right now for our review and instant access to our free training videos where we'll show you exactly how we did it ourselves starting out as complete beginners without ANY prior knowledge or experience in marketing online whatsoever!
Ways to sell makeup products online
There are many ways to sell makeup products online. The success of these methods will depend on learning and perseverance and hard work. While it would be great if you have the finances and extra hands to help you, these methods can also be done even without those things I've mentioned. Sometimes you just need to focus on one method that you can specialize in to get the results you want. Let's explore what are our best options.
Affiliate Programs
This is one of the most effective ways where you can earn money from your makeup blog. If you're new to blogging, perhaps this is a good place to start. It's not as complicated as the other methods in this list. When you join an affiliate program, you will be receiving your affiliate link. You can create a post promoting their brand and include this link. Each time your audience clicks the link they are routed to the brand's website and can purchase the product from there. You will earn a commission for every sale coming from your link.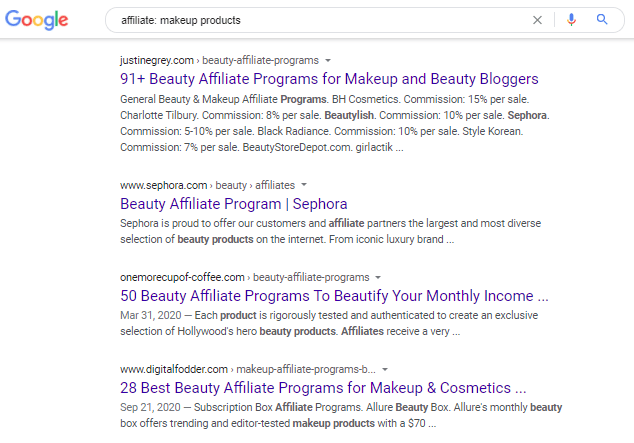 Using Google, you will find many affiliate programs of makeup brands. Before you start checking them out, here are a few reminders for finding a good affiliate program:
They offer solutions for your niche
Has a variety of quality products you can promote
Offers good commissions
Positive customer reviews
Payments options
Firstly, you will need to see their application requirements if they have one. Then simply follow the instructions in submitting your application for their affiliate program. Ensure that you have a presentable website in case they will ask for your website link.
It is also important to search for a well-established and trusted company when looking for an affiliate program. Remember that you may be promoting their products for a long time and it will be difficult if the company encounters some issues in the future. The marketplaces such as Amazon or eBay are some of the well-established companies that have high trust ratings. Here are some examples of makeup products being sold on Amazon: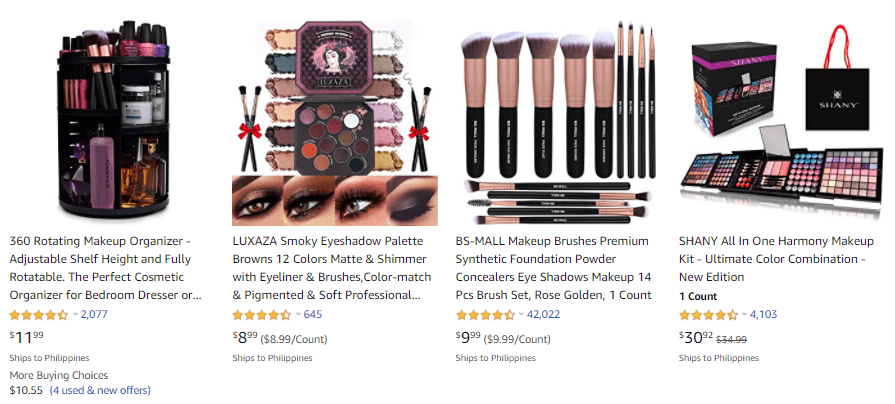 Dropshipping
In dropshipping, it will be a bit challenging since you will need to build an eCommerce website. On your website, you will be posting products with the price that you set. These products are supplied by a wholesaler. Your earnings will come from the difference between the wholesale price and the price that you set on the products. You will also process the orders, take care of customer service, and post-sales transactions.
The best about dropshipping is that you can regulate the prices you set for the makeup products and what you can put on sale. This sometimes will give you an advantage over your competitors. You will also be able to build your customer mailing list that you can use for your newsletters, new blog posts, promotions, etc.
You can also use Google in searching for dropshipping services. Look for a reliable dropshipping company that can offer you quality and affordable products, good customer service, and offers fast shipping services.
Want to learn how to make money online with affiliate marketing?
Click here right now for our review and instant access to our free training videos where we'll show you exactly how we did it ourselves starting out as complete beginners without ANY prior knowledge or experience in marketing online whatsoever!
Sell your own Makeup brand
If you're someone who has higher aspirations and likes to take up a bigger challenge, how about selling your own makeup brand? However, this method would require you to invest in the tools and the ingredients you need to create your makeup products. There are affordable containers available in stores and online. You can also find natural and organic ingredients in grocery or drug stores.
Creating makeup products on your own can be a rewarding experience. Also, you gain a lot of knowledge that you can share on your blog posts. However, you also have the option to look for wholesalers who can supply you with makeup products for a cheap price. You can find brandless makeup products available.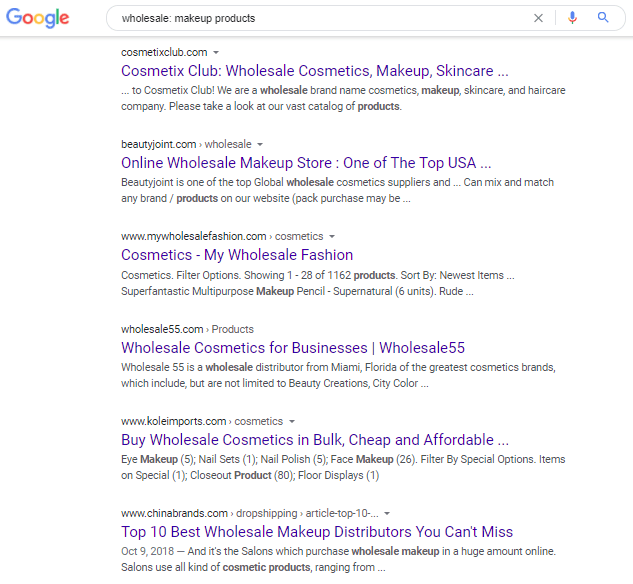 Once again, you can use Google to look for your wholesaler. Ensure that you find a wholesaler who will be able to offer you makeup products that are high quality and safe to use. Selling your brand also means that you have to take care of order processing up to shipping.
Other potential methods of selling makeup products
Doing makeup tutorials is another effective way to sell makeup products. Some people became successful by just teaching their audience how to put on different makeup brands. It may require some skill and experience to teach makeup. But if you have the skills and knowledge, it will be a good idea to start your makeup lessons while promoting the products that you sell.
What You Need to Start Selling Makeup products
After exploring the different methods to sell makeup products, I will now share with you the marketing tools you need. These will help you in expanding your online presence and get more traffic to your website.
Building a website on a makeup blog
A website is important for bloggers. This is where you will be uploading your content
and where your audience will also find you when they search for you online. A website is also necessary if you decide on drop shipping or selling your brand of makeup. For starters, you can find many website builders where you can easily create your website for free. You can design it and modify it according to your style.
Social platforms are the best channels to start promoting your website. It is recommended for you start with one social media platform to focus on first. In this way, you're able to learn more about the platform using different features to increase your audience or followers. One blogger focused on Pinterest for about a year and mastered Tailwind, tribes, and group boards. With this strategy, the blogger was successful in gaining more audiences.
Start a makeup YouTube channel
Consumers have changed the way they discover new makeup products. They prefer to watch people promoting new makeup products and doing makeup tutorials. This means creating your makeup YouTube channel is a great avenue to reach more audiences and drive traffic to your website as well.
Another way to increase your audience reach is to join social communities. When joining a social group, ensure that you abide by the admin guidelines if there are any. Avoid posting anything first. Try to participate in member discussions and offer solutions that can help. By doing this, you're able to build your credibility within the community which will help you in gaining an audience when you make your first post.
Final Thoughts
I hope that you've gained enough ideas to start your makeup blog. In case you're still not confident, you can try a complete training platform that will prepare you for starting your blog.
It will also guide you every step of the way providing you with the right tools and support. You will also get help from professional bloggers and learn their best strategies. If you're ready, please click the link here.
If you need help on how to get started, check out my #1 recommendation on building a successful business online. You can get access to hundreds of training videos, 24/7 support, professional consultations, private access to training guides, tools, personal private assistance, my personal help, and much more.
PS: Click here to review my #1 recommendation in detail.
Working Online From Home - A Proven 4 Step System
See the 4 steps to working online from home & earn residual income