Is Lucky Day Legit? And Can You Earn Money While Playing Games? Especially When the Games are So Easy? This is what this Lucky Day App offers its Players. You can play games even without any game skills, and best of all, it is a free app. But is it true that you can win cash prizes with Lucky Day App? Let's find that out with our in-depth and honest review.
Product Name: Lucky Day App
Founder: Joshua Javaheri, Founder & CEO
Product Type: Mobile Game App
Price: Free
Best For: Players above 16 years old and residents of eligible countries
Lucky Day App is a mobile game that allows you to win cash prizes and other rewards. The games are easy to play, such as scratch card games which give you a chance of winning real money three times daily. It is a fun and interactive game that lets you play with other players online. Lucky Day App is a free game, and there are no purchases required.
What Is Lucky Day App?
Lucky Day App is a mobile app game that lets you play scratchers, lotto, and raffle games for a chance to win rewards and real prizes. It was developed by Lucky Day Entertainment Inc, a start-up company founded by its CEO Joshua Javaheri. The company is established in 2014 and is currently headquartered in Beverly Hills, California.
The Lucky Day App was launched in July 2015, along with the other first-generation games they developed. And in the next six months, they have acquired half a million users with more than 25% active players daily.
The company aims to have 1 million users while developing new games, requiring some skills. As of today, the company has around 27 employees and continues to grow. Lucky Day App is the sponsor of the LA Clippers, and employees can get free tickets to games throughout the season.
Lucky Day also lets you win money or tokens every time you play any of the games. When you accumulate enough tokens, you can exchange them with gift cards and cash prizes from $0.25 up to the $100,000 jackpot.
You can also join your Facebook friends and other online players in games like Heists, Hacks, and Challenges to become the next Piggy Boss. The game already has 10,000,000+ downloads on Google Play. The app is available in the US, and Canada, excluding Quebec and the United Kingdom. To use their company services, you must also be 16 years of age or older.
Want to learn how I earn my passive Income working from home?
Click here right now for our review, my personal help, and instant access to our free training videos where we'll show you exactly how we did it ourselves starting out as complete beginners without ANY prior knowledge or experience in marketing online whatsoever!
How Does Lucky Day App work?
Lucky Day App has simple ways where you can get the chance to win. Three games will let you win either real money or tokens.
Raffle – You can claim one free raffle entry to enter the daily and monthly raffle contest. This is the only game where you can win real money as your reward.

Daily Raffles with a chance to win $500
Monthly Raffles with a chance to win $5,000
If you accumulated 10,000 tokens, you could purchase more raffle tickets for a better chance of winning.

Lotto – You can win tokens if you match 1-3 numbers or balls

Match 1-3 balls, and you get tokens
If you have 4-6 matches, you can win cash prizes
If you matched all 6, you could win the $10,000 jackpot Scratch card game – You will receive three new scratch cards daily at different times of the day. They will reset by midnight and will give you another three the following day. There are about 70+ scratch card selections available.

Lucky Day App Scratchers lets you win some tokens
You can play more by watching an ad
Aside from the ones mentioned above, here are the other games within the app where you can also earn tokens:
Play the Blackjack game
Hack the Safe to win the jackpot
Redeem Piggy Bank rewards
1,000 tokens by watching Videos
100,000 when you refer friends
1,000,000 tokens from completing Surveys
Can You Make Money with Lucky Day App?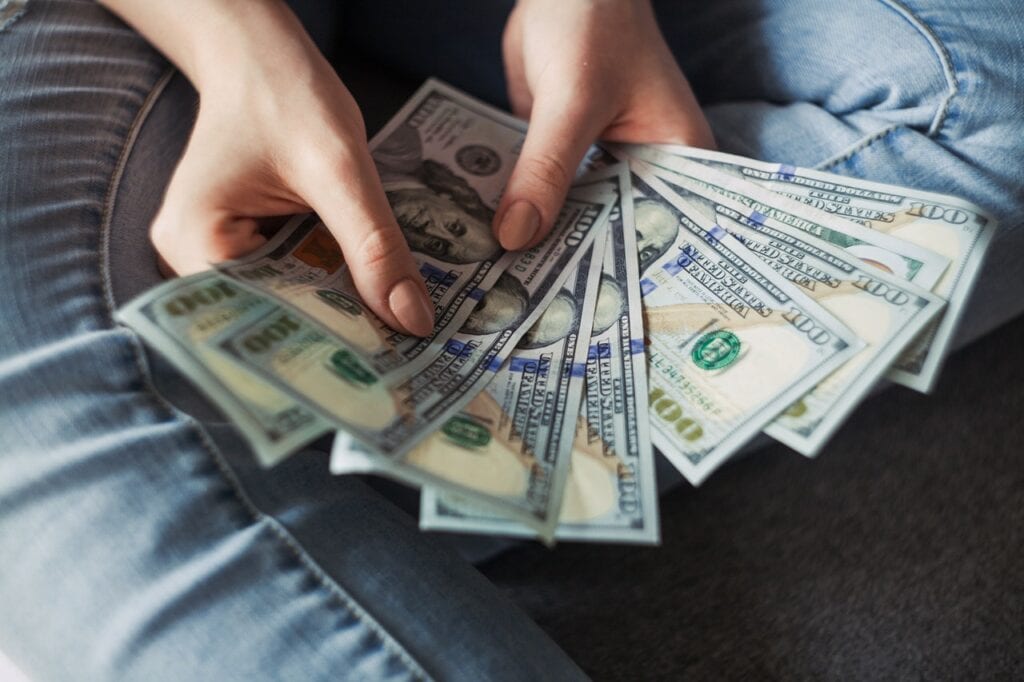 From the first look, the app seems fun and exciting. Anybody would want to try their luck since the games are straightforward. But if you think about it really carefully and check your odds of winning, you'd realize that your winning chances are very slim.
Raffle winning odds – This depends on the total number of entries for each raffle daily.
Lotto winning odds – According to their website, here are the number of matching sets and how many times you may need to play to win it.
1 set of matching balls – 1 in 3.45 Plays
2 sets of matching balls – 1 in 22.05 Plays
3 sets of matching balls – 1 in 381.66 Plays
4 sets of matching balls – 1 in 20,227.82 Plays
5 sets of matching balls – 1 in 5,461,512 Plays
6 sets of matching balls – 1 in 175,223,510 Plays
Scratch card game winning odds- Winning a scratch card game depends on the number of game players, daily total entries, and percentage of claimed scratch cards. The following are the prizes and the number of players who won the prizes from the scratch game between Jan 1, 2019, to Jan 30, 2020.
$1 – 1,000,000 winners
$5 – 25,000 winners
$10 – 1,000 winners
$100 – 100 winners
$1,000 – 10 winners
$5,000 – 2 winners
$10,000 – 1 winner
Lucky Day App Pros and Cons
While the game could let you win $1 on your first play, there are things you need to know first to determine if it is worth your time.
Pros:
Simple and easy games
Many ways to win prizes
The company is already 5 years old
Cons:
It can consume plenty of your time
Plenty of complaints about getting stuck before reaching the $10 payout
Tokens have no monetary value
To get a $2 gift card, you need to accumulate 3,000,000 tokens
Chances of winning are meager and purely based on luck
You must meet the eligibility requirements to redeem prizes (Above 16years and residents of the US, UK, and Canada except for Quebec)
Canadian players need to answer a skill quiz before redeeming their prize
No customer support hotline, like other mobile apps
Beware of Lawsuits
Despite not having any lawsuits filed against the Lucky Day App or the company's founder, there are plenty of complaints and negative reviews you can find online. On the Better Business Bureau website, you will find 81 complaints as of this writing. Out of these complaints, there are about 68 were closed in the last 12 months.
The majority of these complaints are about not receiving their gift cards or their money for several months. There's an average of 614 Customer Reviews giving Lucky Day App a rating of 3.65 out of 5 stars.
Actually, you don't need to go far to find reviews about Lucky Day App. When you try to install it via Google Play, you can already see a long list of negative reviews from different players about their game experience. The recent negative reviews are about getting stuck at a certain point before reaching the $10 minimum payout and not being paid at all.
During the first few plays, you will find it easy to increase your money. However, when you reach $7 or $8, it will tremendously decrease your winnings to a few cents until you don't win anything at all. Many players have reached $8 and have been stuck there for many months.
Some players claim that they have won thousands of money and even received an email confirmation that they would pay out their winnings via their PayPal account within 7 business days. After weeks of waiting and follow-up, I advised them via email that they didn't win and it was a glitch. As of today, there are 985,001 total reviews and counting.
Is Lucky Day App Legitimate?
I can say that Lucky Day App is a legitimate way where you can win money. You also do not have to pay for anything since the app is free to play, so there are no monetary risks involved. There is also proof of winners receiving their cash prizes, although this part is a bit questionable. You'll see the same names or faces of the winners if you played longer.
Final Thoughts
In one of the interviews with Javaheri, he mentioned that he wanted to deliver the "feeling of winning," which is the same experience you get when you play arcade games. He added that he would rather have more small winners than a few big ones since he wanted everyone to feel like a winner.
Despite saying that, the chances of winning real money with the Lucky Day App prove to be very low. Just check out the complaints and negative reviews of the many players around the world. The only one winning in all of this is the company and its leaders.
Gaming companies get paid big time by their sponsors to show the sponsor's advertisements. And was integrated Lucky Day App itself with ads making it part of the actual game. But they are not the usual pop-up banner ads but ads in the disguise of a scratch card game. As you scratch each box, you will see brand logos, names, etc., which is an innovative way of advertising.
But if you're looking for a way to earn extra money or perhaps trying to find a long-term residual income, this app is definitely not the way to go, obviously not. There are plenty of other legit opportunities online where you can earn extra money.
But if you do not mind playing the same games daily and can play them for many months or years, then the Lucky Day App could be your kind of game. And who knows, someday could be your lucky day to win the jackpot.
If you are interested in creating your own home business, check out my #1 recommendation on building a successful business online. You can get access to hundreds of training videos, 24/7 support, professional consultations, private access to training guides, tools, and much more.
Working Online From Home - A Proven 4 Step System
See the 4 steps to working online from home & earn residual income