Many of us would like to have an opportunity to work at home and earn an income. In this Contract World Review, you will see this opportunity in partnership with popular and well-known brands.
You can become their remote contract agent and earn up to $1900+ a month. Is this true? Or is this another scam? Please continue to read my complete Contract World Review to find the answer and much more.
Product Name: Contract World
Founder: Ajay Chadha and Brian Pritchard
Product Type: Virtual Call center
Price:
Free to sign up
One-time fees:
$75 for My Business Access Online Training
$75 – $300 for Client Access Online Training
$45 for Background Check
Monthly costs:
$29 monthly for the Agent Access Software
$10 monthly for each additional client
$4.95+ for the PaySource Direct Service fee for your invoices and payout
$2.50 additional for PaySource Direct Service fee for each additional client
Other costs involved will be discussed later on.
Best For Work-at-home beginners
Disclaimer:
Please keep in mind as you read my Contract World Review, that I am not a member or an affiliate of Contract World. This review is based on research and information available online in the public domain. Any opinions and conclusions may not apply to all persons or situations. So read this review in its entirety and you make your own decision. It might even be helpful to read other Contract World Reviews.
What is Contract World?
Contract World is a virtual call center that hires CSRs or Customer Service Representatives to work from home. Contract World is the US expansion of LiveXchange, formerly known as CallCast, which was started in late 2001.
The company was founded by Ajay Chadha and Brian Pritchard in Ontario, Canada. In 2005, its first online job site portal was launched and now has exclusive websites for the US and UK, respectively. By 2008, Contract World has passed the 50,000-employee mark and continues to hire work-at-home contract agents up to this day.
Contract World is a job site where you can apply for work-at-home jobs and earn a monthly income. Their clients are reputable companies that offer customer service representative positions through the Contract World platform.
Their CSR job openings do not require previous work experience. As long as you're able to complete the training, set up your work equipment, and pass the certification exams, you can get hired and be able to work at home.
Want to learn how I earn my passive Income working from home?
Click here right now for our review, my personal help, and instant access to our free training videos where we'll show you exactly how we did it ourselves starting out as complete beginners without ANY prior knowledge or experience in marketing online whatsoever!
How does the Contract World work?
The Contract World works as a virtual call center hub. There's no signup fee, but there are costs involved before you can start working. After you submit your application to one of the job hirings posted on their website, you will need to complete the paid training first, which can last for a few days up to a few weeks depending on the length of the training courses.
This paid training can cost you up to $420, depending on how much training you need to complete. The licensing fee covers one client, and if you take on an additional client, you need to spend $10 more. So, if you have three clients, that cost is going to be $49 a month.
If you add all the monthly fees, you could be spending around $138 monthly, excluding the startup and equipment costs. Refer to the following table for an example of your monthly estimated expenses.
Clients
Basic Telephone or V

 

O.I.P

High-Speed Internet
Network Licensing Fees
PaySource Direct Fee
Total Monthly Expenses
1
$25.00
$45.00
$29.00
$9.90
$108.90
2
$0.00
$0.00
$10.00
$5.00
$15.00
3
$0.00
$0.00
$10.00
$5.00
$15.00
TOTAL
$138.90
You also need to consider the other possible start-up costs involved to be able to work.
$45 estimated monthly subscription cost to a high-speed internet service if you don't have one yet
$25 to $45 monthly VOIP (Voice Over IP) if you can't use your current phone
Up to $800 for a desktop computer or laptop that meets the required specification
$30 for a high-quality headset
$60 for a high-resolution webcam
Aside from that, you need to set up an area or a room in your home to be conducive to working. Remember that you could be working for hours and speaking with customers over the phone. That's why you need to have a quiet workspace where you can work without any distractions.
Can You Make Money Contract World?
Yes, you can make money with Contract World. As of this writing, Contract World has the following clients and the pay rate they offer per hour. The pay rate has two currencies, CAD and USD.
Intuitive Solutions/Pizza Hut
8 to 10 USD per hour

Rate per order: 55 cents

Recipe Unlimited
Target Earnings 14.00 USD per hour
Biron Health Group
Target Earnings 16.00 to 20.00 USD per hour
Planet ART
16.00 USD per hour
Alorica's TurboTax
15.00 USD per hour
Pizza Hut
10 to 12 CAD per hour
KFC
Average Earnings 10 to 13 CAD per hour
ClubLink
12.00 to 14.00 CAD per hour
The Shopping Channel
14 to 16 CAD per hour
Contract World explains that these pay rates are estimates since their contract agents are paid per transaction. And not all companies are hiring at the same time. Some positions are on the waiting list. You are paid bi-monthly, and your payment is deposited electronically to your bank account.
How To Make Money With the Contract World?
Based on the Contract Agent Income report from the Contract World website, I think the best way to earn more money is to choose level 3 clients, work more hours, and improve your efficiency.
Each client has three levels of call difficulty. The higher the level is, the more challenging the calls are. This is why level 3 clients pay more than the other clients. So if you have a good mix of level 3 clients and work more hours, you could receive higher pay. Improving your efficiency level also plays a role in increasing your hourly pay. If you work efficiently and maintain good stats, you can receive more calls in an hour. Therefore, you get paid more.
The table below shows a conservative computation of your net monthly income per client level.
Want to learn how I earn my passive Income working from home?
Click here right now for our review, my personal help, and instant access to our free training videos where we'll show you exactly how we did it ourselves starting out as complete beginners without ANY prior knowledge or experience in marketing online whatsoever!
| | | | | | | | |
| --- | --- | --- | --- | --- | --- | --- | --- |
| Client Level | Estimated Pay Per Call | Estimated Length Of Call (secs) | Estimated Calls Per Hour | Estimated Pay Per Hour | Estimated Hours Per Week | Estimated Weekly Income | Estimated Monthly Income |
| Level 1 | $0.48 | 90 | 26 | $12.48 | 10 | $124.80 | $499.20 |
| Level 2 | $1.40 | 210 | 12 | $16.80 | 12 | $201.60 | $806.40 |
| Level 3 | $3.37 | 440 | 5.5 | $20.52 | 10 | $205.20 | $820.80 |
| | | | TOTALS | $16.60 average per hour | 32 | $531.60 | $2,126.40 |
If we take your net pay and less the monthly fees, with three clients, your take-home pay is $1987.50 per month, and this is just an estimation. Remember that start-up costs amount to up to $420, and equipment costs cost you less than $1000.
And if you take up more clients, you pay additional fees. Level 3 clients may also require additional training. If the client is level 3, the training costs more. In reality, your first month's expenses could be more.
To save money from equipment expenses, Contract World allows computers or laptops which are not more than 2 years old. Still, the device should meet all the specification requirements.
The required computer specs are the following:
Processor
Minimum 3.6 GHz for single-core processors. All dual core + processors are accepted
RAM
Minimum of 4.0 GB total system memory

Note: Some clients may require higher RAM

Monitor
Laptops/PC Monitor/TV with a minimum resolution of 1024×768
USB ports, keyboard, and mouse
Two available USB ports, one of which must be dedicated to the AAW (no hubs)
Router and Network Systems
Wired Ethernet, USB Ethernet Adapters, Home WiFi Network. (Pending successful Network Speed Test)

Note: Wifi Network Connectivity troubleshooting

Phone Line or VoIP Providers
Phone Line or VoIP Providers: Landline or VOIP with no calling features may be required
Headset or telephone with Headset
A corded USB headset is required for jobs using the software VOIP
Contracts using Landline/Hardware VOIP
A corded telephone with a headset is required
Internet speed Required
High-Speed Cable, DSL internet service
Not Permitted
Satellite ISPs
Operating System
Windows 8 or higher

Browser supported: IE, Google Chrome, and Firefox
The requirement for internet speed varies between clients. Some clients would require higher internet speed than others. It's best to check your current internet speed and compare it to the requirement of the job you're applying to. In general, a download speed of 5001 kbps or higher and an upload speed of 401 kbps or higher can pass for all clients.
the Pros & Cons of Contract World
In the name of fair review, let's check out the pros and cons of becoming a CSR via Contract World.
Pros:
Beginner-friendly
Flexible schedule (You can set half-hour blocks, and sign up for standby mode)
Clients are reputable brands
Cons:
High start-up cost
Monthly fees
Low pay
No pay for complaint and inquiry calls
Unpaid training
You are not entitled to employee benefits as an independent contractor
Not available in some states such as Indiana, Missouri, Georgia, Tennessee, Kentucky, Ohio, and Wyoming
Want to learn how I earn my passive Income working from home?
Click here right now for our review, my personal help, and instant access to our free training videos where we'll show you exactly how we did it ourselves starting out as complete beginners without ANY prior knowledge or experience in marketing online whatsoever!
Any Negatives? Beware of Lawsuits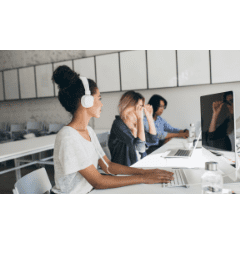 I didn't find any lawsuit against Contract World, but like any other work-at-home job, you can find positive and negative feedback online. The most common complaint is the low pay, and some claim that the pay is not even half of what is stated in the contract.
You also don't get paid for complaint calls which I think takes knowledge, skills, and patience to resolve. With other call centers, virtual or not, clients invest in upskilling their CSRs to handle inquiries and complaints. Plus, the training is paid for by the clients, and CSRs are paid for their training hours. This is not the case with Contract World.
Is the Contract World Legitimate?
I think Contract World is a legitimate virtual call center hub company that has been providing work-at-home jobs for years. They have more than 50,000 employees, which can be considered testimony that they are a trusted company. If they were a scam, the company wouldn't last as long as they did.
Final Thoughts
Contract World can be a good way to earn extra money and gain work-at-home experience, but it's not the best-paying company out there. You can find other work-at-home opportunities that did not require high start-up costs and paid training, such as building an online passive income through a complete training platform with the tools and support to help you start.
If you need help on how to get started with affiliate marketing, check out my #1 recommendation on building a successful business online. You can get access to hundreds of training videos, 24/7 support, professional consultations, private access to training guides, tools, personal private assistance, my personal help, and much more.
PS: Click here to review my #1 recommendation in detail.
Working Online From Home - A Proven 4 Step System
See the 4 steps to working online from home & earn residual income