In this article, I will show how to install Generateblocks on your website, the free and paid version for better understanding and website enhancements.
GenerateBlocks offers flexibility to your editor, giving you full customization power over your website. It is a plugin specially built for the GeneratePress theme for WordPress, but it will work with other compatible themes. Tom Usborne developed it, the creator of the GeneratePress theme and other popular plugins such as Grid Columns, Simple CSS, Social Icons, and WP show Posts.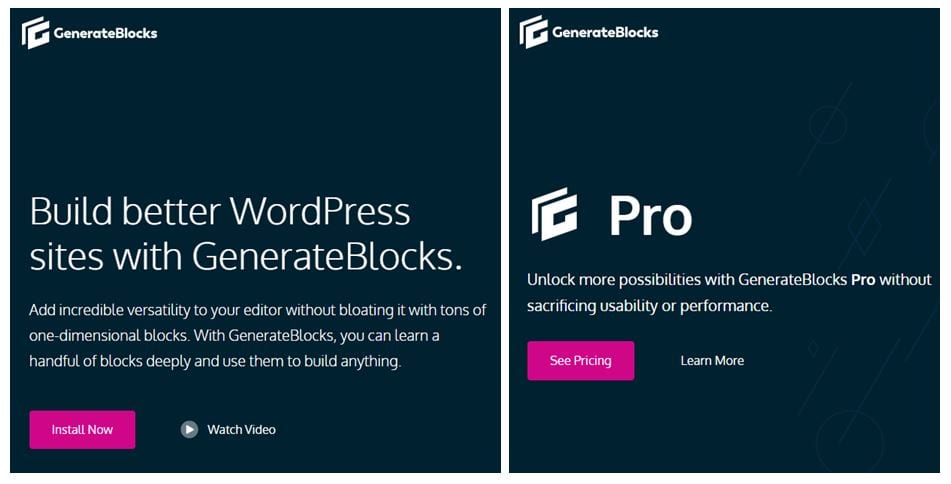 GenerateBlocks Free and GenerateBlocks Pro
GenerateBlocks promises performance, responsiveness, and the highest coding standards while not slowing down your website's speed and stability. It has over 40,000+ downloads in the WordPress repository and has a 4.9 out of 5 stars average rating. The positive ratings prove many users are happy with GenerateBlocks, so it is not surprising that you would like to get yourself one.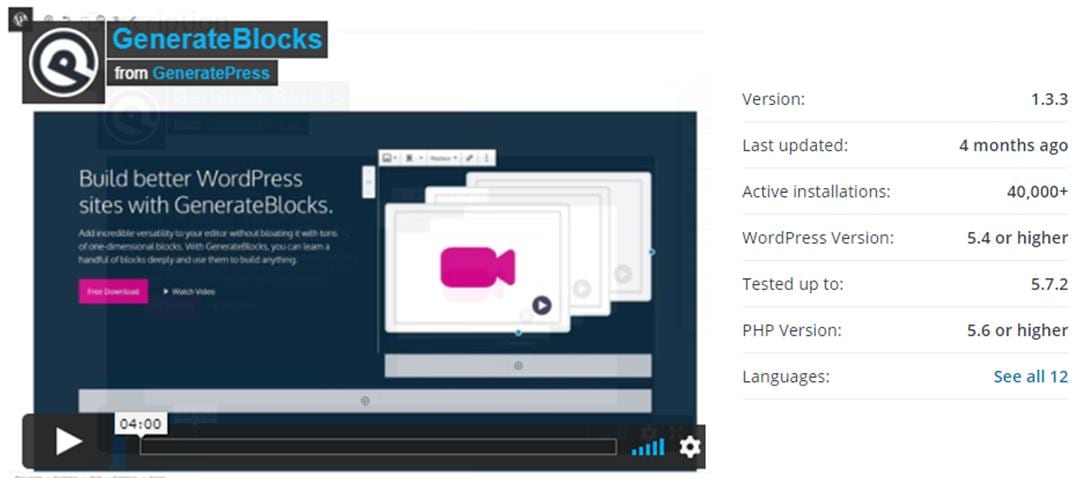 Why should you install GenerateBlocks?
Before installing GenerateBlocks, let's see its advantages and disadvantages, so you know what you are getting for your money's worth.
Advantages:
Newbie friendly
No coding skills required
Easy to install
Ease of use
Layout flexibility
Endless design possibilities
Full customization of website layout
Premium support (One on one and email-based)
Affordable yearly cost (High-end plan is only $8.25/month)
30-day refund policy
Affiliate program available with decent commissions
Cancel anytime on your account
Disadvantages:
Some themes and website builders may not be compatible
Ongoing unresolved issues
May lack some advanced functionalities when compared to other plugins.
Earn Passive Income Online and Work From Home Using My Secret 4 Step Formula!
Let me show you a simple 4 step proven system that many are using and having the same SUCCESS!
Since GenerateBlocks is fairly new, you can expect plenty of bug fixes and updates in the upcoming months. So if ever you have encountered an issue with it, you can always go to the GenerateBlocks website and look for a solution. They have plenty of documentation and an active community forum where you can find your answer. Otherwise, you can also submit a ticket to raise your issue to the developer.
What are the versions of GenerateBlocks?
There are two versions of GenerateBlocks, the GenerateBlocks free version and the GenerateBlocks Pro, the paid version. Both versions have four main blocks, which are the core builder blocks of GenerateBlocks. But the paid version has more to offer, which we will discuss more in this section.
GenerateBlocks (free)

The four main blocks of GenerateBlocks
Container block – This allows you to make basic to complex container blocks for your website. You can use a single container block or arrange multiple of them inside a Grid block. You can freely customize its shape, size, spacing, colors, background, typography, and so much more.
Grid block – Helps you to organize your container blocks easily using the ready-made layouts available for you to choose from. It also enables you to add as many items as you like and customize their spacings and alignments freely. Use the duplicate functionality to use the same layout throughout your web page so you don't have to redo it all over again.
Headline block – This gives you the ability to create eye-catching headlines and effective CTA buttons. You can choose the headline style then modify its typography, spacing, alignment, or use an SVG icon.
Button block – Add a single button or more to your web page by simply clicking the plus icon. Then customize its dimensions, spacing, gaps, colors, typography, or use your own SVG icon for a unique button design.
GenerateBlocks Pro
The Generateblocks Pro has three different annual plans, and each has some website limitations. Higher plans allow more website use as described below:
GenerateBlocks Pro Annual plans:
$39 Personal – 1 website license key. Join here
$69 Plus – 10 websites license keys. Join here
$99 Professional – 250 websites license keys. Join here
All the GenerateBlocks Pro annual plans have the four main blocks as well but with additional features listed below:
Earn a Passive Income While Working at Your Day Job
Learn How to Start Your Own Affiliate Business
Follow My Simple 4 Step Formula and Copy the Exact Method I Used to Quit My Bus Driver Job
150+ Professional templates
Create your local templates
Advanced backgrounds
Asset library
Block effects
Container hover transitions
Custom attributes
Global styles
1-year support and updates
They introduced the Template Library as the fifth addition to the GenerateBlocks family. It houses over 150 professional template blocks that you can immediately use for your content. But you can also create your own template designs with your favourite background images, upload them to the Local templates library, and make them ready for use.
This and the other additional features set the GenerateBlocks Pro apart from the free version. If you would like to maximize what GenerateBlocks can do for your website, I'd recommend you to purchase the GenerateBlocks Pro plan; it's definitely worth it.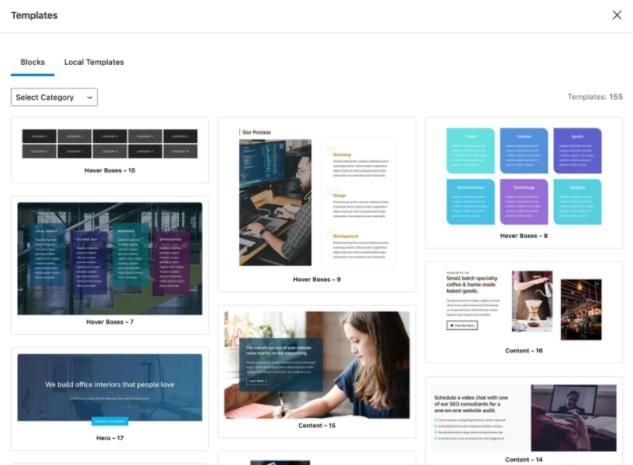 Template Library
How to Install GenerateBlocks (free version)?
There are two ways to install the GenerateBlocks free version via the WordPress dashboard or the WordPress.org website. Below are the steps on both methods, so choosing whichever you think is easier is up to you.
Here's how you can install GenerateBlocks through the WordPress dashboard:
Login to your WordPress dashboard interface
Move your cursor to Plugins from the main navigation section and select Add New from the drop-down options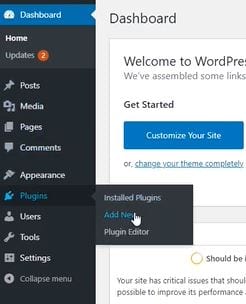 Then on the search bar, type the keyword "GenerateBlocks" and hit enter

The search results will display GenerateBlocks as shown in the image below. Click on the Install Now button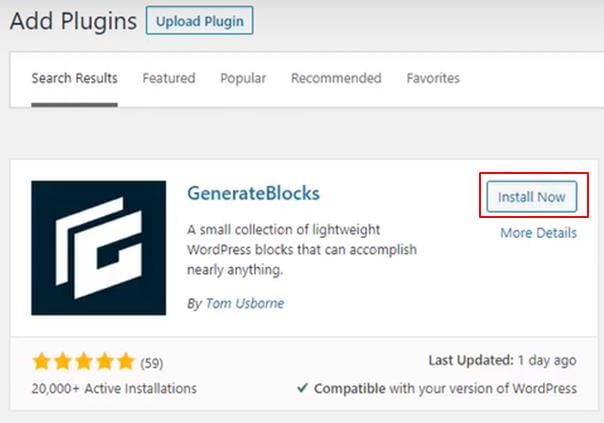 The installation will only take a few seconds, and then the install button will convert into the Activate button. Click on it to activate the GenerateBlocks plugin.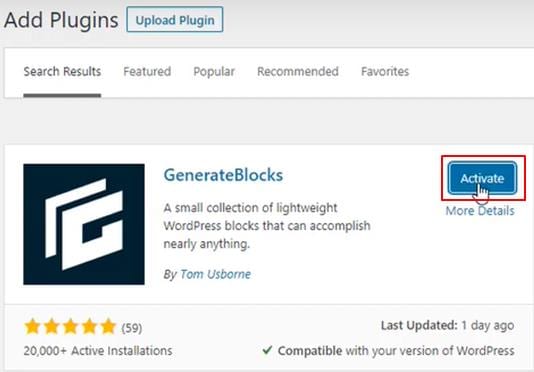 And here's how you can install GenerateBlocks through the WordPress.org website:
Visit the WordPress.org website
Select the Plugins tab then on the search bar, type "Generateblocks" then hit enter
The search results will display Generateblocks, click on its link to view its page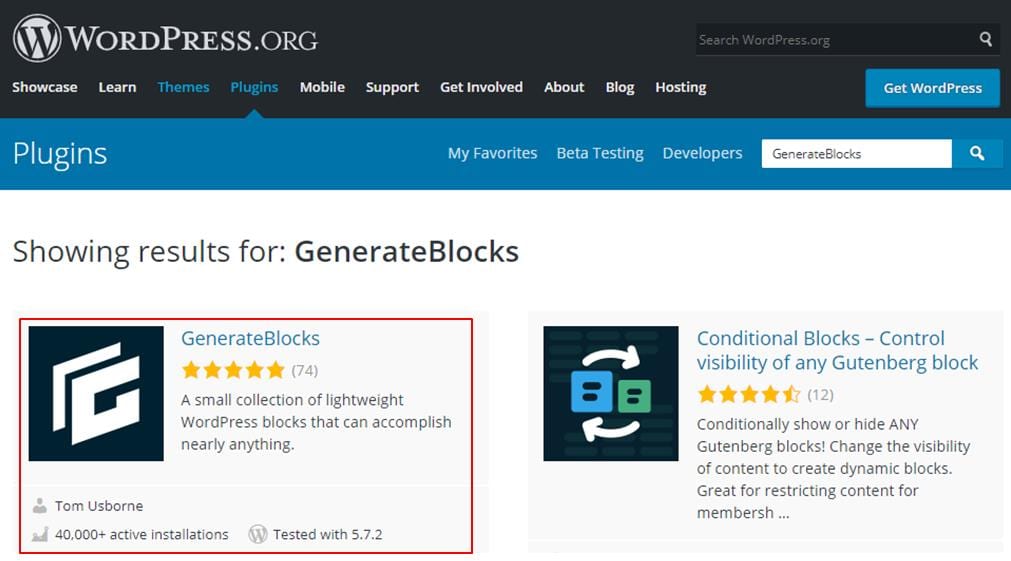 On the Generateblocks page, click on the download button. The Generateblocks is downloaded as a zip file.

Go back to your WordPress dashboard
On the main navigation section, select Plugins > Add New > Upload Plugin
Click on the Upload Plugin button

Click on Choose File which will open the file explorer window. Search and select the GenerateBlocks zip file and click on Install Now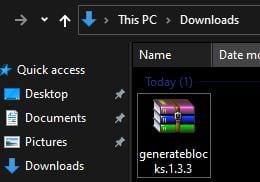 After the GenerateBlocks have been installed, activate the plugin.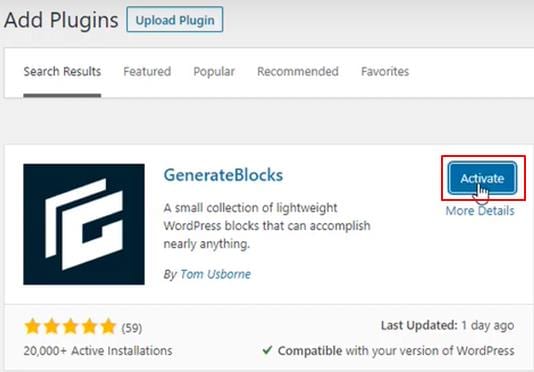 You should be able to see GenerateBlocks now visible on your WordPress dashboard.

Earn Passive Income Online and Work From Home Using My Secret 4 Step Formula!

Let me show you a simple 4 step proven system that many are using and having the same SUCCESS!


How to Install GenerateBlocks Pro?
After installing the free version of GenerateBlocks, you have the option to upgrade it to the GenerateBlocks Pro version, which will offer you more flexibility and features for designing your website. If you would like to install GenerateBlocks Pro, here's how:
Install the GenerateBlocks free version first, see the steps above
Go to the GenerateBlocks website and log into your account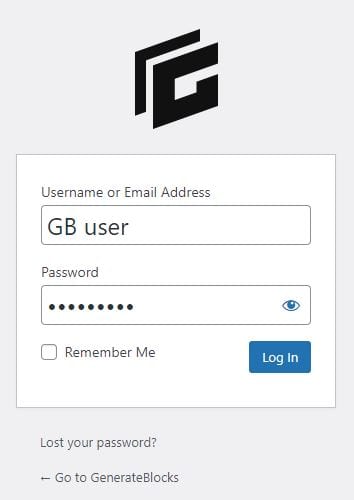 Select Menu > Account > Downloads
Click on the Download button beside your preferred plan for GenerateBlocks Pro. Once you click the download button, GenerateBlocks Pro plugin is downloaded as a zip file.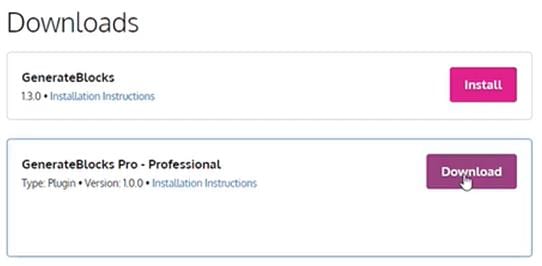 Go to your WordPress dashboard and select Plugins then Add New from the drop-down options
Click on the Upload Plugin button then Choose file to open the file explorer window


ln the file explorer window look for the GenerateBlocks Pro zip file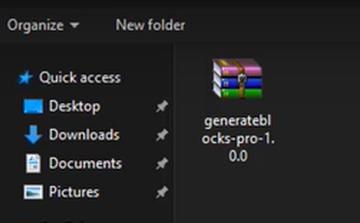 Select the GenerateBlocks Pro zip file then click on Install Now

Then activate your GenerateBlocks Pro plugin

After this, both the GenerateBlocks free version and GenerateBlocks Pro is listed on your Plugins list and ready for use.

Installing GenerateBlocks and GenerateBlocks pro is easy, just like how you would install other WordPress plugins. Within just a few minutes, you are ready to craft your website and design it the way you want to, even without the coding skills. Your website will look as if it was made by a professional but without the expensive professional fees. Simple, lightweight, flexible, and reliable, that's GenerateBlocks. And it is the best page builder when starting your own blog.
If you are interested in creating your own home business, check out my #1 recommendation on building a successful business, where you can get access to hundreds of training videos, 24/7 support, professional consultations, private access to my training guide, and much more.
Need Passive Income?
A Simple 4 Step System
Enter your email and gain access to my make money tips and receive your free gift.
Working Online From Home A Proven 4 Step System
See the 4 steps to working online from home & earn residual income