In this topic, we will discuss how to make the most money on DoorDash. We will also talk about the different ways you can make money with DoorDash, whether you're a Doordasher or not. So if you're interested, continue reading as you will learn a lot of things here. Let's begin.
How to Get Started
It is easy to get started with DoorDash. But first, let's learn what it is about. DoorDash is a food door-to-door delivery service available in over 4,000+ cities in the US, and in over 80+ cities in Canada and Western Australia.
If you become a Doordasher, you can earn a base pay of $2 up to $10+ per delivery. However, on average, Doordashers earn around $18 per hour and $36K+ yearly. And there are those earning as much as $25 per hour and $52K+ yearly. According to DoorDash, your earnings are computed based on the following:
Base Pay + Promotions + Tips = Total earnings
Your base pay depends on the distance, estimated duration, and desirability of the order. So if the customer is in a distant location, the order takes a while to be prepared, or the demand is less popular with the other Doordashers, you can get higher base pay. Promotions include your peak pay and challenges, a way to make more money with Doordash. You get 100% of the tips on top of your base pay and promotions. You can also earn more when you:
Deliver during peak times – Accept orders during the busiest time of the day such as lunch and dinner hours.
Know alternative routes – If you're delivering during peak times, there's a high chance that you will get stuck in the rush hour traffic. So ensure that you know fewer busy routes you can take to deliver the food on time.
Deliver orders within hot spot areas – On the Driver app, you will see a heat map that indicates locations where there are more food orders.
Deliver batch orders – Accept orders from restaurants or delivery destinations that are near to each other or along the way. This helps you earn more money in one delivery and be more efficient.
Deliver when there are fewer Doordashers available – There could be times in a day when there are fewer Doordashers available. You can take advantage of these times to get more orders and earn more.
Provide good customer experience – Be polite when communicating with your customers, ensure orders are complete (including utensils, napkins, and condiments), be punctual, and deliver with a smile. This can help you get higher ratings and tips.
Want to learn how I earn my passive Income working from home?
Click here right now for our review, my personal help, and instant access to our free training videos where we'll show you exactly how we did it ourselves starting out as complete beginners without ANY prior knowledge or experience in marketing online whatsoever!
You will need to apply if you would like to become a Doordasher. There are a few requirements to meet, such as:
18 years old and above
Any car or scooter (or bicycle for certain cities)
Driver's license
Social security number (for US applicants)
Consent to a background check
Your application may take around a week before you can get a response. You need to set up your profile, download the Doordasher app, and start accepting orders to earn money if you're hired.
Market Research for DoorDash
Before you send your application, let's do some market research for DoorDash. Let's find out its popularity and if it is sustainable work for you.
Search Volume
Let's find out the search volume of DoorDash. For this task, we will use an advanced keyword search tool called Jaaxy. Here's what we have for the results: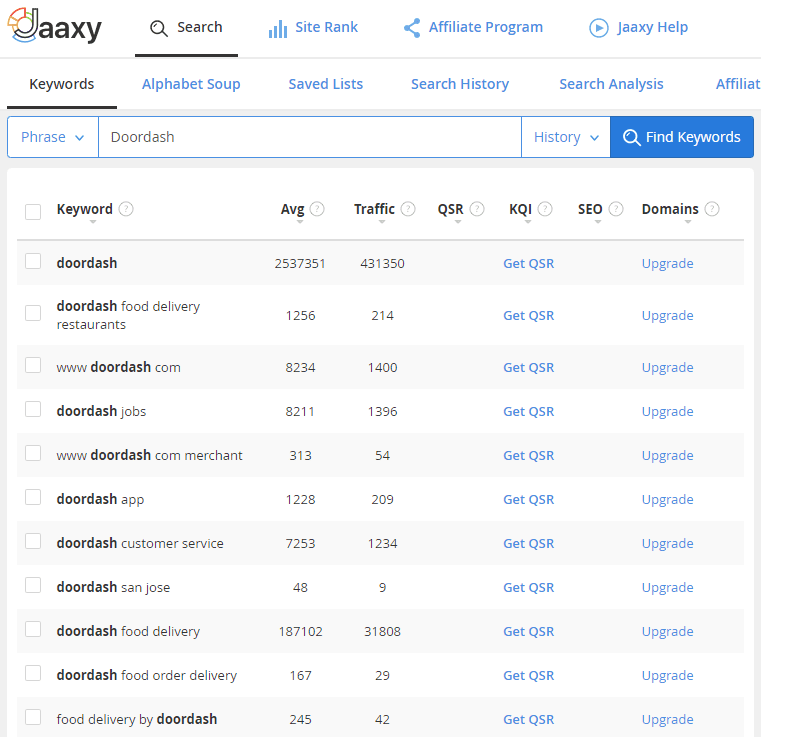 Based on the Jaaxy results, you can see that there are over 2 million average searches per month. This only proves that DoorDash is a popular food delivery service and millions of customers use it. This could also mean that earning a decent income with DoorDash is possible.
Search Trend
Let's also do a search trend research for DoorDash. This will help us identify if its popularity remains high over time or if there is any sign that it is becoming less popular. We will use Google trends to help us with this task. Let's see what we have: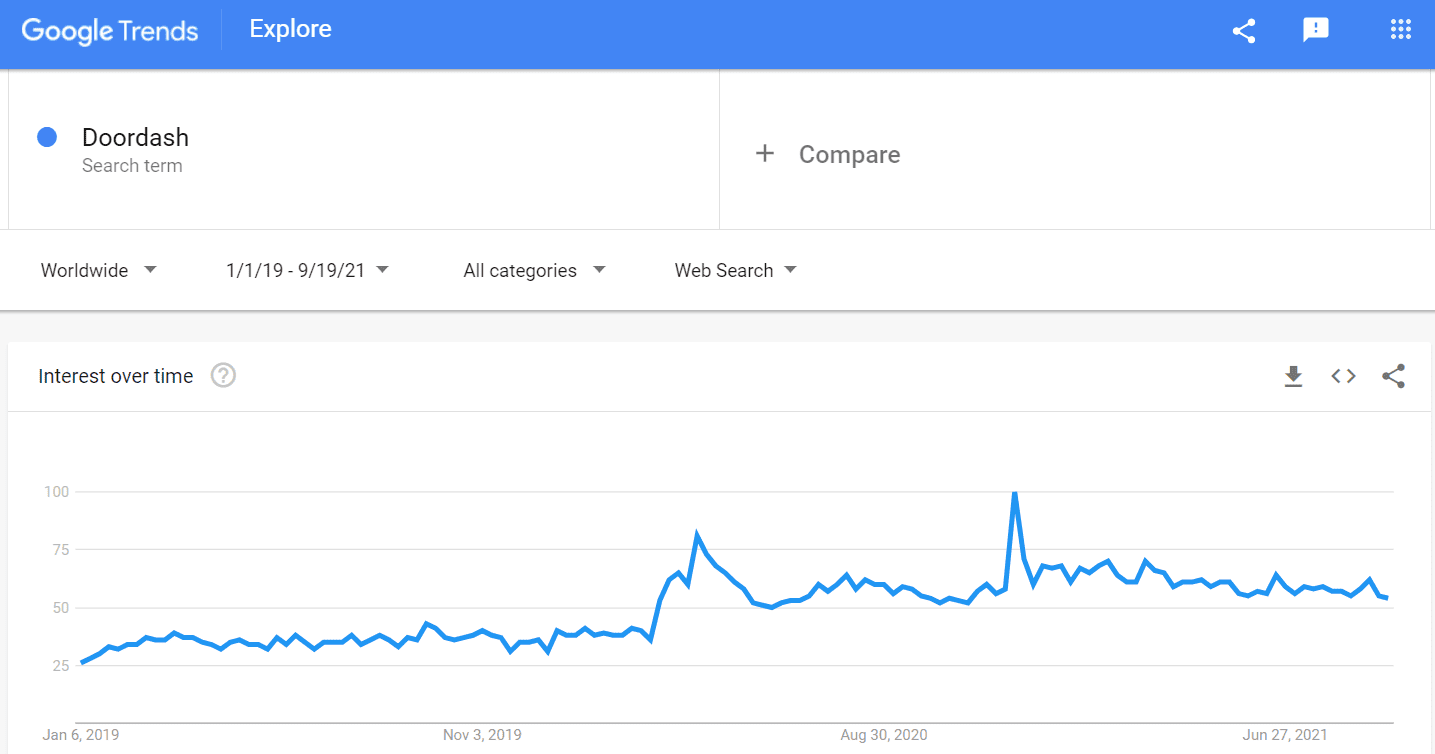 According to Google trends, DoorDash has increased in popularity around the onset of the year 2020. This could be because of the restrictions implemented during the COVID-19 pandemic. DoorDash remains highly popular, and it reached its peak popularity during the holiday seasons. The projection shows that it will remain popular or in demand in the future.
What exactly is the niche?
If you're a blogger, what will be your niche? It is easy to determine that if you are promoting DoorDash, you are using the food niche. But there are other related niches, such as:
Food – Restaurants, food recipes, different cuisines, and so on.
Restaurants – Seafood, Chinese food, Mexican food, Thai food, vegan food, etc.
As you can see, you can expand to different sub-niches as long as it applies to the central niche. If you are still undecided, you can:
Choose the niche/sub-niche you are most interested in – Blogging is a long-term commitment, so to keep yourself motivated, think about what niche will interest you the most. If you're interested in a certain niche, you will find it easier to think about the next topic you will write, about or what other sub-niches you can include on your blog website.
Choose a problem-solving niche – Problem-solving niches are more significant to people than other types of niches. This is because they generally offer answers or solutions that people are looking for. What solutions your selected niche can offer? We will talk more about this in the next part of this topic.
What Problem is being solved?
In this section, let's talk about problems your niche can solve. Or what solutions you can provide to your audience. Think about the possible issues and list them down. For example:
Where can I find Chinese food restaurants?
What restaurants are open at this hour?
What restaurants offer discounts to first-time customers?
You may have more ideas than the list above. When you're done, check on the list and see what problems your niche can provide solutions to. This will allow you to strategize what information you can offer to your readers. So aside from promoting DoorDash to your readers, you provide them with more value by providing other information that can be useful to them.
Want to learn how I earn my passive Income working from home?
Click here right now for our review, my personal help, and instant access to our free training videos where we'll show you exactly how we did it ourselves starting out as complete beginners without ANY prior knowledge or experience in marketing online whatsoever!
How to Get the Audience to Purchase?
Perhaps the most challenging part is how you can convince your audience to purchase. Let's start with identifying what type of audience you will most likely have. If you think about DoorDash, you could have the following audience:
Employees
Parents
Work at home staff
Hotel guests
For different events (celebrations, seminars, meetings, etc)
Food resellers
There could be more audience types who use the DoorDash app for food delivery. So if you're promoting DoorDash on your website, what strategies will you use to lure them in to make a purchase? Here are some recommendations to consider:
Focus on your frequent buyers – If you have been promoting DoorDash for a while, you will most likely have an idea of who your frequent buyers are. Identify who they are and what they usually order. Perhaps you can do a topic about their favorite types of food or their favorite restaurants. By doing this, your audience will feel that they are important and their needs are met by reading about what they love.
Get the latest offers – Another way to entice your audience is to provide them with the latest offers, discounts, or promotions from their favorite restaurants. Sometimes they do not open the DoorDash app or their app notifications are turned off, so they do not know if their favorite food is at a discounted price.
Some of these promotions last for several weeks or months. So it's a waste to let it pass, especially for those who have been waiting for it. You can also compare restaurants that offer similar cuisines to provide your audience with more options.
Use delicious food images and videos – Tempt your audience more by using delicious images and videos on your posts. The images should have a good resolution that is clear enough for your audience to see. While for videos, aside from showcasing the food, you can share your personal experience with it.
You can also ask the restaurant if you can shoot a video on how the food is prepared and cooked. Some restaurants will be happy to let you promote their business since it is free marketing for them.
how much money can I make with doordash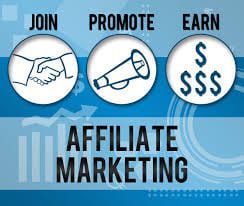 You can sell DoorDash online in different ways to determine how much you can make. We have already talked about how you can promote DoorDash by writing posts. Here, we will talk more about that and other ways you can effectively sell DoorDash online. Let's check them out.
Affiliate Programs
DoorDash has affiliate programs you can join. An affiliate program is a marketing model that lets you earn commissions for each sale you make by promoting someone else's products or services. You can earn up to $50 commission through DoorDash Driver Acquisition Program and $3 per first order via the DoorDash Consumer Acquisition Program.
DoorDash has a few requirements so you can receive your referral incentives. To receive your referral incentives, your referral must:
Be a new DoorDash customer (must have never created a DoorDash account before)
Click on your referral link to sign up with DoorDash
Complete order with the minimum subtotal amount required (the amount shown on your signup page)
When your referral meets these requirements, you will automatically be eligible for the referral incentive upon checkout of your referral's first order.
If you want to join DoorDash's affiliate programs, you can sign up through their website or partners. Or you can find these affiliate programs through Google.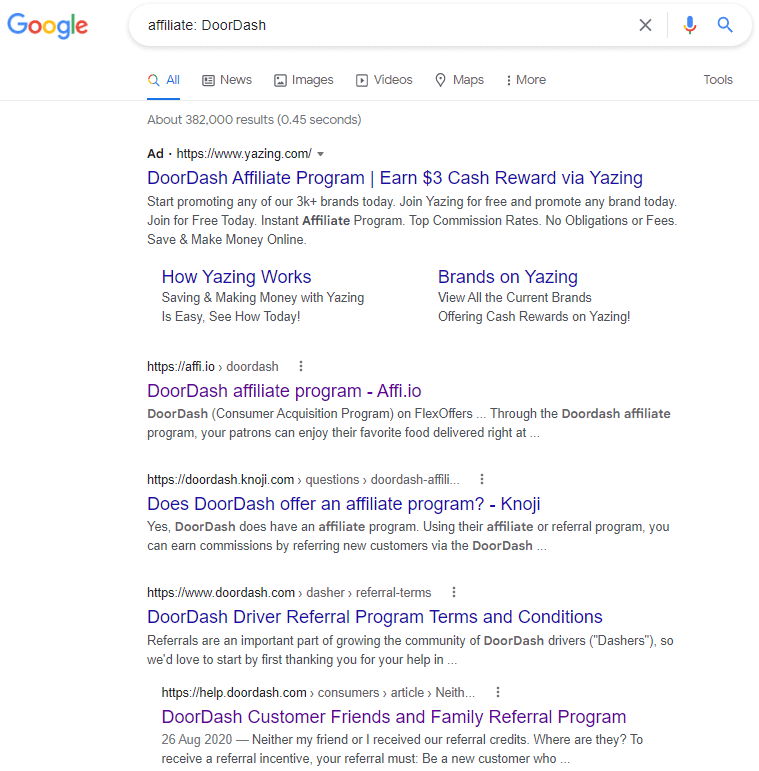 You can also find other affiliate programs related to your niche and search them using Google, following the example above. If you decide to join other affiliate programs, ensure that the company:
Is a reliable company
Provides decent and on-time commissions
Has positive customer reviews
Offers several payment options
Has no membership or sign-up fees
An example of a good affiliate program is the Amazon affiliate program. You can sign up as an affiliate if you would like to promote DoorDash's products. Here are some of the DoorDash products you can sell from the Amazon website.

Dropshipping
You don't have to do any inventory with drop shipping, but you need to process the orders. First, you need to find merchants to supply you with the products you will sell. You also need to have an eCommerce website. So you can upload the products you're selling and provide a smooth checkout solution for your buyers.
When you do drop-ship, you regulate the price of your products. You decide how much you will profit from a particular product. So if the merchant sells a product for $10, you can sell it for $12, and the $2 is your profit.
DoorDash's business model is dropshipping. Their app and website house a wide range of food options. Users select the food they want, and they handle the fulfillment aspect. DoorDash earns its profit from order-in-app commissions, Storefront transaction fees, and Drive delivery fees for using their drivers.
DoorDash also has an online store, doordashstore.com, where they sell different merchandise categorized under Dasher Gear, Merchant Materials, and Bike safety. This includes DoorDash t-shirts, DoorDash tote bags, DoorDash catering bags, and bike safety gear such as helmets and reflective armbands. Below are examples of DoorDash apparel available on the website.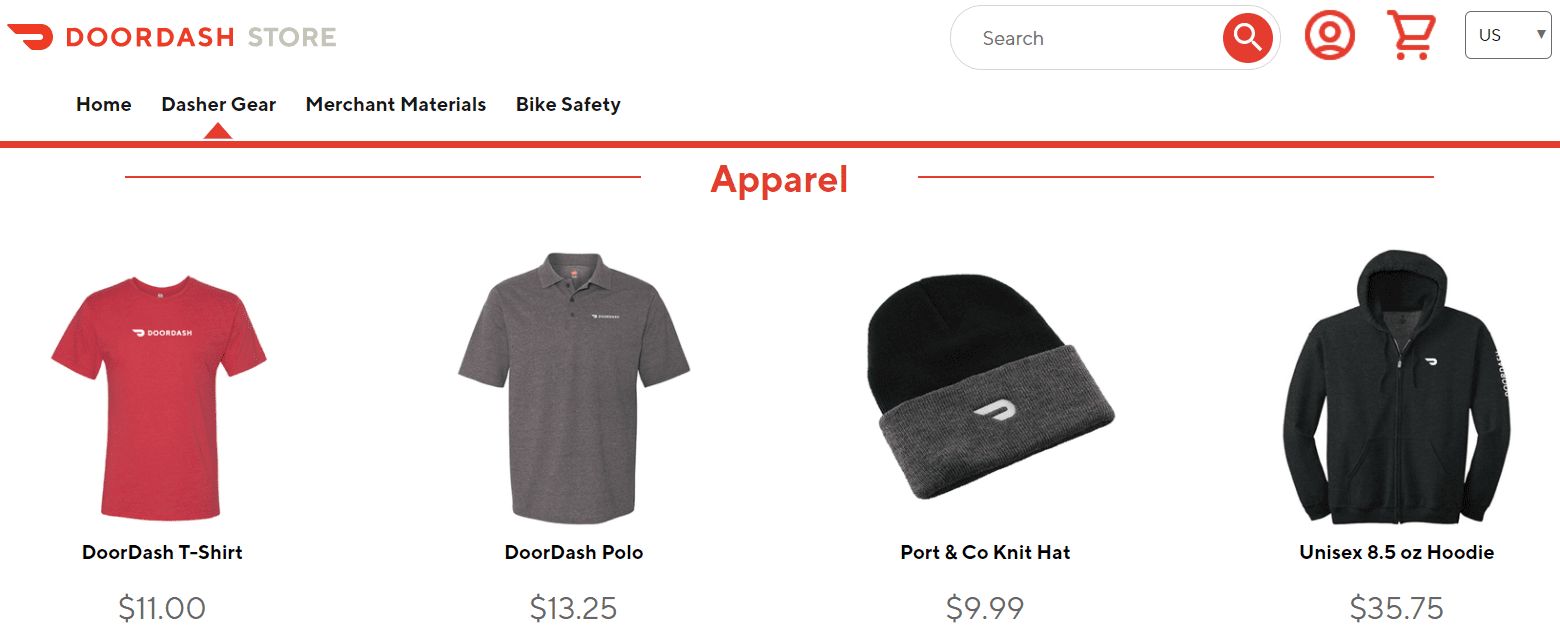 You can also find other dropshipping merchants that can supply you with products related to your niche. Using the Google search engine, you can look for other merchants to add more products to your online store.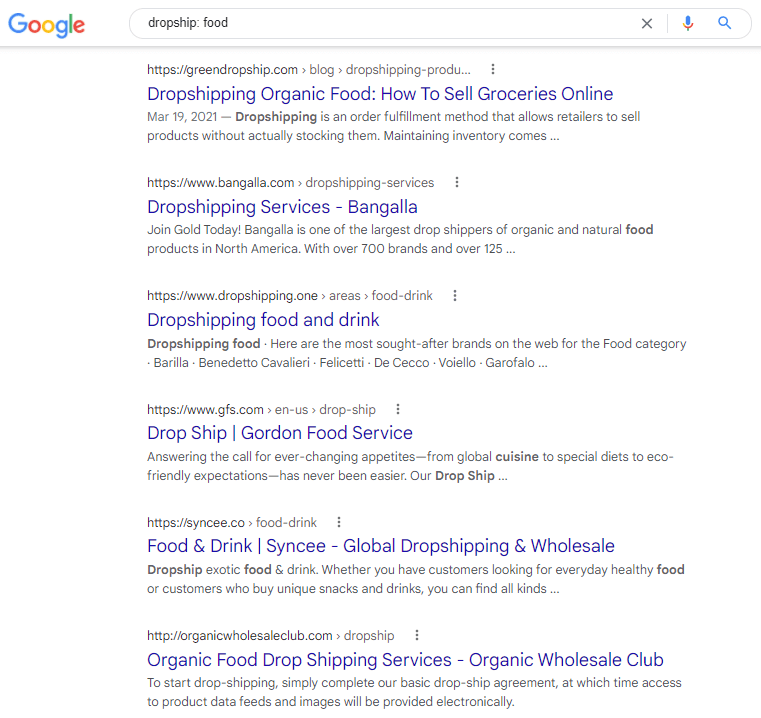 When looking for dropshipping merchants, and apparel companies, consider looking for a reliable company that can do the following:
Supply you with different quality products you can sell on your website
Ship your orders fast
Sell your products
If you have the financial capacity and other resources, you can also make and sell your products. If you have cooking skills, you can start your own food business. It doesn't have to be a fancy restaurant. For example, you can use your kitchen to make food for your customers. You can make sandwiches, meals in a box, snacks, and so on. Then sell them on your website or sell them on the DoorDash app. But if you don't have cooking skills, that's okay; you can look for a wholesale food distributor that can supply food for your business.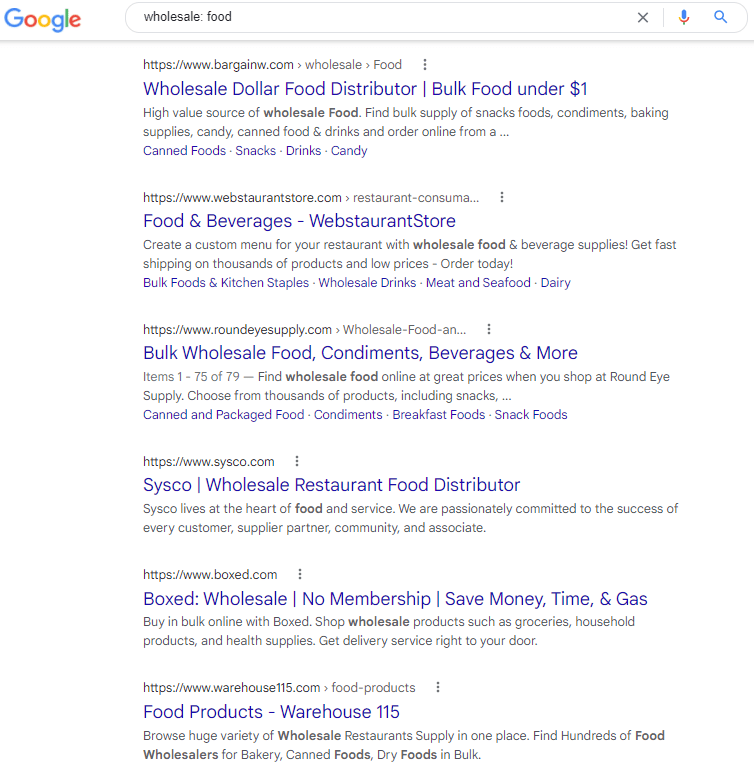 As you can see, Google shows us that there are plenty of wholesale food distributors you can partner with for your food business. Aside from prepared foods, you also have the option to sell beverages, condiments and sauces, baking ingredients, herbs and spices, desserts, concessions and snacks, ice cream and other frozen treats, and many more.
Make sure that the company you partner with is a reliable company that regularly supplies you with food products. Unlike in drop-shipping, you manage all aspects of your business from the inventory, order processing, customer service, after-sales requirements, and so on. Ensure that you are permanently storing enough products ready for delivery when your customers order them.
Methods on How Much Money do You Make with Doordash
There are other methods of how much money you make with Doordash and selling DoorDash aside from promoting the app or referring Doordashers. If you like taking photos of your food from different restaurants via the DoorDash app, you can compile them and create a digital photobook. In this way, you can showcase different delicious cuisines while promoting the app as well.
What You Need to Start Selling DoorDash Products
Now, we will talk about the tools you need to sell DoorDash products. These tools can help you earn more with DoorDash. If you are not familiar with them, it's okay to learn one tool and master it so you can maximize it for your business.
Building a website for DoorDash
In any business model you choose to sell DoorDash, it is always necessary to build a website. There are plenty of free website builders that you can use to create your own. Even if you don't have the coding or design skills, website builders have beautiful pre-built templates you can use for your website. Within a short time, you can create posts and upload images or videos to promote DoorDash.
You can also promote DoorDash on social media. Even if you are not a Doordasher, you can encourage the DoorDash app to your friends and family. If you are a Doordasher, you can share your daily drive using Facebook Myday or post a list of restaurants running current promotions to let your family and friends know.
Start a DoorDash YouTube channel.
Another way of selling DoorDash is to create videos about it and upload them on your YouTube channel. You can share your experience with the food and overall service you've received using the DoorDash food delivery service. If you're a doordasher, you can also create videos about a day in a life of a doordasher to show your audience what happens before their food reaches their doors.
Joining DoorDash social communities will allow you to get valuable tips from other Doordashers. Some Doordashers share their best practices on how they earn more. Especially those who are more experienced with the job. At the same time, you can also share your tips to help the community too.
Final thoughts
As we conclude our topic today, I genuinely hope that you have a better idea of earning money with DoorDash. But if you don't want to become a Doordasher and would prefer to be the boss of your online business with a low-risk investment, perhaps you can try affiliate marketing.
If you are interested in creating your own home business, check out my #1 recommendation on building a successful business. You can get access to hundreds of training videos, 24/7 support, professional consultations, private access to my training guide, and much more.
Working Online From Home - A Proven 4 Step System
See the 4 steps to working online from home & earn residual income