In this article, I will show you how to start a book blog and earn a passive income online if you follow the guidelines I am about to reveal to you. Many of us have read some books in the past.
We read books because we were interested in them, or because we're fans of the author. But do you know that you can make a passive income by reading books? That's what we will be discussing today. We will share with you everything you need to know about how to start earning while enjoying reading the books you love. Read on to learn more.
How to Get Started
Based on a study, people read about 12 books on average per year. And there's around 76% of Americans regularly read books. Book bloggers can earn anywhere between $100 to $5,000 a month. The successful ones even generate an income of up to $9,000 a month. Based on those data, you'll realize that it can be a profitable hobby. And writing book reviews are not all that book bloggers are making money from.
They also sell or promote bookish merchandise like bookmarks, scented candles, book boxes, book accessories, book covers, and even book-inspired loose-leaf tea, mugs, apparel, and many more. This means there are plenty of opportunities to increase your profit. But before we jump on the bandwagon, let's confirm its profitability by doing some basic research.
Market Research for Books Products
Let's verify if book blogging can be sustainable, we will do our market research for books.
Search Volume
To assist us in finding out the search volume, we will be using the Jaaxy Keyword Search tool. Here are the results we've received:
Based on the search volume results, there are more than 600K searches in total. This proves that there are a lot of people who look up the internet for books to read and to buy. It also gives you a clear picture of the massive population of book lovers out there.
Search Trends
Let's check the search trends to help us confirm their sustainability. We will be using Google trends to help us with this search. Here's what we have: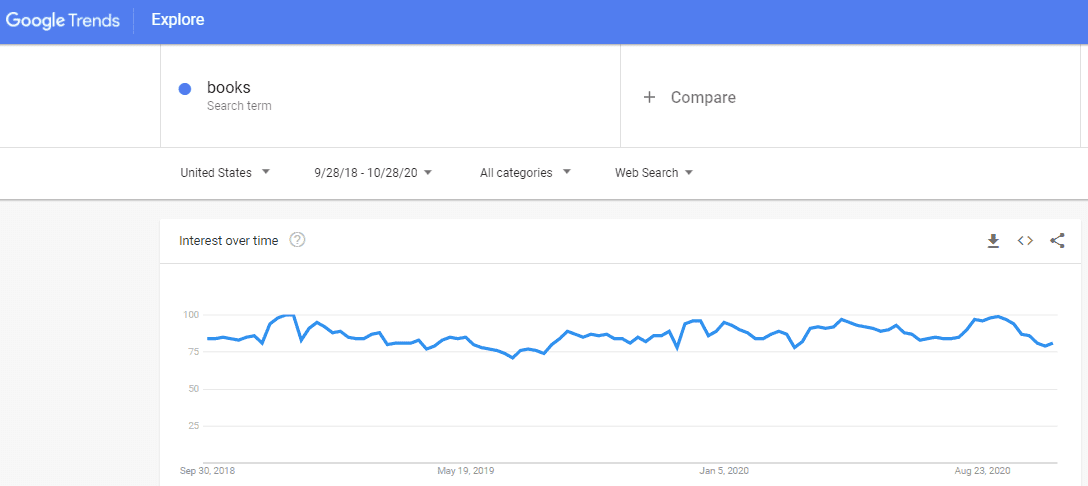 The graph above shows that the popularity of "books" is maintained above 75 and even reaches the peak several times. In two years, books are consistently searched by many people and it appears that they will remain that way in the years to come. This simply suggests that books are part of everyone's lives and don't go out of trend. This means continuous income for book bloggers.
Want to learn how I earn my passive Income working from home?
Click here right now for our review, my personal help, and instant access to our free training videos where we'll show you exactly how we did it ourselves starting out as complete beginners without ANY prior knowledge or experience in marketing online whatsoever!
What exactly is the niche?
Because books can be just about anything, deciding what niche you'll choose can be a hard task. According to Amazon, their recent best-sellers are books with a niche in Nutrition. It has a staggering sales volume of about $40,000 a month. Below are examples of topics under the nutrition niche.
Nutrition – Food and Nutrition, Diet, Fitness, Exercise, Food, and culture
Using the above-mentioned – niche can be a good start. However, there are other things you should consider when choosing your niche such as:
Are you interested in it? – Book blogging isn't all about making money. You also need to be truly interested in it to sustain it for a long time. You will be reading a lot of books and writing reviews about them. Sadly, many book bloggers are not able to keep this up. This could be because they were only interested to start it but stopped before achieving anything. That's why you must be passionate about it to be successful.
Does it solve a problem? – Looking at the best-selling niche on Amazon, you'll notice that it offers people how to take care of their health. Like what are foods to eat or a fitness routine to keep your body strong and healthy. When you choose a niche, it should be offering solutions to your target audience as well.
Problem-solving niches offer solutions and information that many people find valuable that's why these niches are in demand. We'll discuss more on our next topic.
What Problem is being solved?
In the process of selecting your niche, you can start by thinking about the problems that you have solutions to offer. As a new book blogger who's just starting to write book reviews, you can start with books that you have already read in the past. Then list down the possible problems based on the solutions that the book contains. We'll take the nutrition niche as an example, here are the common problems that people may encounter related to it.
What food to eat is healthy?
What food to eat to lose weight?
What food can lower blood pressure?
What is the best fitness routine to lose weight?
Using this method, you will be guided in choosing the niche that you can start working with. You will also have a good idea if you can offer solutions to several problems to increase the value of your book blog. There are programs that pay you to lose weight. You can check out HealthyWage.
How to Get the Audience to Purchase
Convincing your audience to purchase your products is probably going to be a bit challenging especially for new book bloggers. But you can start with knowing who your possible audience is first. Targeting a specific audience will allow you to create solutions specifically around their needs. This makes your content valuable to them.
The following people can be your possible audience:
People whose hobby is reading books
Book enthusiasts on the lookout for something new
People who collect bookish merchandise
People in different age groups between 16 to 39 years old
These possible audiences may not buy your products just yet. The goal is to make your possible audience become your actual buyers. Here are some useful tips on how you can do that:
Prioritize your top audience. If you're targeting a specific audience, you would be able to create topics that will benefit them. People buy things that they find useful. When you focus on providing quality and value to your audience, it will be easier for you to increase your sales.
Be honest without being too offensive. When writing your content, you can be real in expressing your opinions about it but let's also keep a professional tone. Remember that the author poured their heart and soul into that book and being too hard about it may not be constructive and helpful. You also risk losing your customers.
Keep it concise. Your audience will keep on reading when they are fed with quality information. Try to keep your content streamlined making every word count. Writing long content can be too wordy and can take too much time from your audience making them leave your website early.
Read more to write more. For you to write more book reviews, you will need to read more books. Having many quality book reviews can help you establish your authority in the book world and gain more followers. Successfully creating a name for yourself allows you to have a loyal audience who could also be your repeat buyers.
Offer more than book reviews. Aside from book reviews, you can also write essays, themed lists, interviews, guest posts, or news and updates on a specific genre. Having a variation of what you do as a book blogger allows you to reach out to other audiences thus increasing your potential buyers.
Ways to sell Book Products online
As mentioned earlier, book bloggers don't write just book reviews. You also have an extensive variety of bookish products that you can promote or sell. And the best part about it is that there are also several ways to how you can market them effectively. Now, let's take a look at these methods and check out what will work out best for you.
Want to learn how I earn my passive Income working from home?
Click here right now for our review, my personal help, and instant access to our free training videos where we'll show you exactly how we did it ourselves starting out as complete beginners without ANY prior knowledge or experience in marketing online whatsoever!
Affiliate Programs
One of the best ways to monetize your book blog is through affiliate programs. Joining affiliate programs is easy which is perfect for new bloggers. You will earn commissions when someone clicks on your affiliate link on your book review or blog post. And it is not only for books, but you can also join affiliate programs for bookish items you can promote.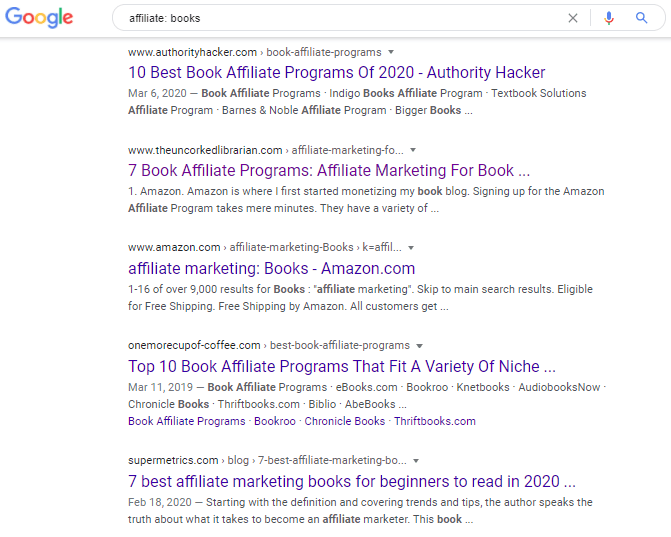 To find your affiliate programs, simply use Google and check your options. Also, consider the following when looking for any affiliate companies that you will be working with.
Offers solutions to your niche
Has many products you can promote
Can provide you with decent commissions
Trusted Company
Payments options
Book blogging is a long-term commitment. So, you would want to work with companies that you can trust and rely on. An example is Amazon which also offers an affiliate program for its products. Here's an image of their best-seller books.

Dropshipping
This is another way to monetize your book blog. Dropshipping includes managing your online store where you will be uploading the products you sell. These products are supplied to you by your suppliers or your wholesalers at a cheap price. You will then set your price allowing you to control how much you will be earning.
When someone orders a product through your website, you will send the request to your supplier and they ship the product to the customer's address. You pay for the wholesaler's price and keep the difference that becomes your income.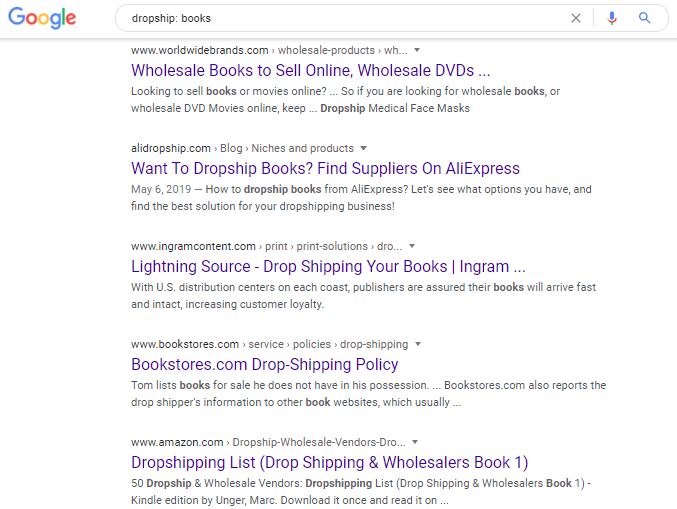 Looking for dropshipping suppliers is simple. By using Google as well, you'll find plenty of suppliers that you can choose from. And once again, just like when you were looking for affiliate companies, consider looking for a trusted dropshipping supplier. You need to
make sure that you have a steady supply of products especially when the orders start coming in. Moreover, check how long they can deliver the products to your customers. Long delivery times may impact your customers' experience.
Sell your own book products
Being the author of your books is a notable achievement. When you're a published author or even when you're featured, you can gain popularity and get more book sales. But perhaps that could be a bit early for new book bloggers.
Fortunately, aside from books, you can also sell bookish products. And some of these items are very easy to make, such as bookmarks or scented candles. But you can also try to find a wholesale supplier to provide you with the products on which you can put your brand.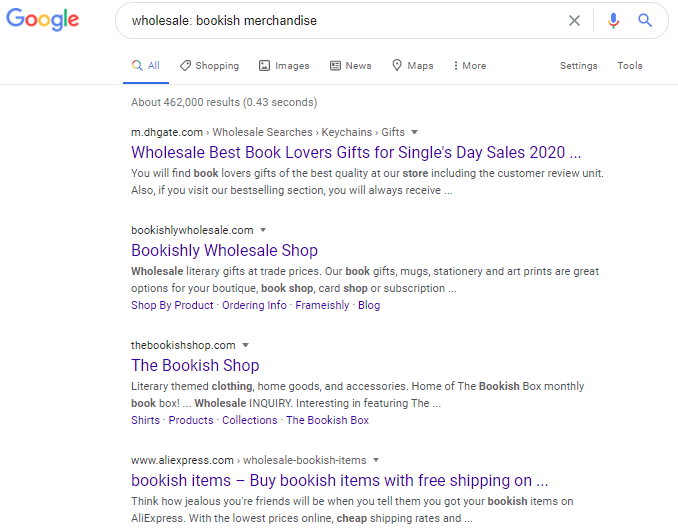 As you can see from the search results above, many wholesalers can supply the products for you. Consider looking for a company that can offer quality and affordable products. Check your local wholesalers first. You would want to avoid delays due to distance and other delivery issues.
Other potential methods of selling
The best thing about writing book blogs is that they can be transformed into eBooks, audiobooks, or even vlogs. This also allows you to reach out to different types of audiences like those who would rather listen to or watch videos instead of reading. Having this flexibility helps you grow your audience and increase your potential sales.
What You Need To Start A Book Blog
Building a Book Blog Website
A website is a requirement when you become a book blogger. This is where you will be posting your content or the products you promote. As a beginner writer, you can try using free website builders first. You can create your blog website easily with just several clicks and start writing. If you can pay for web hosting services, you can get your domain name which helps promote credibility and professionalism for your brand.
The social media giants like Facebook, Twitter, Instagram, and Pinterest house millions of users around the world. This means that promoting your book blog website on these platforms could land you a fair number of audiences. Specializing in the marketing features of these platforms can grow your audience, and increase your website traffic and sales.
Start a YouTube channel
YouTube is another great platform that you should also consider. Creating a YouTube channel for your book blog is as simple as signing up. You can make audiobooks and place beautiful images for your viewers to watch. Another option is to start your vlogs sharing your reviews for newly released books or sharing news and updates on upcoming books of famous authors.
Being in social communities helps you not only in promoting your book blog website but also in being intimate with your avid readers. You can find groups that are interested in books anywhere on social media. There could be book bloggers that are also members of the group. This is a good way to build connections and support each other in the community.
My Final thoughts
If you need help on how to get started, check out my #1 recommendation on building a successful business online. You can get access to hundreds of training videos, 24/7 support, professional consultations, private access to training guides, tools, personal private assistance, my personal help, and much more.
PS: Click here to review my #1 recommendation in detail.
Working Online From Home - A Proven 4 Step System
See the 4 steps to working online from home & earn residual income