How to start a lifestyle blog, we will uncover why starting this widespread niche can potentially generate a passive income. A lifestyle blog generally focuses on the blogger's daily activities and personal interests, largely using photos.
So, if you're someone who loves to capture different moments in your life and write about them, then this could be your calling. We will also talk about how you earn from your lifestyle blog and expand your audience reach using tools that you may already be using right now.
How to Get Started
According to statistics, there are 77% of internet users read blogs regularly. An average lifestyle blogger earns anywhere between $500 – $1,000 per month. And some people are more successful in earning up to 150,000+ per year. From these statistics, you will find that a lifestyle blog is a good source of extra income. The best part is that you don't need any technical skills. A lifestyle blog is an easy-to-read content full of images. You can start working on it without investing too much time, effort, or money.
Market Research for Lifestyle Blog
Let's try to confirm the statistics by conducting basic market research to help us confirm if it is viable and sustainable.
Search Volume
In checking the search volume, we will be using the Jaaxy Keyword Search tool to help us out. A lifestyle blog has many types. We will pick one of the most common lifestyle blogs and check the results. Here's what we have: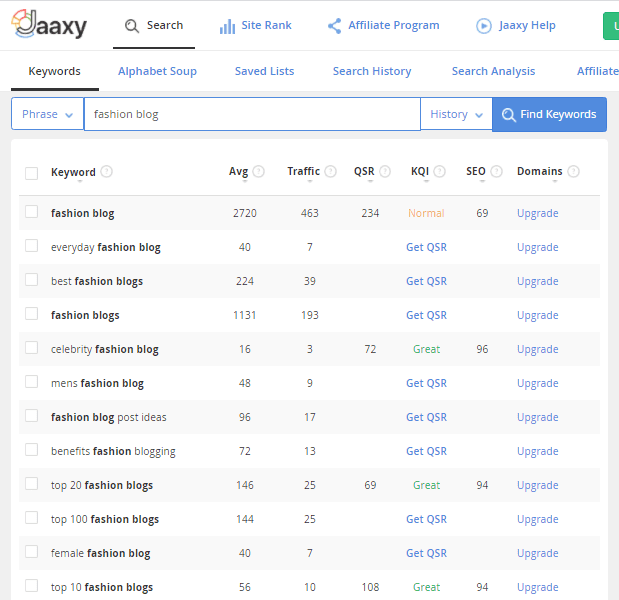 Fashion blogs are one of the common lifestyle blogs on the internet. As you can see, it has a fair search volume with a total of almost 5k, and there could be more. Other lifestyle blogs are about travel, beauty, food, health, motherhood, crafts, music, and many more. Knowing this, you have plenty of options of what type of lifestyle blog you would like to work on and have more chances of creating a passive income.
Search Trends
To help us in checking the search trends, we will be using Google trends. Let's see what we have as the results.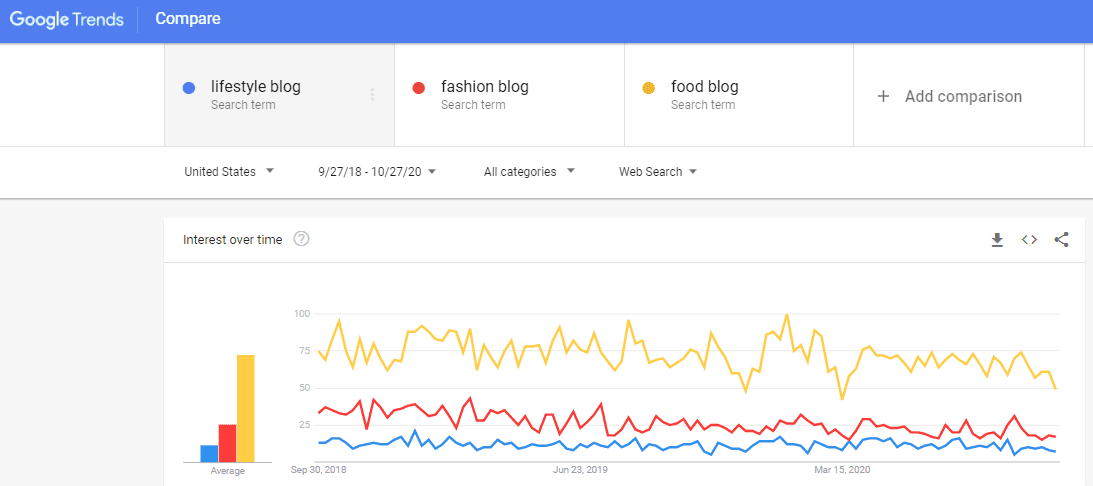 According to Google trends, a food blog has the most popularity over fashion and the more general term of "lifestyle blog." This is because most people use specific search terms when looking up on the internet. As you can see, you can be sure that you can sustain your blog for a long time for that topic alone.
What exactly is the niche?
There are several types of lifestyle blogs, and it can be challenging to select your niche is? Lifestyle blogs can have more than one niche. You can pick one niche and branch out from there. We can also look at the keyword search results and derive ideas from them. The following is an example:
A lifestyle blog about fashion – every day fashion ideas, best fashion, celebrity fashion, women's fashion
As you can see, you can focus on one niche and create topics related to it. But you can also combine fashion and beauty. There's no rule that niches have to be relatable, but having niches that don't complement each other could confuse your audience.
Other good niche combinations can be food and travel, health and beauty, travel and fashion, etc. You can even have more niches if you want to. However, it is best to start with one niche that you can focus on to enhance your expertise and be more effective in marketing. Then work on other niches in the future.
When you're trying to decide on your niche, first consider the following things:
Is your niche interesting to you? – No matter what niche you choose, it is important that you are genuinely interested in it. If you're not, it will be difficult to produce stimulating content, and it will be tough to reel in the audience to patronize your blog.
Does your niche offer a solution? – One of the major reasons why people read blogs is that they find information to help them with the different aspects of their lives. Like for relationship blogs, you shared your problems and resolved them and an audience who shares the same experience will find it helpful and inspiring.
We will be discussing a little bit more about why a niche should offer solutions to a problem or several problems in the next part.
Want to learn how I earn my passive Income working from home?
Click here right now for our review, my personal help, and instant access to our free training videos where we'll show you exactly how we did it ourselves starting out as complete beginners without ANY prior knowledge or experience in marketing online whatsoever!
What Problem is being solved?
Another way to choose your niche is to find out what problem it will solve. If you were the audience, what would you be looking for? What possible problems could you be experiencing?
Using our keyword search results earlier, you will gain some ideas based on the keywords that most people use. Here's an example:
Ideas for everyday fashion?
Best fashion today
What's the trending celebrity fashion?
Women's fashion ideas
The list may be longer, and maybe you can also add the best fashion for each season, fashion for men or kids, and so on. If you try to think about your niche using this technique, you can plan the topics you will be creating around your niche better and be clear about the solutions you will offer to your audience.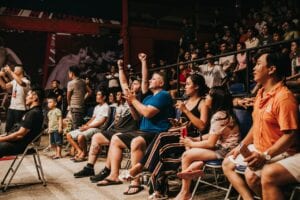 How to Get the Audience to Purchase
In this part, we will talk about how you can convince your audience to make a purchase. But before we jump into that, you need to determine your potential audience first before you can persuade them to buy your products. This is true in any niche you choose. Learning about your customer's profiles can help you make solutions surrounding their needs.
Using the fashion lifestyle blog as an example, your possible audience could be any of the following:
People who are fashion and trend-conscious
Fans who want the same fashion style as their celebrity idols
Fashion designers looking for ideas
People working in the fashion industry, such as models or fashion stylists
After listing down your possible audience, it's now time to sell them your product effectively. Here are some tips for you to consider:
Prioritize your top buyers first. You may have a long list of potential buyers, but they are not your actual buyers yet. Since you're just starting as a lifestyle blogger, you may want to check your fellow blogger's websites with similar niches as yours. Analyze the topics and solutions that they offer to get an idea of what type of audience they are targeting. After blogging, you can build your email list or get informative data from your social media marketing. You will then get enough information about your top buyers and tailor-fit solutions around their needs more effectively.
Create valuable blog posts. Although lifestyle blogs can be visually heavy, it's not all that. You need to write quality content to go with your beautiful images. Focus on helping your audience instead of sounding too pushy for sales. Remember that you're sharing your experience that can help your audience in their purchasing decisions.
Blog more. A study says that 34% of bloggers don't reach a year of running their blog websites. This could mean at some point, and for some reason, they stopped. But on the other hand, this also means that there's more room for new bloggers like you and many others. Writing more blogs will enrich your website with quality content and allow it to have better search results on Google. Therefore, driving more traffic to your website and increasing your audience.
Ways to sell Products online
After deciding your niche and learning some selling tips, it's now time to talk about how you can sell your products online. Blogging becomes profitable when combined with some of the best-proven marketing methods available. Let's explore what your options are:
Affiliate Programs
The best method you can try to sell your products is through affiliate programs. If you're a beginner, perhaps this is the best way where you can start to monetize your lifestyle blog. Upon jo
ining an affiliate program, you get a unique link that you can use to include in your blog post. When your audience clicks on your click and eventually purchases a product, you will get a commission. Best of all, you can join other affiliate programs as well that can increase your possible earnings.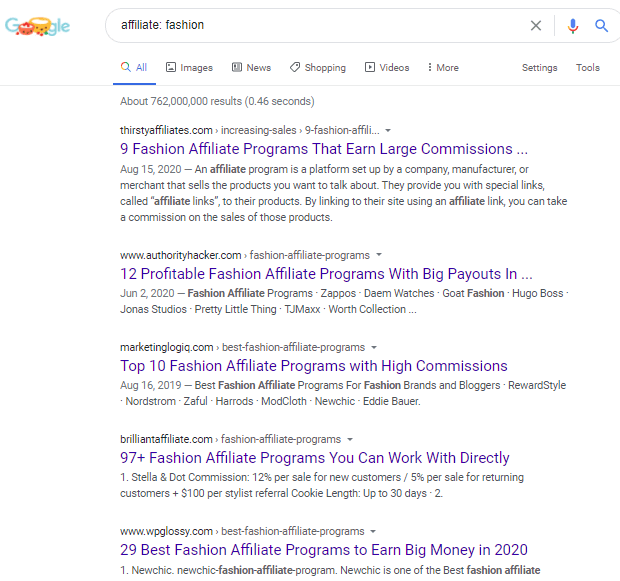 You can easily find affiliate programs by searching for them on Google. We used the example we have earlier, which is the fashion blog. As you can see, there are tons of results. Before checking them out, there are a few important things to remember when looking for an affiliate program. And they are the following:
They provide solutions for your chosen niche.
Offers a good number of quality products for you to promote
Can give your decent commissions
Reliable company
Offers payments options that you have
While companies can accept new affiliate marketers, some may ask for some requirements before you can join their program. You may want to check if there are any qualifications required to prepare yourself better and avoid getting turned down.
It is essential to look for a company that you can trust. This is because you will be promoting their products for many months or even years until your contract has ended. Companies such as Amazon have been around for a while and has proven to be reliable and strong company over the years. Below are some of the fashion clothing being sold on Amazon.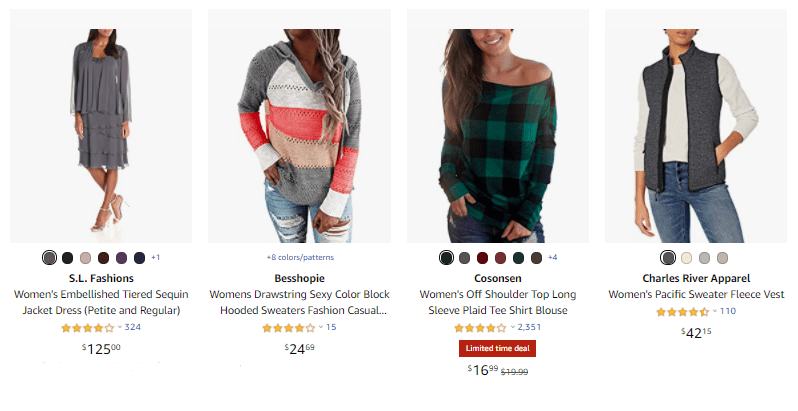 Dropshipping
Dropshipping is another way to sell your products. However, this method will need you to have an E-commerce website and manage your online store without the inventory. It would help if you also found a wholesaler to supply the products.
When someone orders a product from your store, you'll purchase the same product from your supplier with a lower price tag than what you have in your store. Your income will come from the difference in the amount of your price and the wholesaler's price.
Being a lifestyle blogger and managing your dropshipping store can be hard work. But they work best together. Having a blogging website will allow you to promote your dropshipping store and vice versa. You can also write blogs about the products you sell in your store. It also allows you to have another source of traffic for your blog website or your online store.
Want to learn how I earn my passive Income working from home?
Click here right now for our review, my personal help, and instant access to our free training videos where we'll show you exactly how we did it ourselves starting out as complete beginners without ANY prior knowledge or experience in marketing online whatsoever!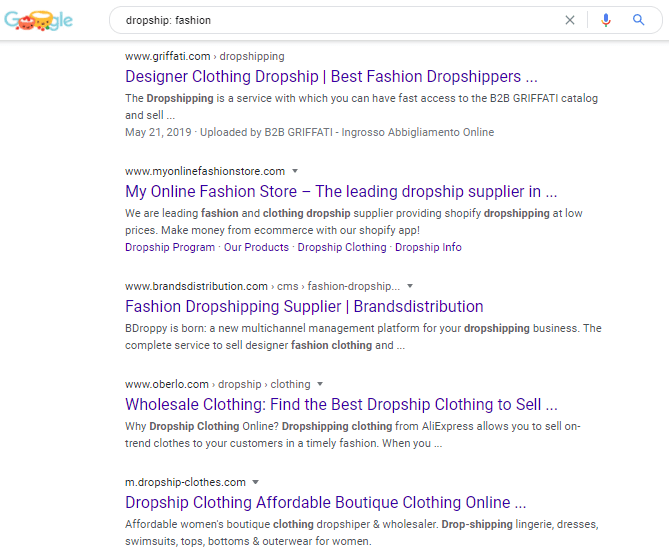 Just like earlier, we will use Google to look for a dropshipping company. Find a drop-shipping company that will offer you solutions to your niche, a wide range of quality products, and a good price for them. One thing to consider as well as their shipping services. Suppose they can deliver within a reasonable number of days. Your customers may not continue buying your product if they have to wait for too long.
Sell your own beauty products.
Selling your own fashion clothing brand can be two ways. If you have the resources and money, you can design and manufacture your clothing products brand. Or you can look for a wholesaler to supply brandless clothing for you and be able to place your own brand's logo on them.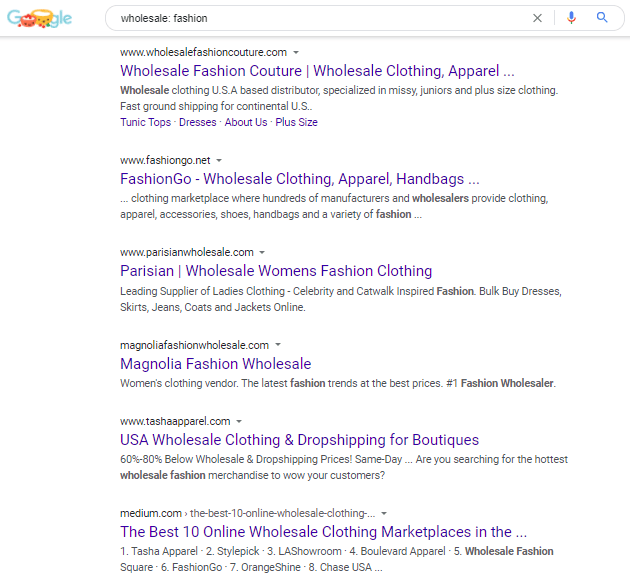 Again, we use our friend Google to help us look for wholesalers. Find a wholesaler that will supply you with the quality products you need for your niche. You may also want to consider dealing with local wholesalers to ensure a continuous supply of products and faster delivery times.
Other potential methods of selling
The latter methods could be a bit challenging for you. Luckily, there's an easier way to sell your products which is making videos about them. Creating videos for marketing is not new, but it is still gaining massive popularity. After creating your video, you can post it on your website, share it on your social media accounts, or upload it on your YouTube channel as well.
What You Need to Start a Lifestyle Blog
Building a Lifestyle Blog Website
One of the basic things that a blogger must-have is a website. Creating one is not difficult, thanks to the many free website builders we have available online. You can create a website within a few minutes using the themes and layouts available for you to choose from. You can also name your website to your brand by selecting an affordable hosting plan.
Social media such as Facebook is a great platform to start promoting your lifestyle blog. You can start sharing blog posts with your family and your friends. Keep it active by responding to their comments and appreciating them for reading it. You can also expand your audience reach to other social media platforms like Twitter, Instagram, or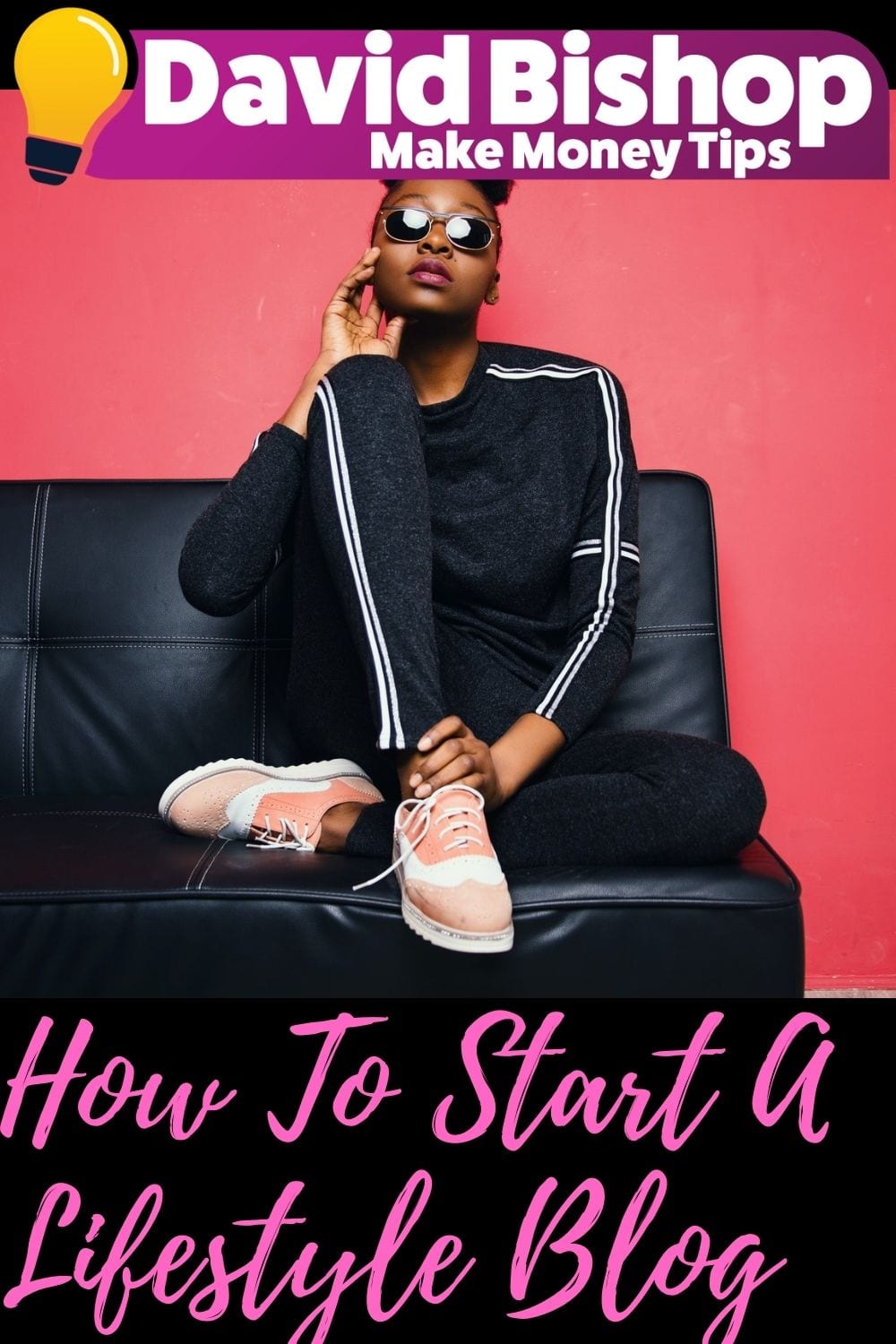 Pinterest.
Start a Lifestyle YouTube channel.
Creating a YouTube channel allows you to have broader online exposure. It has millions of watchers every day. Your videos don't need to be hours long. You can make short ones but make them regularly. You also don't need a professional to edit your videos. There are video editing apps that are free and easy to use as well.
Social communities are a group of people that already shares the same interests. You'll find many of these groups on social media platforms. Depending on your niche, you can find groups that share the same interest as yours. Upon joining these groups, you can participate in discussions and share solutions that you offer from your blog.
Final Thoughts
We've reached the end of this topic, and I hope you're ready to start your lifestyle blog. But just in case you still feel uncertain if you can do it, I can help. I'm using a completely online platform that offers a lot of training and assistance to anyone who likes to earn online and become successful. You can also reach out to professional lifestyle bloggers who can offer you some tips based on their own experiences.
If you need help on how to get started, check out my #1 recommendation on building a successful business online. You can get access to hundreds of training videos, 24/7 support, professional consultations, private access to training guides, tools, personal private assistance, my personal help, and much more.
PS: Click here to review my #1 recommendation in detail.
Working Online From Home - A Proven 4 Step System
See the 4 steps to working online from home & earn residual income