In this Vidnami review, you will understand how you can create 5 types of engaging videos for your business to be successful. Nowadays, marketing is better with videos as it creates a bigger impact than just written words. People love watching videos so much that the average number of views on YouTube alone is 1 billion views per day. Despite that, it's not easy to create a video that will attract many views.
But what if there's a tool that will enable you to create amazing videos in just a few clicks? Then earn money from it. And no, I'm not talking about the one from YouTube where you should have thousands of subscribers before getting monetized. I'm talking about Vidnami. A video editing tool that lets you earn money in several ways. Sounds easy, right? Or is it? Here's my complete review of everything you need to know about Vidnami.
Founder:

Noble Samurai company
Product Type:

Web-based Video Maker
The Vidnami affiliate program is free to join. While the membership prices are the following:
$47 Monthly plan, which includes the following features:
Unlimited videos
Thousands of storybook video clips, royalty-free images, premium music tracks, video templates, and fonts.
Automatic and intelligent video clip selection
Text to speech voice options
Audio and visuals auto-sync
Video background in full motion
Video layout options
Customization available for templates and branding
Custom media upload
Automatic font animation, format, and effects
$397 Annual plan, which includes the following features:
Everything from the monthly plan
30% off discount
Vidnami is a video editing web-based software that allows you to make and edit videos for any purpose such as marketing, story creation, or personal use. Besides making and editing videos, you can also earn money by promoting and earning commissions by becoming its affiliate. You can also become a video editor or build your own business using this software and earn from your services. With the affiliate program, you can earn as much as $1,680 per month.
What is Vidnami?
Vidnami, formerly known as Content Samurai, is a professional marketing video maker which you can use to promote products or services online. It is developed by the Noble Samurai company based in Australia and was launched in 2015. They develop cutting-edge tools and applications to help marketers with their online marketing strategies.
Despite initially created as a marketing tool for business, it can be used by just anyone who would like to create great videos. It is a versatile tool perfect for bloggers, marketers, and businesses for any of their video needs.
How Vidnami stack up with Animoto and Lumen5: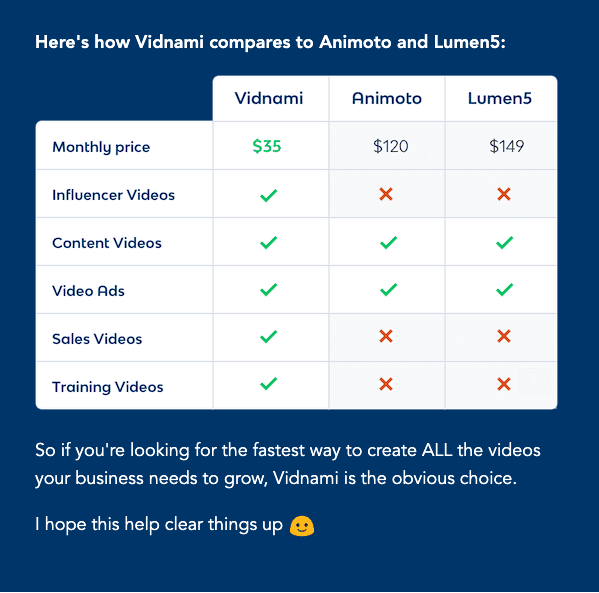 Vidnami is the only product on the market today that allows you to create all 5 types of video that your business needs to be successful: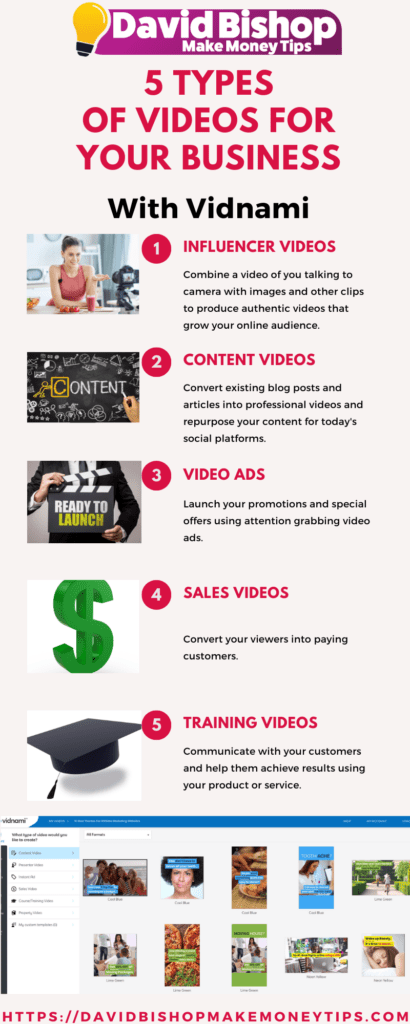 How does the Vidnami Affiliate Program work?
The Vidnami affiliate program works pretty straightforwardly, and signing up will not take you more than 5 minutes. You have to visit their website and scroll down to find the "Become An Affiliate" button. Click this, and it will take you to another site where you will notice that the affiliate program for Vidnami is called "Noble Samurai Affiliate." At the same time, I will show you a video about the affiliate program.
Hit the button below it, and it will drop down the fields where you can enter your information and create your password. You can also generate your affiliate code which you can include at the end of your affiliate link. This code will help identify that the sale is from your efforts. You will also be able to register your PayPal email address for your commissions. Then check on the terms and conditions and press the sign me up button.
After that, you can finally promote Vidnami. You can create a video tutorial on how to use it and highlight its features to help convince your audience. Add your unique affiliate link on the video or under its description. When someone clicks your link and signs up for the $47 monthly plan, you will receive half of it, which is in this case, you get a $23.50 commission every month for the life of their subscription.
If you were able to convince around 10 people all at the same time to sign up to the $47 monthly plan, that's $47 x 10 = $470/2; you will receive $235. Imagine if 100 people signed up for the monthly plan using your link, you could receive as much as $1,680 per month. Building an ongoing income simply by promoting Vidnami.
Discount offers are offered from time to time that you can promote to your audience. It also includes informative e-books such as the Video marketing pack, YouTube SEO Cheat-Sheet, and Video Traffic Blueprint Pack.
Can You Make MoneyVidnami?
Yes, you can make money with Vidnami in four ways:
Become a Noble Samurai Affiliate
Become a video editor
Create and sell courses
Build a video editing business
We will discuss these opportunities in detail next.
How To Make Money With Vidnami?
Making money with Vidnami may seem easy, but you also need to strategize and find the best way to promote it. The first step to effectively promote it is to try it for yourself. Learn how the software works firsthand. Then you can use different kinds of methods for marketing it such as the following recommendations:
If you have a website, you can create a blog post about Vidnami and include your affiliate link. When you create a blog, you can drive more traffic by using effective keywords for video editing. You would need a keyword search tool to help you find the popular and related keywords.
You can check out my best-proven keyword search tool here.
If you have an email list, you can share your experience in the email while recommending the software. Then add a clear call to action and your affiliate link in the email.
You can also post your video tutorial on your social media accounts and include your affiliate link in the description of your post.
If you have a YouTube channel and a good amount of followers, you can also upload your video tutorial here and include your affiliate link under the description.
Aside from promoting the Vidnami application, once you have mastered it, you can make a side job from it and earn extra money from making videos by doing the following:
Sign up on a freelancing website or create your own website
If you don't have one, you can try my number 1 recommendation. For just @2.95 per month, you can easily build your website and start right away.
Start a professional video-making and editing service
Choose a niche with a popular market such as pet products, natural remedies, finance, weight loss, and so on.
Price your services competitively by checking your competitors.
Add some upsells and upgrades such as extra video length, additional script word count, and other offers to make your services stand out from the rest of the competition.
If you're interested in making courses, you can also create and sell courses using the Vidnami software. Or, if you like challenges and potentially earn more, you can build your own video editing agency and hire VAs to do the editing for you. This way, you can focus on client acquisition and marketing your business. Ensure that your VAs are also knowledgeable with Vidnami and maintain consistent quality output. You can charge your client $50, which is the average cost of video editing today. Then pay your VA $20, and the $30 will be your business' profit.
Pros & Cons Of Vidnami
Although Vidnami is a good video software, there are still some disadvantages to promoting it. Here's a list of some of its pros and cons.
Pros:
Fast sign-up process, no need to wait for approval
Easy to use even for beginners
Plenty of free images, videos, and music
Some processes are done automatically
Decent affiliate program commissions
Simple to understand the commission structure
Has 14-day free trial
No credit card is required accept PayPal for payment
Cons:
It's a competitive market; there are other video editing apps that are better and cheaper.
Limited font editing
No whiteboard animation is available
It doesn't always choose the best images and videos, so you need to edit them manually.
Any Negatives? Beware of Lawsuits
After searching for any lawsuits for Vidnamin, I found none. Even when using their previous name, the "Content Samurai." Although I found some negative reviews from other users, such as searching for images using a keyword, the same limited images appear. That would mean that you will have similar images on your videos as with other people. Although, you can solve this by uploading your own.
Is Vidnami Legitimate?
Yes, Vidnami is legitimate software, and its affiliate program is legitimate as well. I found no complaints about it being a scam anywhere online.
my Final Thoughts
I think Vidnami is a great video editing tool that I tried myself. It was easy to use, and you can make videos in just minutes. The text-to-speech technology doesn't sound too robotic when compared to other text-to-speech technology. There are also several options for you to make money using this software.
The Vidnami affiliate program isn't bad, and I think it's a great way to earn an income. However, I've seen tons of Vidnami video tutorials on YouTube. You will need to be extra creative to gain more views to get more people to click your link and subscribe to Vidnami. The best way is to get yourself equipped with knowledge about affiliate marketing.
If you are interested in creating your own home business, check out my #1 recommendation on building a successful business online. You can get access to hundreds of training videos, 24/7 support, professional consultations, private access to training guides, tools, and much more.
Working Online From Home - A Proven 4 Step System
See the 4 steps to working online from home & earn residual income