Are you wondering what is the best time to go on a cruise? How about one of those 4 days 3-night cruises?
In this article, I will mention the best cruise is the one that you do not have to worry about paying for it. And the best ones are the ones where you make money while enjoying yourself on your cruise. My first cruise working in my business was my carnival cruise.
The length of the cruise is not important in this article. However, the longer you are gone the more you may want to supplement your fun with more spending money.
You have probably read articles about people who travel the world on a cruise boat and earn a full-time living at the same time. How do they do it?
How could you do it? Here are some tips for making money while on a long cruise.
Bring Your Laptop
I am always amazed at the opportunities to make money with nothing more than a laptop and an internet connection. Some of these require skills, so if you do not have at least one you will need to get it.
What kind of skills pays well?
1. Web Design. In this modern age, it is very difficult to find a business whether small or big operating without an official website. There is a huge demand for people who have basic WordPress, HTML, and Web Publishing knowledge to help build more websites.
If you have any of these skills, you can spend some of your free time in the morning offering your web designing services. It doesn't even have to be in the morning. Use some of your free time day or night to make money doing web design.
2. Freelance writer. You can also make money by becoming a freelance writer. Today, many freelancing options are available.
You can write sales copies for websites, write traveling guides for tourists, or write newsletters for various blogs among others. You could even write for content mill sites such as Upwork, Fiverr, Hirewriters, iWriter, and many others.
The thing I like about content mills is the freedom to write when you want. You can not always do that when you have a client waiting on their articles. Figure out what freelancing skills you have and dwell on them to make money.
3. Work as a Tour Guide. Here we are venturing out of your cabin and working on the boat itself.
Depending on whether you have the confidence to speak in front of people and have good history knowledge, you can work as a tour guide as you cruise. As you travel, you can take it upon yourself to let the people that you are traveling with know about the history and culture of that particular region.
From this, you can make some money while at the same time maintaining the fun. I would certainly suggest you research more in detail if this appeals to you.
Want to learn how I earn my passive Income working from home?
Click here right now for our review, my personal help, and instant access to our free training videos where we'll show you exactly how we did it ourselves starting out as complete beginners without ANY prior knowledge or experience in marketing online whatsoever!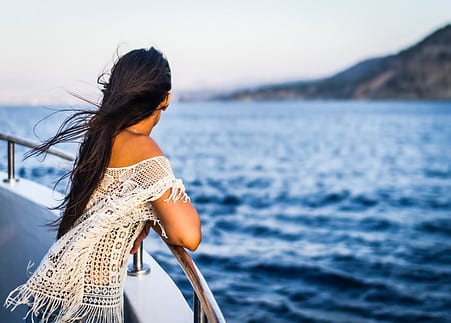 4. Work as Crew on a Boat. Capitalize on your social skills to get to work as a crew member on a boat.
Many boat owners do not mind hiring people to work as crew in exchange for food, accommodation, and sometimes money. If you do not have any complications such as seasickness, this is a good idea for you to make money while cruising.
5. Work as a Translator. If you understand multiple languages you can work as a translator both online and offline.
In fact, there is a high demand for translators all over the world. Look for companies willing to pay you to translate their web content and make money while cruising.
6. Fiverr.com I mentioned them under freelance workers, but I wanted to add more specifically about this cool little website.
People will pay you $5 or more to do work for them they do not know how to do, do not want to do, or do not have time to do. What kind of work?
Nothing is too crazy to show up as a request on Fiverr.com. Fiverr is the world's largest website for digital services which they call gigs.
You can go on your cruise and make money by providing a service of your own. Complete your gigs in your free time on the ship.
Other sites similar to Fiverr are Fiverup, GigBucks, Zerk, SEOClerks, Dollar3, and many more. Here is a blog post with 50 sites like Fiverr on it: http://blogstash.com/sites-like-fiverr-12-fiverr-alternatives-websites/
Make Money Without Working
Do you own a home? Are you familiar with Airbnb?
Here is an idea to make money while you are on a cruise. Rent out your house!
In this post, this would have seemed virtually impossible due to the logistic nightmare of being 2000 miles away from home and trying to show your home.
Today this is no problem thanks to the Internet and programs such as Airbnb. Let me show you how easy this can be!
Make sure Airbnb is approved where you live.
Join Airbnb as a host.
Add your home to their list of homes for rent.
Get your home ready to rent.
List your home with Airbnb.
Rent your home.
Work on getting good reviews posted.
At first, you are going to be fighting with other homeowners in your are. Some are renting out just a room, while others are renting out their home at a very competitive price. You must determine what you will take to be competitive.
final thoughts
Use the tips above to make money while on a long cruise and avoid boredom at the same time. It is a matter of planning your trip and knowing when you can work and when you can play.
Use your dream cruise as a motivation to get a skill that can make you money. This is very possible to do regardless of your current situation thanks to the Internet.
Especially when it comes to freelancing online. There are so many ways to go about this I only listed a handful to get your creative juices flowing.
There are literally thousands of people who make money online and they do it on a cruise boat, on the beach, or even in a coffee shop where the ship docks for the day. You can be one of them.
If you need help on how to get started, check out my #1 recommendation on building a successful business online. You can get access to hundreds of training videos, 24/7 support, professional consultations, private access to training guides, tools, personal private assistance, my personal help, and much more.
PS: Click here to review my #1 recommendation in detail.
Working Online From Home - A Proven 4 Step System
See the 4 steps to working online from home & earn residual income