In our topic today, we will talk about how to make money on Pinterest without a blog. Yes, you've read that right; you can make money even without a blog. If you're someone who doesn't like to write but wants to make money on Pinterest, you are in the right place. We will also talk about the methods and tools you can use to help boost your income. Let's begin.
How to Get Started
Before we get started, let's check out why Pinterest is a great platform to make money. Pinterest is one of the top social media platforms, along with Facebook, Twitter, Instagram, etc. As of 2021, Pinterest has over 450 million active users monthly. It generated more than 1.6 billion US dollars in the year 2020.
Big brands use Pinterest to sell their goods and services, such as Etsy, Chick-fil-A, Whole Foods Market, Fenty, and many more. But it is not only a platform for big brands, small to medium-sized businesses, entrepreneurs, and affiliate marketers; almost all kinds of companies are using Pinterest.
Market Research for Pinterest
Let's start with simple market research for Pinterest. We will see how many people are checking it up online and if it will be a good platform based on data.
Search Volume
Let's find out Pinterest's search volume. For this task, we will use Jaaxy, an advanced keyword search tool to help out without research: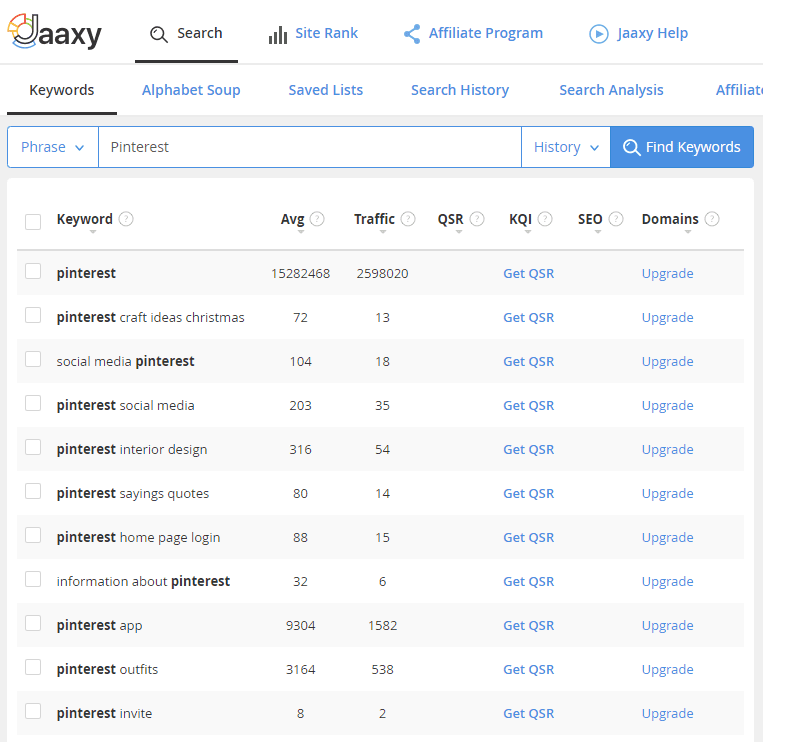 As you can see on the results Jaaxy provided us, Pinterest has about 15+ million average searches monthly. Many people are searching for it every month, and customers and businesses trying to make money using Pinterest. It only proves its popularity among users worldwide. But before that, let's see how it is trending first.
Search Trend
Checking Pinterest's search trend will help us determine its popularity over a given period. And this time, we will use Google Trends to help us with our research.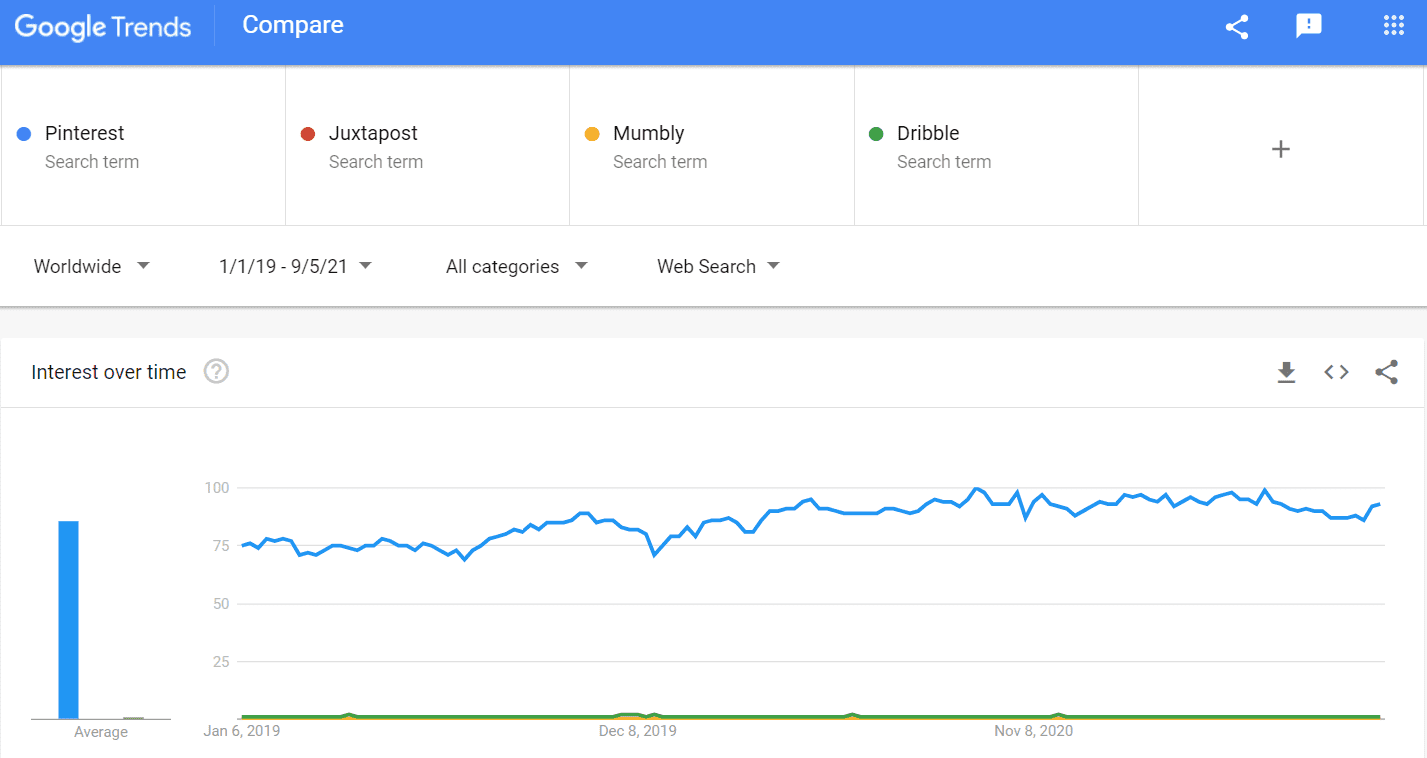 As you can see, Pinterest is leading the other alternative platforms that they pale in comparison. This graph shows users' interest over the past two years. It offers an upward trend, and it seems that the projection is still going up. This means that Pinterest will continue to be a popular platform where you can build your business and generate income.
What exactly is the niche?
We now understand that Pinterest is a great platform to make money from, but what exactly will your niche be? What kind of business are you going to build on Pinterest? We can go back to the Jaaxy results before and get some ideas like:
DIY craft ideas – DIY craft ideas for Christmas or craft ideas for gifting
Clothing – Trendy outfits, mix, and match outfits, retro outfits, casual outfits, etc.
DIY Invitations – Birthday invitations, wedding invitations, and so on.
Other niches that are not included in the examples above but remain popular in Pinterest are:
Food and Recipes
Home Decor
Health and Fitness
Hair and beauty
Travel
Photography
Weddings
Work From Home
Personal Development
Picking your place is essential if you want to increase your chance of making money on Pinterest. Posting random affiliate links in different areas may confuse your audience about what you sell. Here are two things you can consider when selecting the location for your business:
Are you interested in it? – Think about your passion or something that you enjoy. If you will run a business for the long haul, might as well pick a niche you will have fun with.
Does it solve a problem or problems? – Many people look up online to look for answers or solutions to their problems. Will your niche provide a solution? What solution or solutions does your chosen niche provide?
What Problem is being solved?
We mentioned earlier that a home should solve a problem; problem-solving cavities are considered sustainable because they can offer the audience. To determine if your chosen location can offer solutions, you can begin by thinking of problems related to it. Let's use the first niche idea we have earlier:
What are the best DIY gifts for Christmas?
What are the fun and easy crafts to do at home?
Where to buy materials for DIY crafts?
You can list down as many issues as you can that are related to your niche. Carefully analyze them and think about what your place can offer a solution to single or multiple problems. Here, you can also formulate what your central location and your sub-niches will be.
Are you looking for a way to make money online?
Click here right now for instant access to our free training videos where we'll show you exactly how we did it ourselves starting out as complete beginners without ANY prior knowledge or experience in marketing online whatsoever!
How to Get the Audience to Purchase?
Getting the audience to purchase can be challenging. It would help if you found a way to convince them to buy the products or services that you promote. But before that, let's determine who your possible customers are. Taking the niche idea before, if you have chosen this niche, your potential customers can be:
DIY craft enthusiasts
People looking for creative crafts for gifting
Teachers looking for craft ideas and materials for their students
Arts and crafts business owners
The list can go on as there could be more possible customers interested in buying your products. However, this does not mean that they are paying customers. So how do you convert these potential customers into paying customers? Here are some recommendations you can try:
Focus on high spenders – Identify the customers that have the highest inclination to buy your products. Then curate solutions surrounding their preferences or needs. For example, for DIY crafts, you can put together a bundle package that includes some of your best sellers. High-spenders tend to buy more regardless of the price as long as it will give them more quality and value.
Use captivating images and videos – Pinterest is a highly visual platform. That's why you need to carefully design your pins. Make sure that the image and the text on your pin are related to your niche. Include 1 to 2 relevant keywords in your text. Write around 100 to 200 texts; make it short, relevant, and compelling. Create short but stunning videos. Although Pinterest allows videos up to 15 minutes long, they recommend between 6 to 15 seconds long to keep your audience engaged
Create contests – A great way to market your brand is to create contests. But before you run a contest, make sure to read about Pinterest contest rules that you need to comply with. Running a contest is an effective way to market your brand such as launching a new product or creating hype.
Ways to sell on Pinterest?
This section will talk about the several ways you can sell on Pinterest even without a blog. There's no limit on how many methods you can use. If you have the time and resources, I suppose you can try doing all of them. But since some of them may require time and some investment, it's best to focus on one or two ways. This allows you to specialize in them and manage them better.
Affiliate Programs
There are tons of affiliate programs you can find online. Some of them offer generous commissions and bonuses. Affiliate programs are an excellent way to build a residual long-term income stream.
You need to apply first before you can join an affiliate program. Applying is similar to sending a job application. First, you need to check their requirements for affiliate marketers. Some companies have several requirements, while others are lenient.
After you get accepted, you will receive a unique link that you can use to promote their products. When someone clicks on your link and makes a purchase, the commission will be sent to your affiliate account. You can use your affiliate links on your pins or relevant group boards.
You can use Google to search for affiliate programs for your niche. Let's take the DIY crafts, for example, here's what it will look like: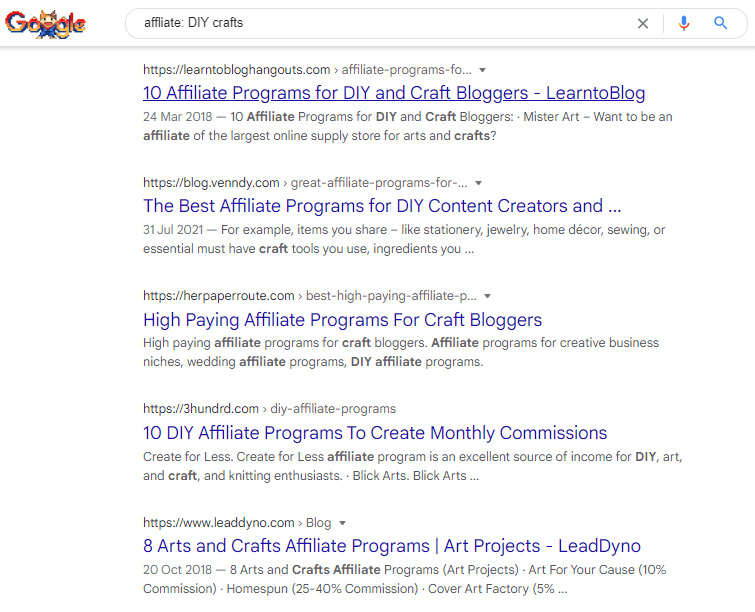 You can see that there are many affiliate programs that you can join. But before you submit your application, try to find an affiliate program that:
Will pay good commissions
Plenty of products you can promote
Have positive reviews
Offer several payment options
No signup costs or no membership fees
One more thing that is important to consider is to look for a company that has built a good reputation. If you would like to keep earning commissions for a long time, look for a company that is well-established and won't be closing down anytime soon. Amazon and eBay are good examples of companies that will continue to grow for many years to come. Here are some of the DIY crafts products being sold on Amazon: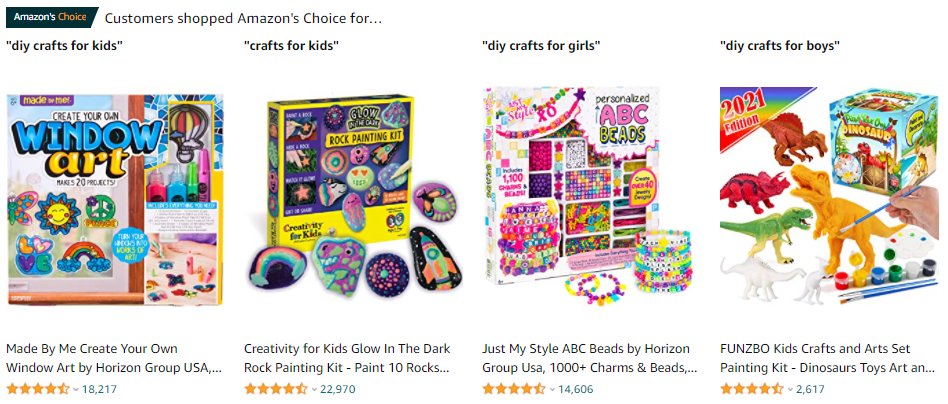 Dropshipping
In dropshipping, you will need a business website. It would help if you also found merchants that can supply you with the products for your dropshipping store. After finding your suppliers, you will upload the product images on your website, including their descriptions and the price you set for the products. Depending on your agreement, the price you will select is higher than the price your merchant has provided you. The difference between these prices will be your income which will help you continue running your dropshipping store.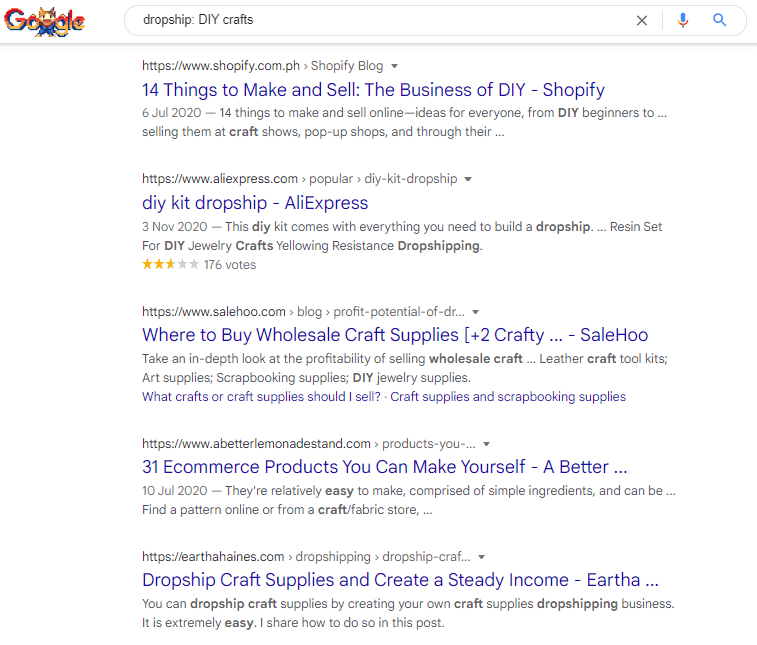 Once again, we will use Google to help us find dropshipping suppliers for our dropshipping store. Google presented us with a lot of suppliers that we can check out. However, we should also be careful when choosing our dropshipping suppliers. Choose suppliers that:
Have plenty of products related to your niche
Can ship orders within a sensible delivery time
Have good ratings
Is a trusted and reliable company
Sell your products on Pinterest
Selling your products on Pinterest is a great way to build your brand. However, this can require some capital to get the equipment you need to make your products. Aside from that, you also take care of everything, from order processing up to order shipping. But you can also try to look for wholesale suppliers that can provide you with brandless materials, so you don't have to make them yourself and do the shipping for you, too, for a fee.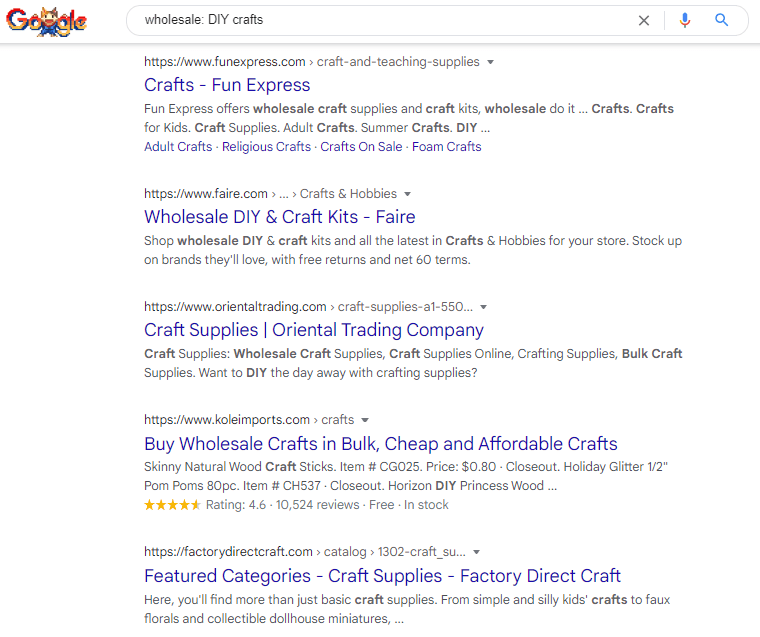 Using Google once again, you will find a long list of wholesalers for the niche you have chosen. For example, for DIY crafts, you can see that there are a lot of companies that can supply you with the materials you need. There are a lot of DIY craft materials you can use to create your products or sell as they are.
Like finding affiliate programs and dropshipping companies, you should also consider a few essential things before closing a deal with them. Conduct some research about their company or check out their reviews. You may also want to check if their manufacturing facility is within your locality or a nearby state. If they are importing from overseas, it can be a problem in the future. You can also stock materials in advance though this means you need to shell out money first.
Other potential methods of selling products on Pinterest
Aside from the ones mentioned above, there are other methods of selling products on Pinterest. You can create a Youtube channel for your business and share your videos on Pinterest. You can also choose to share it later and share a snippet of the video first. For example, you can create easy-to-make DIY craft projects featuring your products and share them on Pinterest.
What You Need to Start Selling on Pinterest Without a Blog
This last section will talk about the tools you will need to start selling on Pinterest without a blog. These tools are generally free, which is perfect if you are tight on a budget. They are also proven effective, and many businesses use them. However, no matter how effective they are, your success will depend on your hard work and consistency. Let's check them out:
Building a website for your Pinterest business
If you want a better chance of selling products on Pinterest, it is a must to build a website. And no, your website does not need to contain blogs. It can be for your sales landing page or where your potential buyers can find all your products. When your potential buyers see that you have a website, it creates a sense of trust in your brand. You can find free and paid website builders online with ready-made templates you can use for your website.
Aside from Pinterest, there are other social media platforms where you can also promote your products. You can share your pins on Facebook, Instagram, or Twitter. It's best to create a business page or profile to market your products on your social media accounts. If you have the budget, you can also pay for ads to increase your sales chances.
Start a YouTube channel for your Pinterest business.
YouTube is also a great platform to promote your business aside from Pinterest. It has a massive audience that watches videos daily. As I've mentioned earlier, you can create a YouTube channel for your business. Make videos related to your niches, such as promotional videos or video tutorials. Then upload them on your YouTube channel and share them on Pinterest.
Join Pinterest Tribes and Group boards
Joining tribes and group boards on Pinterest allow you to target your potential buyers. Look for those that are related to your niche. In this way, you have a better chance of attracting more buyers. Before you pin anything, make sure to read the group or tribe rules.
Final thoughts
Finally, we have concluded our topic today. I hope this topic has helped you with how to make money on Pinterest even without a blog.
But if you feel that you need to learn more, check out my #1 recommendation on building a successful business, where you can get access to hundreds of training videos, 24/7 support, professional consultations, private access to my training guide and much more.
Working Online From Home A Proven 4 Step System
See the 4 steps to working online from home & earn residual income