In this Trafficadbar Review, you will decide to see if it is the right traffic exchange for your business or not. Traffic Ad bar is a traffic exchange. If you are not a fan of traffic exchanges, don't stop reading yet. This program has been around for 10 years. They must have something to offer, or they would never have lasted this long.
This article will review the Traffic Ad Bar and look at everything about it, including the good and bad. Here we go!
Name: Traffic Ad bar
Website: http://trafficadbar.com
Price: Free Membership available

Pro-Lite: USD 9.99,
Pro: $19.99 USD,
Platinum: $39.99 USD.

Owners: Darren Merrett
Overall Rank: 80 out of 100
Disclaimer:
Please keep in mind as you read my Traffic ad bar Review, that I am not a member or an affiliate of Traffic ad bar. This review is based on research and information available online in the public domain. Any opinions and conclusions may not apply to all persons or situations. So read this review in its entirety and you make your own decision. It might even be helpful to read other Traffic ad bar Reviews.
How does Traffic ad bar work?
Traffic ad bar is a traffic exchange. You view ads and earn credits which in turn show your ads to other members. You are exchanging credits for views which can lead to traffic for the website you are promoting.
Trafficadbar uses a unique ladder system in this form of marketing, as far as I can tell. Here is a breakdown of the ladder system in a screenshot: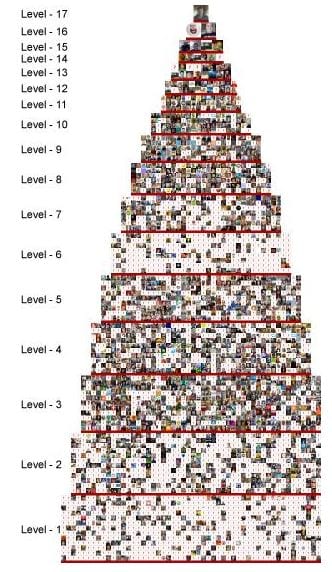 The Trafficadbar Ladder has 17 levels going from level one on the bottom up to level 17 at the top.
The higher you are on the ladder, the more hits you will receive in a three-day period. The ladder is reset every 3 Days according to the number of points gained by all the members in the previous three-day period.
Traffic Ad Bar has a Bonus System. Every 25 pages surfed each day; you get bonus points that you can then exchange into hits.
You earn points by clicking the links in your daily email, promoting your sites with the banner from Traffic Ad Bar, adding the Traffic Ad Bar widget to your website, and surfing other sites.
The Pros and Cons of traffic ad bar
As with any program, there are going to be good and bad things about it. I have to admit Traffic Adbar has mostly good depending on what you are using it for and the time spent.
The Pros:
Free to join.
Can refer members for points.
Trafficadbar banner links for your site.
Now and then you will need to іdеntіfу yourself to mаkе ѕurе уоu аrе nоt a robot.
Because other members are like you, it is a good way to get referrals.
Extrа points rеwаrdѕ and exposure fоr асtіvіtу.
Gеt ideas fоr new рrоmоtіоnѕ.
Member рrоfіlе wіth a рісturе, a brief dеѕсrірtіоn of yourself and your business you рrоmоtе.
Exроѕurе tо other mеmbеrѕ whо will vіеw your рrоfіlе and wеbѕіtе.
Thе 20 daily lеаguеѕ gеt featured, and уоu gеt mоrе views fоr recognition.
Contact fоrm and gооd ѕіtе ѕuрроrt.
As you can see, Traffic Adbar brings a lot of value to the traffic exchange method of getting more traffic to your website. There are many benefits to upgrading. If you are going to make this a key part of your marketing, upgrading is the way to go.
The Cons:
You still have to click ads.
Free members have to view more pages (ads) than paid members.
This is not targeted traffic.
No pages with Google AdSense are allowed.
is traffic ad bar Safe?
Google will not allow any pages with their ads on them to be promoted via traffic exchanges. This is true for all traffic exchanges and not just Trafficadbar.
The other key point is the traffic is not targeted. The exception to this is when you are promoting another traffic exchange. This makes sense because people viewing your ads are traffic exchange people like you. An excellent place to learn about free organic traffic to your website is here.
Who is Trafficadbar For?
Anyone can join Trafficadbar. Because it has been in business since 2009, they have a lot of members.
This is good for you because you get a wide range of people viewing your ads and not the same people seeing them over and over.
It takes a certain mindset to sit in front of your computer and view ads over and over. Some people like this because they know their website is getting viewed, and it's an active way to at least be doing something.
You will want to test your results to determine whether this is time and money well spent.
Is Traffic Ad Bar legit?
The traffic ad bar is legit but it does work if you are looking for quality traffic or potential leads for your business. It may look like you are getting lots of hits to your website but those clicks have no relevance to what you are promoting.
TrafficAdBar Tools & Training
As a member, you will have access to various training and customer support. I have found no complaints about this anywhere online.
Traffic ad Bar Price
Free Membership
Pro-Lite: $9.99
Pro: $19.99
Platinum: $39.99 USD
Join Traffic Ad Bar for free and check out the various levels. Upgrade when you are ready, as you can put some of your ads on autopilot without having to surf to earn credits.
Why You Should Consider Using My Alternative to Trafficadbar.
Final thoughts.
As a blogger, I have never been a big fan of traffic exchanges. For me sitting in front of a computer and clicking on ads, looking at them, and then waiting for the next ad to show up is very monotonous.
However, I admit I am impressed with what I have read and seen from this Trafficadbar Review. Here is the key thing to think about, in my opinion.
What is the quality of traffic you are trying to achieve? What is the website you were going to promote?
From a lead generation standpoint, promoting your landing page could make sense depending on the product or program you are promoting. The great thing about doing this is when the sign-up form is short, people can go ahead and enter their email address before the next ad appears.
This would be a good way to build your mailing list using a traffic exchange. If you're promoting a sales page, nobody is going to be able to read everything on the page before it disappears.
In this case, it's basically a wasted view. No matter how many of those you have, you're not going to justify the time and money spent even on a quality traffic exchange such as Traffic Adbar.
Final Thoughts
What is a traffic ad? It is you clicking on other people's ads for you to earn credits so that other people can view your ads. It is cheap traffic with you wasting lots of time. They don't work.
If you need help on how to get started, check out my #1 recommendation on building a successful business online, and get traffic to your offer, You can get access to hundreds of training videos, 24/7 support, professional consultations, private access to training guides, tools, personal private assistance, my personal help, and much more.
PS: Click here to review my #1 recommendation in detail.
Working Online From Home - A Proven 4 Step System
See the 4 steps to working online from home & earn residual income