Surviving the coming economic collapse has become everyone's concern. Especially during the Covid-19 pandemic, when there's uncertainty in the economy. Economic crisis has happened several times in history around the world.
But despite that, many people are still unprepared. That's why we have listed down all things you should consider so you can be ready for the coming economic disaster on this topic.
Why should you study how to survive a pandemic?
If you wonder why you should study how to survive a pandemic, the answer lies in our experience with the COVID-19 pandemic. This pandemic taught us that everyone should be prepared at all times with or without the pandemic. Another pandemic can happen at any time, and it can cause an economic collapse.
Prepare your Finances
Create an Emergency Fund
Creating an emergency fund is a must even without the economic collapse. If you lose your job, you have an emergency fund you can use for your basic needs until you get another job again. If you're still paying a debt, save for your emergency fund first before using the rest of the money for debt payments, bills, and other expenses. The goal is to save for an emergency fund that can last up to 6 months minimum.
2. Get out of debt and avoid it
If you have debts, pay them and avoid them as much as possible. Taking on more debt will only make your financial status worse, and you may not be able to cope with it. If you still have a job even during the pandemic, pay off your credit card bills and loans while you can.
3. Ride out your Investments
If you have stock investments, try to ride them out instead of rushing to take them out. Stocks will rise and fall; it happens all the time. The feeling of loss only comes when you've taken your investments out, and the market picks back up.
4. Make the most of your Liquid Savings
Try to make the most of liquid savings, such as your savings account, checking account, money market account, certificates of deposits, and short-term government investments. These resources will help you during times of economic disaster and financial crisis that are not far off. They do not get devalued regardless of the market conditions. You can also take your money out without penalties anytime without losing money, except for CDs where some earned interest is forfeited if you close your account early.
5. Maintain a budget
If you have not maintained a budget, the best time to start doing that is right now. Determine how much money is coming in and out of your household each month. Check if you're living within your means or maybe overextending yourself. Work out a budget that can improve your financial standing. It would help if you did this first before knowing how much you can save for your emergency fund.
6. Reduce and manage your Bills
You may find it difficult to pay your bills in times of economic collapse, so it's time to reduce and manage them. Check if you're paying unnecessary bills. Sometimes you're paying for services, subscriptions, or memberships that you rarely use or you don't even need. Perhaps it's time to cancel them and reduce the number of bills you need to pay monthly.
7. Generate another stream of income
Generating another stream of income will give financial security. Relying on one income source is risky. You don't know when you will lose your job, and you could be unprepared when that happens. That's why finding another stream of income is a good strategy. It provides you with financial security in case you are unemployed. There are plenty of extra income opportunities online. Try to look for legitimate online jobs that are long-term or can provide you with a passive income.
8. Keep cash on hand
Having cash on hand is better than none. If an emergency happens, you can easily access cash anytime without the need to go out and withdraw from the ATM or the bank. Sometimes withdrawing money from brick-and-mortar institutions takes days before you can get them.
9. Shop for better insurance coverage
Now might be a good time to get better insurance coverage or shop for lower insurance rates. Check if you can cancel certain types of insurance during an economic collapse. Determine if you can request extensions and what the requirements are when you need one.
10. Regularly check your finances
Make it a habit to check your finance regularly. There could be things that you need to change to keep you on track. It is also best if you are tracking your finances so you can manage them easily.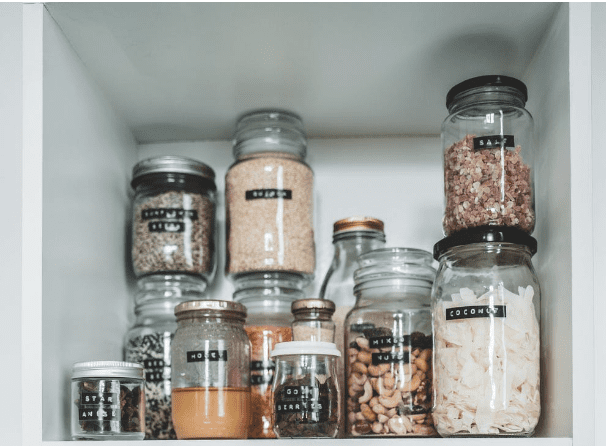 Preserve Food & Store Essentials

Stockpile Food
Stockpiling food to prepare for economic collapse differs from the groceries you buy every week. Look for basic staple foods with a long shelf life, such as dried foods, pasta, oats, wheat, rice, sugar, beans, etc. These staple foods can last anywhere between 25 to 30 years when properly stored. Canned goods last from 1 up to 7 years. Try to store them on a dry and cool storage shelf and check them once in a while.
2. Grow your Food
Growing your food will require some basic gardening skills, gardening tools, and other materials. If you have a small lot, you can consider creating a container garden. Easy-to-grow vegetables and herbs such as peas, tomatoes, potatoes, carrots, spinach, lettuce, cabbage, broccoli, etc.
3. Store water for emergency
Fill up water containers and store them for emergency purposes. Place the containers in shaded areas or storage rooms if available.
4. Prepare the First Aid kit and Medical supplies
You can either prepare or purchase the first aid kit. Ensure that you have all the things you need to treat minor injuries without going to the hospital. Stock common medicines for headaches, coughs, colds, and pain relievers. It's also a good idea to stock vitamin supplements. Stocking vitamin supplements is also a good idea.
5. Gather basic tools
Basic tools can also make a difference during an economic collapse. For example, kitchen tools will allow you to make food for your family instead of ordering, delivering, or going to a drive-through. Handyman tools can help you repair broken items in your home without hiring a repairer.
Garden tools will enable you to do gardening and grow your food without buying them. Imagine the money you can save when you have these tools ready.
Work together with Your Family.
Create Awareness
Sometimes you need to sit down and talk to your family to create an awareness of the impending economic collapse. Even if they know about it, some matters deserve a proper conversation. Hold a meeting with your family and make sure that they have enough understanding about the upcoming economic collapse.
2. Help each other
Your family member may need help in making preparations for the economic crisis. Talk about how you can help not only with the financial aspect but mentally and emotionally as well. Economic crises can bring worries to many people, and they can sometimes take a toll on the mind and health of the person. It's best to help them early on before it's too late.
Want to learn how I earn my passive Income working from home?
Click here right now for our review, my personal help, and instant access to our free training videos where we'll show you exactly how we did it ourselves starting out as complete beginners without ANY prior knowledge or experience in marketing online whatsoever!
Secure your Home
Strengthen your Home Security System
Home security systems can help safeguard your home against intruders. Even without economic collapse, you should have one set up to protect not just your home but also your family.
Wireless security systems are less expensive and easy to install. Otherwise, you can secure all entry points and make your home less appealing to thieves. You can plant thorny bushes as barriers, build sturdy fences, or ensure you keep all valuables hidden.
Get involved with your Community.
Build valuable relationships with Neighbors
Creating valuable relationships with your neighbors is also important in times of economic disaster. Try to offer your help whenever possible. Helping does not mean through monetary means only. You can help by offering your services if you're skilled, letting them borrow tools when they need them, or exchanging services (I can repair your leaky faucet, in return, help me with my garden).
2. Prepare to help other people
Prepare to help other people too. The economic collapse affects everyone. Other people may not have prepared for the economic disaster better and needs all the help they can get. When you have more than enough, consider donating them to your community or your locality.
Anticipate the Economic Collapse
Learn about Inflation and Economic Growth
Learning how inflation works and its relationship with Economic growth is also important because both impact our daily lives and future. Economic growth can cause inflation. Possibly due to the economy growing faster than the supply can't keep pace with. Both the demand and prices increase, which can cause a decrease in unemployment but an increase in wages. This results in people spending more money, leading to inflation of prices.
On the other hand, slow economic activity also slows down inflation. This affects the prices of goods and services, which can signal a crisis in the economy.
2. Keep an eye on financial markets
Keeping an eye on financial markets can also help you in anticipating a recession. What you want is a steady and calm financial market. If market prices tend to go up and down significantly, the market will most likely decline. If the market soars in one day, there's a possibility that it will dive the next day. These can signal a major economic downturn.
3. Monitor the prices of Commodities
These are the commercial commodities that are exchanged during commerce. Some examples are gold, natural gas, and lumber. If they change prices, it affects the economy. An increase in prices is correlated with an increase in inflation. If commodity prices drop, it means inflation is slow, which could indicate an economic decline.
Final thoughts
As I have mentioned in my list, generating another income stream is the smartest thing to do today to grow that income to a full-time job or business. If you are interested in creating your own home business, check out my #1 recommendation on building a successful business, where you can get access to hundreds of training videos, 24/7 support, professional consultations, private access to my training guide, and much more.
Working Online From Home - A Proven 4 Step System
See the 4 steps to working online from home & earn residual income