In this topic, how to start a credit repair business, we will create a business that can potentially give you a fantastic income opportunity. We will also talk about the methods and strategies you can use that can increase your revenue. There are many reasons why this kind of business is a good choice. Read on to learn more.
How to Get Started
Before we get started on the details, let's first check why starting a credit repair is profitable. In 2021, the market size of the credit repair industry in the US will be around $2.5 billion. An average credit repair specialist earns about $70,000 per year, approximately $5,000+ a month. This does not include the credit repair monthly service, which is anywhere between $30 to $150 per month plus the initial fee of up to $100.
Based on a recent study, an average American has around $90,000+ in debt, including all types of consumer debt products. Many people continue to seek the help of credit repair services, which is why it's an excellent choice to venture into this business. Best of all, you don't need a degree to become a credit repair specialist or start a credit repair business. Let's confirm that with some market research.
Want to learn how I earn my passive Income working from home?
Click here right now for our review, my personal help, and instant access to our free training videos where we'll show you exactly how we did it ourselves starting out as complete beginners without ANY prior knowledge or experience in marketing online whatsoever!
Market Research for Credit Repair Business
In our market research, we will check its search volume and search trends.
Search Volume
We will be using a keyword search tool to help us with checking its search volume. And Jaaxy will be perfect for this job. Let's see what we will get.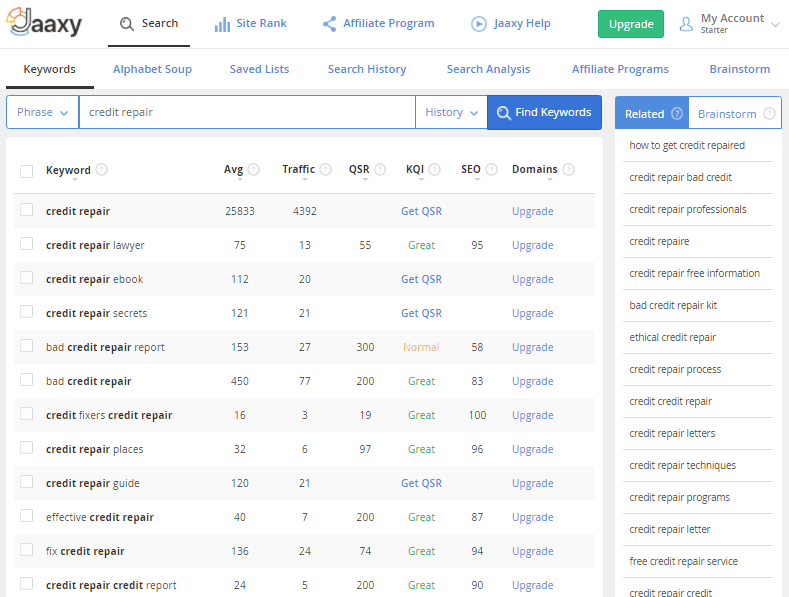 Looking at the results above, you will see an average of 25,000+ searches for credit repair in a month. That's how many potential clients you can have for your credit repair business. This does not include the other search terms that other people use looking for credit repair services to help them.
Search Trends
This time, to help us with our search trends task, we will be using the Google search engine. Let's see the results below.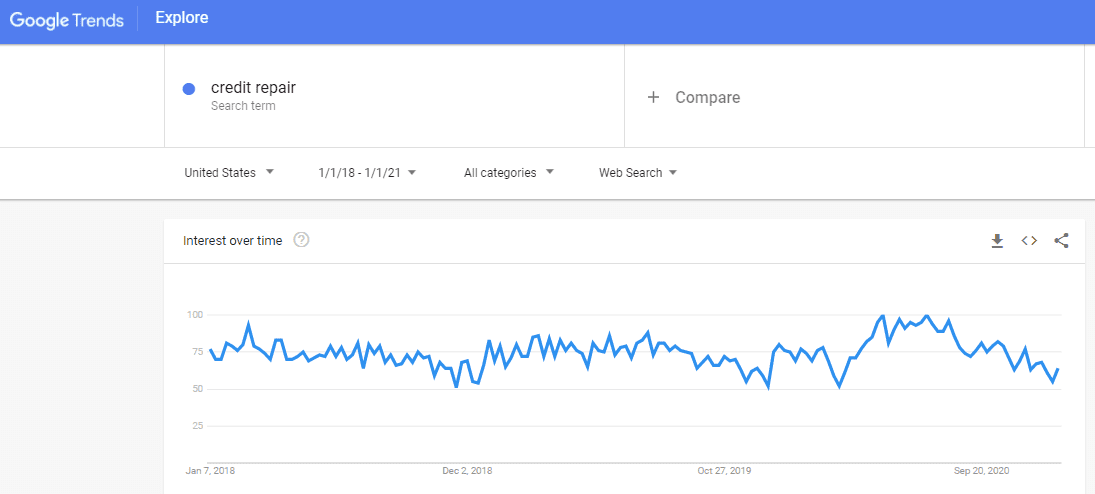 Based on the graph above from Google Trends, you will notice that the demand and popularity have remained high for the past couple of years. It remains above the 50% mark, and it appears to be going on an upward trend. This shows that the credit repair business is sustainable.
What exactly is the niche?
In this part, we will help you choose the niche for your credit repair business. The credit repair business offers several types of services, and the common types are the following:
Monthly subscription service – You will offer monthly services to your clients to help improve their credit ratings.
Fixed-rate service – This is where you will charge a one-time fee to cover all the needed credit repair processes.
Per deletion service – Only charge for incorrect negative items removed from the credit report. These negative items could be late fees, charge-offs, repossessions, foreclosures, collections, and so on.
A guided DIY credit repair program – You will offer consultations or classes for a fee.
You have the option to offer all of these services to accommodate more clients. However, these services include features and processes that may need some knowledge about finance or related fields.
It is recommended to concentrate on a specific service to serve your clients better and earn their trust. This is very important, especially if you're starting up as a specialist or a new credit repair business.
Another way to help you decide is simply by looking at our Jaaxy keyword search results. You can find the other terms that people use that are related to "credit repair" like the following:
credit repair – credit repair eBook, credit repair secrets, credit repair guide, effective credit repair, and credit repair report
You can use these as your reference when thinking about your niche, the services you would offer, or what products you can provide to your clients.
Here are a couple of things you can also consider when you're deciding what to focus on:
You are genuinely interested in it – Perhaps the most important part of everything you do. You have to be interested in the niche you choose. Otherwise, it won't be easy to sustain your business.
It is a problem-solving niche – The good thing about a credit repair business is that it is already a problem-solving niche on its own. But the type of problem you want to solve is the question. And when it comes to bad credit ratings, many underlying reasons require different solutions.
Up next, we will talk more about how vital a problem-solving niche is.
What Problem is being solved?
In this part, we will talk about why your niche should be solving a problem or problems. Most businesses and even bloggers would often choose a place that their visitors to instead of hobby-focused niches.
To help you identify these problems, you can refer to the Jaaxy keyword search results earlier. Since most people make these types of searches, you can use them as your basis. Here are some examples:
How to get your credit repaired?
Where to find an ethical credit repair service?
What are credit repair programs?
Is there a free credit repair service?
There can be more problems related to credit repair, and some could be very specific. List them down and check how your business or your service can provide solutions to them. By doing this, you can look at the bigger picture of how your business will be catering to your clients.
Want to learn how I earn my passive Income working from home?
Click here right now for our review, my personal help, and instant access to our free training videos where we'll show you exactly how we did it ourselves starting out as complete beginners without ANY prior knowledge or experience in marketing online whatsoever!
How to Get the Audience to Purchase
Getting your audience to purchase a product or service will be a challenge. Credit repair as a business is not something new. People need to know what you can offer the other company does not have. But first, you need to identify who your potential clients are, which can be the following:
People with low credit scores
People applying for loans
Jobseekers
Homebuyers
Those with credit cards are getting close, and their credit card rates are increasing.
People with denied credit card applications
Renters
People with debts
The list can go on and on. You will encounter clients with different problems when you are already in the business. You want to make sure that they will get your services and not go anywhere else. So, to help you establish a reliable and ethical credit repair business, and how to create a passive income online, here are some of the things you can consider:
Determine your potential clients – Take time to identify what type of clients you think you can offer solutions to. Who will most likely get your service? Are you more inclined to help those with declined loan applications? Do you have a target fico score range that is easier to improve?
Maintain an ethical business practice – In any business, maintaining a professional and ethical business practice can make or break your reputation. Advertise your services upfront, and be clear about what you can and cannot do. Ensure that your solutions are within legal boundaries.
Personalize your solutions – Aside from knowing the in and out of the credit repair business, try to offer customized solutions for your clients. Listen to their needs and identify what payment plan is best suited for them. Provide professional advice on how they can improve their credit ratings and avoid future debt.
Use your client's testimonials – This is the best way to show your potential clients why they should choose you. Ask your former clients if they would like to share their experience with your service voluntarily. If you received negative feedback, then you can use that to improve your services further.
Ways to sell Credit Repair online
There are several effective ways how you can sell credit repair businesses online. Each of these methods, when done right, could potentially widen your client reach and increase your business's popularity. However, success will depend on critical factors such as your financial capacity, resources, and time. Now, let's take a look at these methods.
Affiliate Programs
There are credit repair businesses that offer affiliate programs. This is an excellent way to start if you don't have the resources to create your own credit repair business.
Before you become an affiliate, you will need to apply first. Once you're accepted, you will be given an affiliate link that you can use to promote their services. When you refer a lead or a lead sign-up, you will receive a commission for your efforts.
To find these affiliate programs, we will be using Google once again.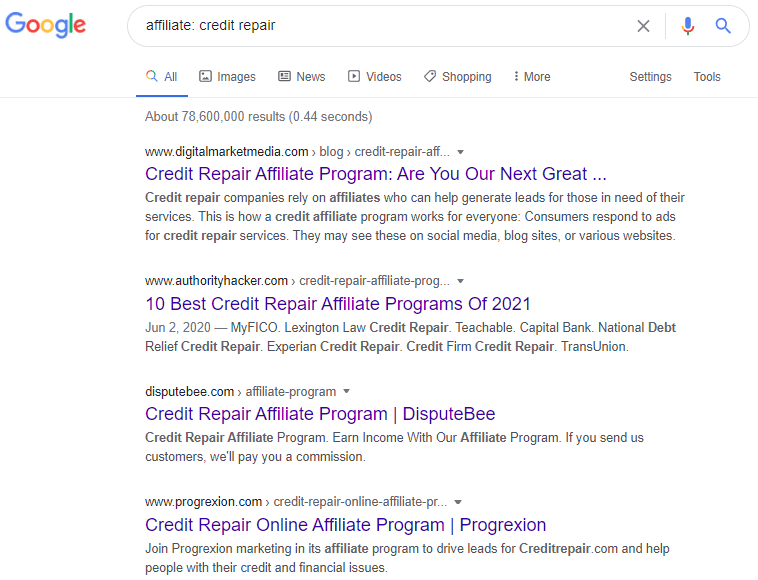 As you can see, there are many credit repair affiliate programs you can choose from. Although you have the option to apply to several of them, it is essential to check the kind of company you're applying for carefully. You may use the following guide to help you:
They offer solutions related to your chosen niche
The company has good client reviews
They offer good commission pay
Payment options are available
Lenient on website traffic
It is also essential to check how long they have been in the business. Remember that you will be promoting their services. This is why you should check their reputation and stability. It will be challenging to promote a company involved in an unethical practice. If you're writing a post or content about it, it will be impossible to convince your audience to try their services.
Dropshipping
Another effective way to sell products is dropshipping. What you can do is look for products that will be helpful to your customers. Then find wholesale suppliers that can provide you with those products. Examples of these are credit repair eBooks, short reads, and credit repair software.
When you choose drop shipping, you will need to take care of the orders and customer service. You will also need to build a website for your store. A good thing about dropshipping is that you can regulate the price of your products. Your profit will come from the difference between the wholesale price and the price you assigned to the product.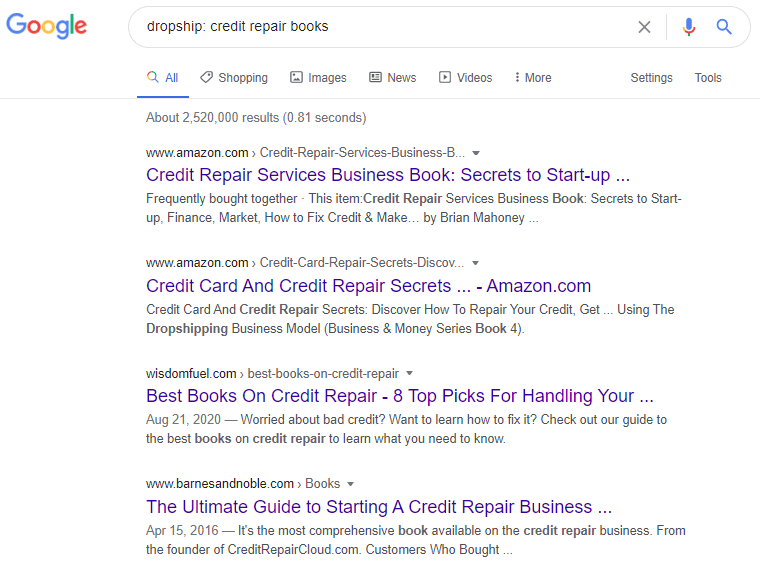 Sell your own Credit Repair services.
Selling your credit repair products and services is the best way you want to establish a business of your own. Although this may require a more significant capital investment and a lot of paperwork, it can be gratifying in the long run, especially if you get someone to handle your paperwork. Managing your credit repair business includes being an expert in your field and knowing the processes to help repair bad credit.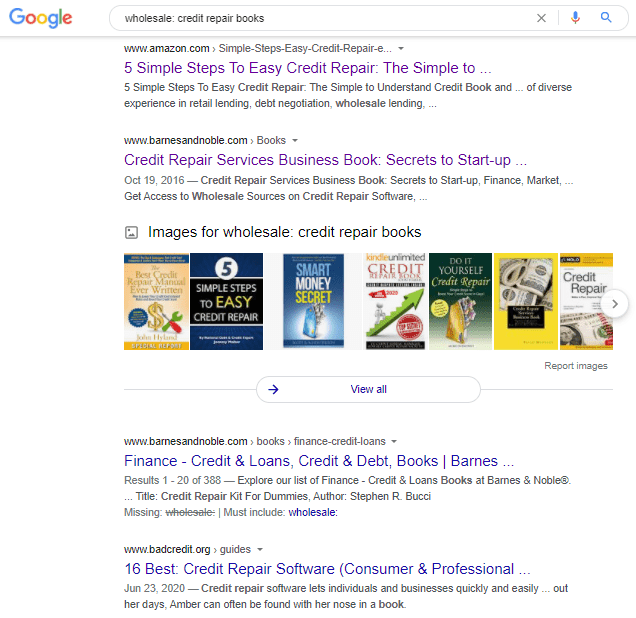 Apart from producing your credit repair products, you can also look for suppliers instead. There are wholesale book suppliers that you can find by searching using Google. An example result is shown above. Besides books, you can also check on credit repair software you can sell on your website.
When you negotiate with a wholesale supplier, ensure that they can give you a reasonable price to sell the products competitively in the market. Bear in mind that with this method, you will be shipping the products to the customer.
So, it is good to know the supplier's shipping time as well. You can also negotiate a small shipping fee by asking them to ship the products directly to your customers instead.
Other potential methods of selling credit repair products
Aside from the methods mentioned above, you also have the option to share your knowledge and expertise by writing posts and making informative videos and eBooks. You can compile your videos to create a course tutorial about how to improve their fico scores. You can also gather your eBooks into a complete guide that is more valuable to your audience.
What You Need to Start Selling Credit Repair Business
Building a website for the Credit Repair Business
Just like most businesses, a credit repair business needs a website built. This is very critical as most of your competitors have their websites to cater to their clients.
Whether you will be doing affiliate marketing or starting your own, having a website is a must. While getting one made could be pretty expensive, you can also check on the many website builders available.
Another avenue to market your credit repair business is via social media. For example, when using Facebook, aside from posting your website's link on your wall, you can also create your business page. Marketing your business on social media also includes actively responding to your potential client's inquiries regularly.
Start a Credit Repair business YouTube channel.
If you're creating credit repair tutorial videos, you can also upload them to your business's YouTube channel. YouTube can also give your business more opportunities to attract more potential clients. People will flock to your videos if they find them helpful and can potentially ask for your services. Try to upload relevant videos regularly to widen your audience's reach further.
Joining social communities is a more direct way of gaining more potential clients. The members are highly likely to engage with your business since they are in the group for reasons like repairing their credit rating or looking for tips on maintaining their credit rating.
When successfully joining these groups, try to scan through the page and learn the problems most members face. Then comment or post solutions that your business can offer to address their concerns. Be as engaging as possible to attract more potential clients.
Final thoughts
Before we end our topic today, we hope that you have a better idea of how you can start a credit repair business. Probably now, you feel more confident to start this profitable opportunity.
If you need help on how to get started, check out my #1 recommendation on building a successful business online. You can get access to hundreds of training videos, 24/7 support, professional consultations, private access to training guides, tools, personal private assistance, my personal help, and much more.
PS: Click here to review my #1 recommendation in detail.
Working Online From Home - A Proven 4 Step System
See the 4 steps to working online from home & earn residual income