For most people who start on the Internet, one of their main concern is how long does it take to make money blogging.
Why would you even ask such a question? You should blog for the love of your topic and not worry about money.
For many years some purists espoused this thinking. Write about what you love best, and the money will follow if you do this and do not make any money; who cares because you are getting personal satisfaction from your work?
In reality, it does matter if you are blogging for profit. This is what led to so many complications in the world of blogging.
The minute someone makes $1, they become an expert, and the next thing you know, you have 1 million people telling you all of the secrets of making money blogging.
SEO, ranking on Google, social media marketing, where to host, using WordPress, building a list from your blog, the best affiliate products to sell, creating your info products, and making money with display ads……
And blah, blah, blah, blah blah……
Instead of making money, bloggers lose money, and the love they had for their topic disappears, and they join a not-so-exclusive group of over 1 billion blogging quitters. Maybe not formal quitters, but people who have a dormant blog cluttering the World Wide Web.
Want to learn how I earn my passive Income working from home?
Click here right now for our review, my personal help, and instant access to our free training videos where we'll show you exactly how we did it ourselves starting out as complete beginners without ANY prior knowledge or experience in marketing online whatsoever!
Come On David How Long?
Would you stick with your blog if I gave you approximate dates for making money blogging? I found the averages online from Amy Lynn Andrews of The Use letter fame.
1. In 6 months. You are earning $10 a month. Buy yourself a Starbucks.
2. 12 months. You are earning $100 a month or more. Congratulations, you cover your costs if you are doing most of your work. This can be a real part-time income.
3. In 24 months. You are earning a full-time income. How do I know? Because I did it and so have thousands of documented case studies.
4. In 60 months. You sell your blog for a 6 figure plus payout. You can call B.S. on this one if you want.
However, I suggest you look at the blog RankXl.com. Chris Lee sold it for over six figures in less than five years. He has done that multiple times.
Some real people start a blog by selling it for 30 to 40 times their monthly profit. They have this down to a science, which is their entire business model.
It is a form of blog flipping, but they start a blog at ground zero instead of buying a fixer-upper blog.
In the rest of this article, I want to answer the questions Google says are most pressing on the topic of:
– How long does it take to make a blog?
– Can you make money from a blog?
– How do beginner blogs make money?
– How much can I earn with blogging?
OK, here we go!
1. How long does it take to make a blog?
You literally can have a blog online in a few minutes. At Blogger.com, you can start a blog with Google for free and be ready to write your first post. I do not recommend this, but millions have done it.
I refer people to Wealthy Affiliate, where they walk you through setting up your first blog for free. This is a simple do this, click here method that any third-grader could do.
Setting up a blog takes zero technical ability and is only the tip of the blogging iceberg.
From here, it gets more complicated.
A. How long to write a blog post?
Google says a study on Orbit found the average blog post is written in 3 hours and 16 minutes. This is for a 1000-word blog post, by the way.
Wealthy Affiliate says your blog posts should average 1500 words. I read the same thing at ProBlogger.com once. I have also seen experts like Neil Patel and Brian Dean talk more about a 2000-word average.
They all say that it is not as much about the number of words as it is about what you say in those words. I agree with that.
However, if you have a goal of ranking on Google, understand that Google spiders words. The more you give them and the more variety in them, the better you have of ranking for those words.
B. What if I can't write?
At this point, we are getting to what is happening in the world of blogging. Hiring a blog writer has become the norm for people beyond quitting and into full-time.
I see this happen all the time now because it becomes too demanding to write quality blog articles full-time. Sometimes, you don't feel like writing if you're doing this part-time. Rather than have a blog sitting in limbo, you're better off hiring a professional blog writer.
I take this on good authority from Jon Dykstra of FatStacksBlog. He earns over $500K a year blogging and hires high-quality writers to do a lot of his writing for him.
Initially, he didn't, but it's just not possible to keep up with the demands of writing at a high level of quality if you're in the content game trying to outrank your competitors. Even if you want to blog part-time, you can create a budget that will pay decent writers to write your content and still make a profit.
I think this should be the goal of every blogger when they first start.
2. Can you really make money from a blog?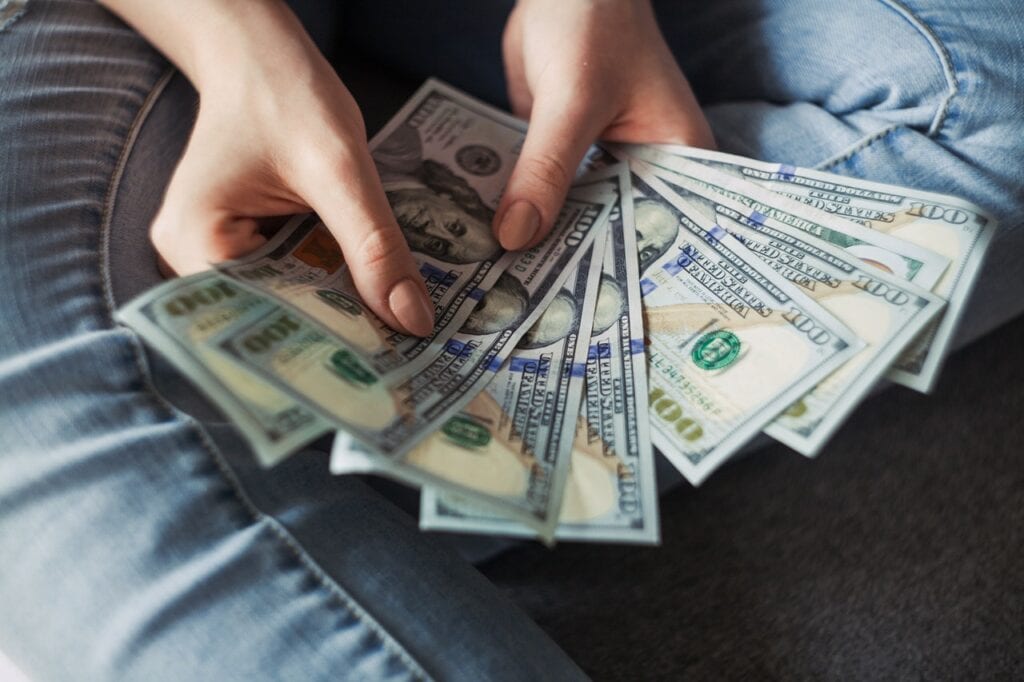 I get why a blogging newbie would be skeptical. Can I make money blogging would be the first serious question? I would want to understand the answer too.
I have seen many authority blogs on blogging and making money come and go over the years. One that has stood the test of time is Darren Rouse at Pro Blogger.
Can You Make Money Blogging? [7 Things I Know About Making Money from Blogging] is an article from November 2012. We are just entering 2023, and this article is over nine years old now but just as relevant today as the day Darren wrote it.
His conclusion is yes, it is possible. However, most bloggers do not make a full-time income.
However, the number of those earning a full-time living from their blog has grown since 2012. I know this personally and would refer you to MakingSenseOfCents.
Michelle Schroeder started this blog in 2011. She now earns over $100,000 a month and travels the world blogging from wherever she is at.
3. How do beginner blogs make money?
Every blog makes money selling something. You might be selling ads on your posts.
You might be selling your product or someone else's product. Some blogs are just there to support a company website where they sell a product or service.
A. How does the average newbie do it?
Affiliate marketing is the fastest way a beginner blog can make money. The reasons vary, but they are simple.
Most affiliate programs are free to join. When you become an affiliate, you immediately get access to everything you need to start making money.
This includes the basics of products and services to sell and marketing materials such as banners and text ads. Plus, you receive training on how to get traffic to your affiliate website or even start your website or blog.
Related Video: How Long Does It Take To Make Money Blogging?
B. Where do I find these affiliate programs?
They are everywhere. In my opinion, here are the four you should join.
1. Wealthy Affiliate. Wealthy Affiliate is a training program that also has an affiliate program where you can sell the training and many other things.
They offer a free 10-part training program on making money with affiliate marketing. They also have a premium program for $49 a month to earn $23.50 a month of residual income.
2. Amazon Associates. This is great for selling physical products, but of course, they also have digital products.
Amazon is one of the first to get into affiliate marketing back in the 1990s. It is impossible to run out of things to sell and make money on.
3. Clickbank. They are the most extensive digital information affiliate network on the Internet.
With one i.d. number, you can instantly be selling thousands of products. They have paid millions in commissions to their affiliates.
4. Google Adsense. Google has a display advertising pay-per-click affiliate program where you get paid when people click on ads.
There is no selling in a PPC affiliate program. Google pays billions to Affiliates all over the world.
Beginner blogs make money with these top programs. They also make money in many other ways, as you learn when you start your blog.
Let's go back to what Amy Lynn Andrews says.
4. How much can I earn with blogging?
In 6 months, you are earning coffee money. By 12 months, you are making $100 a month or more.
At 24 months, you could be earning a full-time living. There is no ceiling on your income.
What are the variables?
This is a question I want to throw in because obviously, some people earn more money quicker than others.
Why is that?
The primary variables include…
A. Content is the number of posts you make.
B. Quality content, how good is that content?
C. What are you selling? For example, are you selling a product that earns a $1000 commission on one sale versus an e-book that reaches $10 on one deal?
D. Traffic. The most significant variable will be traffic generation.
I would guess that more bloggers quit just because they're not getting enough traffic to their content. This is the one variable outside of fresh content that will make or break you.
KISS
Keep It Simple Stupid. When I started blogging, my goal was to earn $1 a day. Then it is $10 a day. Then it was $100 a day. Finally, my goal was to make $1000 in a day.
Write your goal down and read it every day. Famous blogger Willie Crawford wrote the number $2740 on a yellow sticky pad and posted it on his computer monitor, where he saw it over and over every day.
Why $2740?
That is how much it took him to earn $1 Million A Year online! It worked, and he has made millions over the years.
I would suggest joining Wealthy Affiliate and upgrading to premium. You will earn $23.50/month, and you can make your first sale to anyone you know on day one.
Find 2 or 3 people to join you on your blogging journey. You will be off and running!
final thoughts
You can earn coffee money and less in six months. Realistically you could be making a decent part-time income in six months, in my opinion.
Could you be a full-time blogger earning a full-time income online in one year or less?
You could!
The Internet is full of stories if you want to dig up some of them read.
Please ignore people who tell you that you can't do it. Focus all your efforts on following the people that are doing it.
Take what they teach and apply it to your situation. Don't try and reinvent the wheel because you do not have to.
Just be the best version of yourself. I guarantee you'll have a blast making money as a blogger!
Not only is it fun, but it is also profitable once you get the hang of it and learn just a handful of basic blogging skills.
If you need help on how to get started with affiliate marketing, check out my #1 recommendation on building a successful business online. You can get access to hundreds of training videos, 24/7 support, professional consultations, private access to training guides, tools, personal private assistance, my personal help, and much more.
PS: Click here to review my #1 recommendation in detail.
Related Posts:
Do I Have to Blog every day?
How To Learn To Blog
How do You Make Money From a Blog?
How to Make Money Blogging Online
Working Online From Home - A Proven 4 Step System
See the 4 steps to working online from home & earn residual income